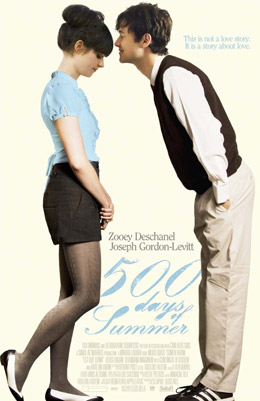 (500) Days of Summer is a movie that looks at a relationship like an i-pod on shuffle. The story begins on Day 480-something and then jumps around between days, it is a gimmick that is alternately charming and off-putting, but fortunately, the movie stars a pair of likable actors working with a decent, although somewhat jumpy, script..

Joseph Gordon-Levitt is Tom, who remembers Summer, as a series of happy memories, and a few bad ones too. She likes him, maybe even loves him, but she has no desire to settle down, nor does she want anything permanent. Zooey Deschanel in the role of Summer is brutally honest, but sweet and bright, a person that Tom cannot have, because she has to be her own person, which is what makes life difficult (okay it flat out sucks) for Tom. He is a bit of a romantic idealist who writes greeting cards and he has plenty of boyish charm. Summer is the new assistant to Tom's boss and she likes Tom enough, that one day she makes her move by the photocopier. The pair tour Los Angeles and chat about architecture, Sid and Nancy and plenty of other topics, that swerve back and forth, as does this movie.
Director Marc Webb creates an enjoyable movie as he weaves in bits of black and white film, a musical number and some Felliniesque moments, while Tom struggles with the reality that Summer is Ms. Right Now, not necessarily Ms. Right. She is a mystery and she wants to keep it that way.
There are plenty of subtle visuals, with Morrissey's debut album, Viva Hate and the Smith's Louder Than Bombs both appearing in Tom and Summer's childhood rooms. Another poignant visual appears during Tom's first visit to Summer's apartment, when the camera focuses on a bowler hat with a green apple on top of it, which becomes a symbol for the painting The Son Of Man by one of Summer's favorite artists, Rene Magritte.
Webb shows signs of being a solid director. Previously, he's filmed videos for Green Day, My Chemical Romance and several other bands. Like the narrator says, "This is a story of boy meets girl, but you should know up front, this is not a love story." It is however, a story worth watching.

Rated PG-13

Barry Benintende is a freelance journalist living in San Diego. He is happily married with two sons, a daughter two cats and a Terrier named Jack.