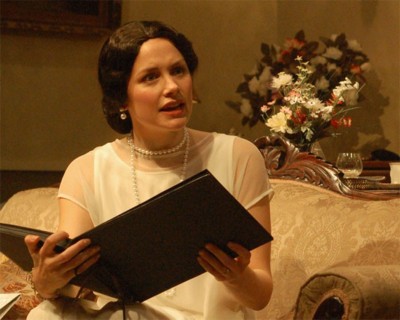 Although, most in the acting profession will tell you that you can never be busy enough, the past two years, certainly brought with them a lot of diversity for actress Alexis Kellum-Creer. Last year she graced the stage in productions such as Vancouver's The Circle playing opposite actor Noel Johansen, in her leading roles as Elizabeth Champion-Cheney, she appeared in the sci-fi adventure series Stargate Atlantis as Flora a humanoid living in the Pegasus Galaxy, she went on a date with another woman in an episode of the dramatic television series L Word, and she enforced the law as a police officer in the made for television movie Perfect Child.
We caught up with Alexis Kellum-Creer during the final week of The Circle's run in Vancouver, and she talked about her role in the play, how she approaches her profession and more specifically how she prepares for her roles.
"Stargate Atlantis was probably the most fun. I haven't done a lot of film TV. That was one of maybe a handful of appearances which I have had since I moved to Vancouver, and I started doing this. It was by far the most fun that I had, and it was a wonderful set to work on. As for how it came about, I just went for an audition like anything else, and I read the part. There was a lot more verbiage in the first draft than there ended up being in the final script, and for whatever reason, I tend to enjoy auditions the most, when I get big chunks of arcane dialogue. In this case, it was the various medieval queens and various rights of sacrifice or whatever. Anyhow, it was really fun, and I enjoyed doing that. It was amazing, because they fitted me for these medieval costumes," explains the well-spoken Kellum-Creer.
William Waring directed the Harmony episode of Stargate Atlantis, in which Kellum-Creer appeared, and she says, "He was wonderful, he had such a great sense of calm about him, and when that comes from a director in any setting, it is wonderful. Having a director like that is really terrific. There was cohesiveness to the set, with everyone knowing what they were doing and being where they were supposed to be. There wasn't a lot of direction acting wise, except (things like) turn more to the right, so that the camera could get an over the shoulder shot or whatever," gushes Kellum-Creer.
She says that on the Stargate Atlantis set, "You just have to trust yourself more, because TV's attention is much more on the angles and the lighting, than it is necessarily on the actors. There is a lot more expectation that you are going to bring a more fully developed character to the set, on the day (of filming). You don't have the luxury of all the exploration (of the character). It is a freedom that it offers to you."
Before responding, Kellum-Creer carefully weighs my question as to whether or not she prepares differently for her on stage performances, versus television, "One has the freedom to be very subtle and very naturalistic for the camera. If you simply leave your acting as it is in the theater, a lot of the times that will be lost. In the theater it has to be amped up a little bit, which doesn't necessarily mean that it is exaggerated, but it has to come out at a higher volume. A lot of that is physicality, whereas for camera work, a lot of the times it is just your shoulders and up (that people see). You get a better chance to be subtle on TV, which is fun. When I am on TV I am much more conscious of dialing down the eyebrows, dialing down the facial expressions, and making very obvious sorts of adjustments like that, because if you still do those things on camera that you do on stage they can look rather clownish."
With more time to prepare for her roles in the theater, Kellum-Creer takes the time to delve into her characters' personalities and to develop them more completely, as was the case when she portrayed Elizabeth Champion-Cheney in Somerset Maugham's The Circle. Her understanding of her character is evident as she describes the woman whom Maugham depicts as being at a crossroads in her marriage.
"I think that Elizabeth has always been searching for an ideal love outside of herself, and also her ideal of what she would most like to be, and I think that what she is finding in her marriage is that her ideal of love is not there. There is no challenge for her to grow and become any kind of woman that she would admire. Wanton is a really great word. I think that there is certainly the physical attraction there with Teddy, but I don't think that it is simply that. As a bride, she doesn't feel attracted to her husband anymore, and she is not challenged, even mentally. She has been reduced to a piece of the furniture, as far as her husband is concerned," explains Kellum-Creer.
Kellum-Creer continues, "The play is not Ibsen, it is Somerset Maugham and it is British drawing room comedy. There aren't deep themes to be explored, and one has also got to maintain that lightness of touch, so for me it was finding the lightness, keeping it fun and at the same time grounding Elizabeth in what had to be her emotional truth. I thought that she did have that, and it wasn't just that she felt neglected or that she wanted to be the center of attention, but there was a much more deep need in her to experience things outside of her tiny little world."
She refers to her character in The Circle as, "the most challenging role that I have done. My default setting when I come to a character is that really brooding, intense thing that just didn't work in this case, so I had to throw out everything and start again. I was fortunate to have a really terrific director who trusted my instincts, who stretched me, and helped me to find new ways of going about things, saying things like, 'Yes this is good, but let's see how we can improve it, so we can better adapt it to the character.' I loved it, and I had never had the opportunity to work with much comedy before, so it was really fun."
Alexis Kellum-Creer found comedy to be more challenging than her dramatic roles, "because I don't think that you can take yourself so seriously when you are doing comedy. I really like the earnest and I tend to be more that way, and truthful and sincere, which is all fine, but it doesn't fare all that well with comedy, because comedy involves a lot more risk taking. You have to push out the outlines of yourself and of your character, all the while maintaining that truthfulness. You can't stop being believable, but you have to really take risks to see how far you can go with it, yet still be believable, and have it rise above the realm of the naturalistic acting which I had done up until now."
Although Alexis Kellum-Creer now lives in Vancouver, British Columbia, on Canada's west coast, she originally moved from Edmonton, Alberta to Victoria on Vancouver Island, so she could attend film school. She was asked for her opinion as to whether or not Vancouver, or as it has often been dubbed Hollywood North, is "the," place to be in Canada for an actress. "I really don't know, as I have only acted here in Vancouver. I have some friends who live in Toronto and who say that is the only place to be, to get theater (work), but I know people who flee to Vancouver from Toronto and who say that you can't get it done there. I have also heard that Calgary is the place to be, and I know there is thriving theater in Winnipeg and Edmonton. I am pleased with Vancouver, particularly with our economy, film and TV have been floundering for a while, but I think what is great about Vancouver is there are so many actors who are passionate about their work, that when we can't get work in film and TV, we turn to theater, which I think leads to a really strong and thriving community. I think that Vancouver is a great environment to be in, and in which you can find other like-minded people, to work on projects which really challenge us. I feel blessed to be here"
Interview by Joe Montague, 2007 protected by copyright, All Rights Reserved by Rivetitng Riffs Magazine.