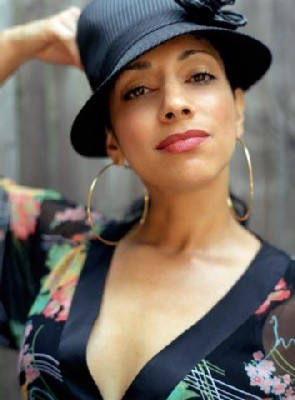 "As an independent artist, I think that it is amazing what we can do amongst ourselves, away from big industry and the huge record labels. There are people out there who want to hear good music and who want to make good music. I am loving it, and I think that we are in really special times," says Alisa Ohri, a R&B singer – songwriter who now lives in New York City and who got her career kick started many years ago, singing backup vocals for a rock band in California, while she attended university and then later performed with a group that morphed into Third Eye Blind.
With her most recent album, 'Cuz I Feel Alisa Ohri has demonstrated that an independent artist can produce a quality recording, with grooves and vibes better than most of what you will hear on FM radio stations these days. It also does not hurt that she is married to one of the funkiest bass players around Hubert Eaves IV, who for several years toured with R&B queen Erykah Badu. His father Hubert Eaves III lends his production and playing skills to Ohri's album as well and the senior Eaves is no slouch either, as he was the mastermind behind D-Train's music and Miles Davis once covered one of Eaves' own songs. As for the third musician who appears on Alisa Ohri's 'Cuz I Feel, Alex Moseley, he was one of the two musicians who backed Lisa Lisa and the Cult Jam.
"Alex is proficient on almost every instrument. He plays guitar, bass and keyboard. He can gig on all three and he is an amazing producer as well. All three folks have tremendous talent. It is really exciting to be a part of that and I figure it is one of the perks of living in New York City," says Ohri.
Although Alisa Ohri has a background in rock music and she started paying her rent by performing jazz when she first moved to New York City during the nineties, jazz informed R&B now provides for a better description of her music. Those jazz influences come into play with the title of her song "Miss Ohri Regrets."
Jazz aficionados may already have figured out the origins for the title of the song "Miss Ohri Regrets," and she explains, "I am a huge Cole Porter fan. I just love his work and I love the sense of humor in his writing. Cole Porter had a song "Miss Otis Regrets," which is the story about a woman who wakes up and she finds that her lover is gone. She goes out and she finds him. It is a period tune. She takes a gun out from beneath her velvet gown and she shoots her lover down. It is almost Shakespearean. They drag her to the jail, she hangs her head and she sighs, "Miss Otis regrets, she is unable to lunch today." I love that kind of humor, because it is so funny and so dramatic. "Miss Ohri Regrets," is the new millennium version of that song.
The song "Miss Ohri Regrets," is really a reflection of how Ohri approaches her music, "My music is definitely for the everyday man, but with a twist of humor in there, because I love humor. You have to be careful with it in songwriting, because it can be a little too cheeky and then people don't take the song seriously. You also want to be artful, as you are combining it with beautiful melodies and chord changes, so you can't do too much, but I definitely threw some in there with "Miss Ohri Regrets." I would say that it is one of the better tunes (on the album)," she says laughing softly.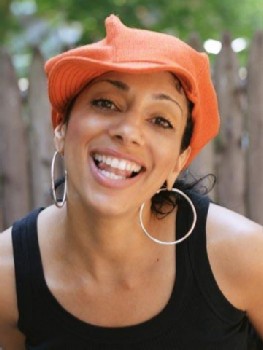 Alisa Ohri is one of the most positive people you will encounter in any walk of life and she punctuates her conversation with soft, sweet giggles. She has an air of gratitude about her that is authentic. "Please don't take this in a corny way, but it really has to be about a mind, body and a spiritual thing. It really has to be about understanding that. I get lost as well. You get frustrated and you think; how is this meaningful and should I go on? Everyday things get in the way and this can seem superfluous. You question yourself and you doubt yourself. When you see people's reactions, especially when you are doing live shows and you see the energy that can be created, what you get from the audience and what they get from you, it just keeps you going. You think there is a bigger picture here. People do need music and they really need it in their hearts It pushes you forward and it is a special gift that I feel I have been blessed with, not saying that I am special in the sense that I am the greatest singer in the world. It is just something where joy comes from me and I have to honor that and I do. I know this may sound sappy and like a dime store philosophy. It's bigger than me, shall we say that? It's bigger than me. When I feel doubtful and I don't want to go on, I think God didn't bring me this far, just to let me down. I know that is another Hallmark Card thing that you would read, but that's it, it really is."
"The song "It's Okay To Love," is really a precious song to me, because it is one of the first songs that I wrote with my husband (Hubert Eaves IV), so that was really, really wonderful. It was great, because when we first met he was an R&B player and he was really steeped in R&B and Funk," she says.
Making full use of her expansive vocal range, Alisa Ohri is scintillating on the funky "I Love You Sometimes," which was co-written with her friend jazz saxophonist Ada Rovatti. The song is based upon a conversation that the two of them had while they were working together at some what Ohri describes as "some silly little club date," many years ago. The conversation shifted to Rovatti talking about the man she was dating (who would later become her husband Randy Brecker) and at the time Ohri did not know who Ada Rovatti was seeing.
"She would say to me, 'Oh Alisa I love him so much, but I don't know what to do. I love him sometimes. (Ohri imitates Rovatti's Italian accent' I thought that is so cute. That is her song and I wrote lyrics to Ada's song. I think that she recorded it as "For Rent." (on the album of the same name) Again it was tied into the affairs of the heart and here we are, as we rent out our heart. The premise of it is really cute. I fell in love with the melody and I said, 'Please Ada, I want to do something with this.' When I recorded it with Hubert (Eaves III), we added a little tag to it, so it is a little different. We put a little more of a rock twist onto it," Ohri recalls.
The title track "'Cuz I Feel," was inspired or more of a response to what Ohri saw as an unrealistic lifestyle presented during one of the MTV videos she was watching. It is an upbeat, hip shaking, foot shuffling groove and it is another everyday person song to which people can easily relate. Alisa Ohri's vocals are superb.
Is Alisa Ohri a star on the rise? No, she is a star already in our midst, just waiting for a lot more people to discover her.