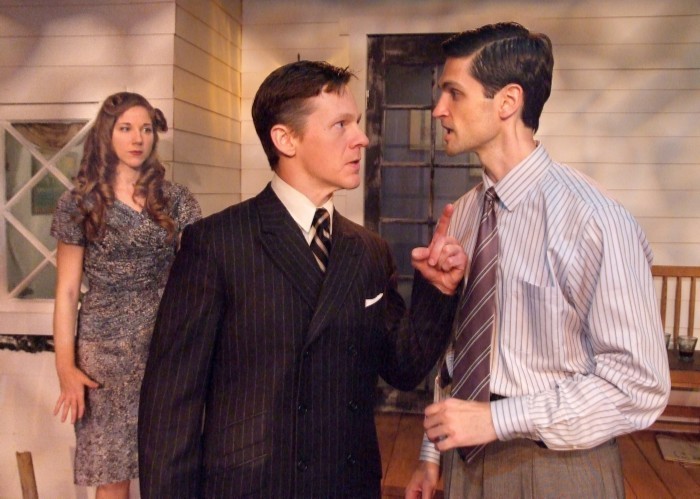 Reviewed by Ethan Silver
1943 - News Flash: Twenty-one WWII pilots have crashed due to faulty cylinder heads. The parts all sent from the same factory and knowingly shipped out in their defective states, are evidence enough of a crime. The factory owners, Steve Deever and Joe Keller are initially charged eventually resulting in Deever's indictment and Keller's exoneration. In another unfortunate turn of events, Larry Keller, son of the accused Joe Keller, is reported missing after his plane mysteriously goes down during a war mission.
It is now 1946 in the backyard of the Keller home on a beautiful day filled with friends, lighthearted banter and a fallen tree. But All My Sons is a play written by the famed dramatist Arthur Miller and the audience knows that this uplifting spirit will soon transmute into deep-seated conflict. What follows is a dramatic journey into the world of the Kellers filled with life changing secrets that rip the fabric of a typical American family when Pandora's Box is finally opened.
Director Kiff Scholl does a beautiful job casting strong, capable actors and ensures that each has a distinct presence and sense of character with an interesting arc. Most notable is Nicholas S. Williams who plays Chris Keller, the remaining son of the Keller family. Williams gives the character just the right touch of naiveté and charm at the onset and takes the audience through a transformation that is both compelling and heartbreaking. The most tormented character of the piece is Kate Keller played by actress CaroleAnne Johnson. Johnson portrays Chris' mother and Joe's wife with an emotional intensity that dominates the stage and sets the tone for the entire piece as she shines in this very difficult role.
Joe Keller, Chris' father and subject of interest in the play, is played by veteran actor, Mark Belnick. At first, his sing-song delivery and seemingly distant take on the character garnered criticism but ends up the perfect, most relevant choice, making way for an enjoyable performance. Belnick portrays a seemingly subtle emotional progression on the exterior which allows for powerful and surprising belts of expression throughout. The audience is made aware of his internal state without it being worn on his sleeve which is both reminiscent of a businessman of the 1940s and a refreshing change from your average dramatic performance.
The play itself is well paced with moments of dramatic intensity broken by unexpected and welcomed comic relief. While Arthur Miller does an excellent job in crafting these moments on the page, it can pose a challenge in the physical manifestation of the action if left in the hands of a lesser quality of cast, but the ensemble worked these moments flawlessly. Of comedic note is Matt Shea's portrayal of Frank Lubey, the energetic eccentric with an impassioned interest in astrology. Audiences will enjoy his subtle charactery delivery and mannerisms in the short time we see him onstage.
Act I opens strong, temporarily loses some of its energy in the dialog, then regains its momentum with a pre-intermission cliffhanger. The cast really hits their stride in Act II providing a great performance that lasts through the ending scenes of Act III. The stage is effectively lit (Matt Richter), the sets superbly designed (Davis Campbell) and the costumes true to the period (Sarah Register), all creating an enjoyable theater-going experience.
"All My Sons" is a must see for fans of American drama however, the play deals with certain themes and events that are not suggested for young viewers. That being said, enjoy a great American classic onstage at the Raven Playhouse in North Hollywood Friday and Saturday evenings at and Sundays at through July 25th.