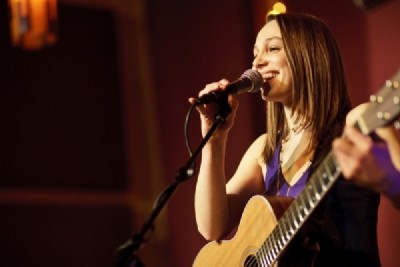 Having conquered the east coast, with regular performances at New York City venues such as the Rockwood Music Hall and The Living Room, rock singer / songwriter Amy Regan, was in Los Angeles last week filming a television commercial, that will play nationwide, and in which her folksy song "Carry On," is featured, but that is all that we can tell you for now, because she made us promise to keep the rest of the details a secret for now.
Demonstrating just how quickly the music industry is changing, Amy Regan is riding the success of her EP released two years ago and she is just this month (February) going back into the studio to record her debut full length album. Prior to Christmas, she had a singles release concert at the Rockwood Music Hall at which she unveiled two singles, one of them being the acoustic pop "Gonna Get Better," which Riveting Riffs Magazine's writer Gabe Alonso described as a song that sees Regan "digging in and leaving her fans wanting to hear more." The second song which Regan introduced that night was "Keep You Warm," a bittersweet song that evokes a strong emotional response from the listener, as the singer realizes her relationship just is not working anymore.
"I really wanted to release these songs and I know that the way things are going these days people are mostly buying their music electronically and downloading songs. It really is about the song. I think at the end of the day, we will always appreciate albums and I still want to do albums, because it is a different way to approach releasing music, because you will get a work, which is a whole body of songs, not just songs that have no relationship to each other. I think (however) that it is important to get singles out there, because it is so easy to release music nowadays. You can just go (online) and put your songs on iTunes, so you don't have to invest in a bunch of CDs and that is something that you can't ignore," observes Regan.
Speaking about the advantages that the internet offers for independent artists like her, Amy Regan says, "I find that any of the new platforms out there work to the artist's advantage and that is exciting, because it is a new playing field. Everybody is into social networking and I do a lot of spreading the word about my music through facebook, I Twitter and I have a Tumblr account. It seems that it helps so much with promotion, because it is so much easier to get the word out. You can post your shows, your songs and post photos of your shows and everything and it just seems that people respond well, because although you are marketing to them, it is in such an indirect way. It is a good way to market to someone without making them feel like you are shoving it down their throat. It will just come up that you are having a new show and they will say, 'Oh let me see what her music sounds like.' I think that all of the social networking that is going on right now is great."
Riveting Riffs Magazine could not agree more, because it was through facebook that we discovered this gifted singer / songwriter and her music.
While many would be quick to assume that Amy Regan's song "Gonna Get Better," was written to inspire people during these tough economic times in America, or that it may have been a self talk missive with the intent of bringing some comfort after experiencing the heartache of a failed romance, but it is neither of those things. Regan explains, "About two years ago I had tendonitis in my arm and it was off and on for a few years. Luckily, I have been better for over a year and it hasn't got in the way of anything in a long time, but there was a period of time, when I had to stop playing instruments, because I just wanted to do what I could to get better. The whole thing was an emotionally grueling experience, just trying to figure out why this happened. The song grew out of that. It is funny, sometimes the songs that sound the most fun and the happiest are written from the complete opposite place. I wrote it from a darker place and I was telling myself that it is "Gonna Get Better." I wrote the lyrics and they are just so happy and positive. I consider myself to be a really positive person and I just couldn't help but look at in a way that was going to be positive. That is why I wrote the song, but I very purposely make some of my lyrics pretty general, because I do want people to be able to relate to them. I want anyone to be able to take the song and make it that it is "Gonna Get Better," whatever their situation might be, whether it is a relationship, a personal struggle or something greater. I just want people to hear it and have the hope that things are going to get better, no matter how bad things may seem at the moment. I am so happy today that I can play whatever I want or for however long that I want. Before I had to monitor what I was doing. Luckily I could balance it, so I could keep everything going."
Read more