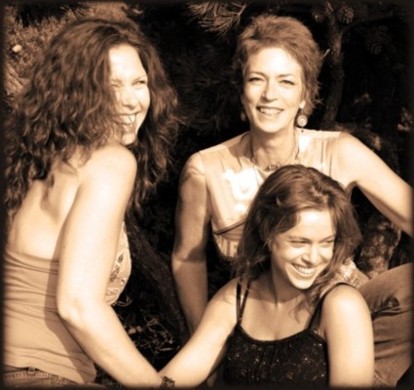 "When I write, it is with the voice of who I am. That is not about anything other than this internal authentic voice. That is what I want to write, not just about all the pretty and fluffy parts. I wrote a song called, "When I'm Found Out," and it is about (this idea) that women have about themselves, 'Oh they're going to find out that I'm ugly. They're going to find out that I'm stupid. Somebody's going to find me out and I am going to be busted.' That's real and I don't know anybody who doesn't feel that, and I know a lot of people. Those universal experiences, (which when expressed) in a very personal context, is what we do. I can spin all sorts of stories about what we have done individually, collectively and as individuals outside of the band and that has certainly overlapped into what the music sounds like. Angel Band is a coalescence of all of those experiences. Collectively as a band, this is who we are. We are this music," says singer and songwriter Nancy Josephson of the Angel Band.
Angel Band's whose music is an acoustic blend of Americana and folk music with suggestions of bluegrass and gospel music. The group is comprised of three singers, Josephson, Philadelphia folk singer / guitarist, Jen Schonwald and acoustic and choral veteran Kathleen Weber. Josephson formerly played bass guitar and performed as a vocalist with Arlo Guthrie, the Buffalo Gals and the David Bromberg Band. Angel Band's musicians include, Josephson's husband, the legendary David Bromberg (guitars), Bobby Tangrea (mandolin / guitar), fiddlers Nate Grower and Jeff Wisor and bassist Bob Taylor.
One of the more beautiful acoustic songs that you will hear comes in the form of "Drown In The Fountain Of Good," from the band's current album, With Roots & Wings. Commenting on the flavor of the song, one which she wrote, Josephson says, "I like writing stuff that sounds like it has been around for a really long time. When I write, I don't go, 'I want to write a bluesy tune.' Lyrics will lend themselves to one form or another."
Elaborating further about Angel Band's sound, Josephson says, "We are very deeply based in a roots oriented concept. That being said, what really seems to resonate with us is based in that acoustic sound. On the CD, we used drums, pedal steel and we actually use an accordion on "Drown In The Fountain Of Good." The song was recorded with all sorts of effects on it, which was really spooky, like there was a big, big monster coming to get us. That's one of our favorite tunes to sing, because you can get so down, deep into it. In terms of writing, performing and figuring out the material that we want to use, we can't do only that or we won't feel comfortable. That would be like eating a cheesecake. You can't have only cheesecake, if that makes any sort of sense."
"Though we are much steeped in bluegrass roots, we are parts of various generations that have had access to huge amounts of music. Good music is good music, and there is this appreciation for all good music that is out there. All three of us have a deep rock and roll background and we all have had various stints in gospel stuff, although the music that comes out of there (gospel); that really deep spiritual music, is something that resonates with David as well. We have a pretty wide array of interests and we utilize that in what we sing. We will do something that is like a stone old country tune and we will do "Drown In The Fountain Of Good," says Josephson, as she also alludes to elements of a capella and Cajun in Angel Band's music.
For their sophomore CD, Angel Band enlisted the services of producer Lloyd Maines who has produced among other fine artists, The Dixie Chicks, which includes his daughter Natalie Maines. "He (Maines) was our first choice in terms of finding someone to work with us. That he consented to working with us, I consider that to be a miracle. I was shocked and delighted beyond belief. It was a really interesting process, because these tunes were so close to us. To have our stuff handed over to someone else really involved a level of trust that we needed to experience immediately, because there was so little time to do the recording. He came in and made us feel like we were all on the same side and he was not going to make us do anything that we didn't feel right about doing. He respected so deeply our musicianship, and then he was able to augment that with a fresh ear. It was awesome and was so right. After the process, I sat in the studio, because I wanted to see how he worked. Now if we are arranging tunes, we will ask ourselves what Lloyd would do in this case. He taught us an enormous amount. He taught us how to condense something that is big and long, into something that is a lot more pointed and clear. Lloyd also played on this CD and his musicianship is so solid and so deep that I can't think of anybody with whom I would rather work. He definitely had us do things that were outside of our comfort level. We are three extremely tough chicks and he put us in a position where we felt vulnerable."
Some of the richest blues influences come from David Bromberg, who plays various guitars including the National Steel. Bromberg has recorded with Bob Dylan, Ringo Starr, John Hurt, the Reverend Gary Davis, Tom Paxton and Chubby Checker. Throughout the 1970's Bromberg toured with his own band and in recent years has revitalized his career as a solo artist.
"David studied at the knee of the Reverend Gary Davis. He is very deeply connected with the old blues and he is a real student of that as well. I think that he has certainly colored our influences. We really take advantage of his ability to bring that to our band. He plays National Steel on a couple of tunes and slide on some tunes. Arguably, the tunes on the CD which are the most bluesy are "Drown In The Fountain Of Good," and the last one, "Jump Back In The Ditch." The song, "Jump Back In The Ditch," is more of a gospel tune, but David uses the National Steel on that one, so it has crossover influences as well," says Josephson.
As our conversation segues into a discussion of gospel music, Josephson tells me, "I think that all of us (in Angel Band) have been influenced by gospel music (Kathleen Weber performed with the Moravian Women's Choir). I don't know of anyone out there who I listen to who is not influenced by gospel music. It is just so real, deep, authentic and spiritual. For me and my band, we cannot help but be really turned on by some of that old gospel stuff."
Josephson shares her personal connection to gospel music, "I was the only white Jewish girl in an all women's gospel choir on the south side of Chicago, and I was with them for five years. It was about feeling this depth of spirituality. It wasn't necessarily related to Catholic, Christian, Methodist or whatever. It was about having this connection to a bigger spirit. I feel that is the best of what music can do, it can transport in a very spiritual way, the listener into a place that is both universal and very, very personal. That to me was a schooling that I couldn't get anywhere else and it was amazing. I think for the first year, they were just waiting for me to go and nobody was interested in having me around (she says laughing). After the first year, I was one of them. Being a member of the choir allowed me to sing in a particular way that I have never sung before."
The re-emergence of, or perhaps a better description would be the reinventing of, several forms of music into Americana or roots music has contributed to a renaissance and appears to be attracting fans from every age group in America. As the country experiences turmoil and uncertainty on several fronts, Josephson has some thoughts as to how that relates to the popularity of music such as that of the Angel Band.
"I think that people are interested in hearing the truth. It is like what is happening with our politics right now. People are tired of having prepackaged, fabricated, glossed up, polished packaging. That's just not how life is. It's grey, its not black and white. I think that people respond to this authentic voice and to truth. I think that people are really hungry for it. I certainly am," she says.
While it would be tempting for some artists to become a bit smug or complacent about their music careers, after enjoying the success that Nancy Josephson and the other members of Angel Band have, that has not been the case.
"One of the things that we (she and David) feel is that we are very grateful. We don't take this for granted. I feel that it is important that none of us in Angel Band take anything for granted. There is not an expectation that people will love us, buy our CDs and come to our shows. We are grateful for everybody who we touch. We feel a sense of responsibility that when people come to our show, that the music we put out there is real, deep and as righteous as we can make it. I think that is basically who we are. That's how we function in life," says Josephson.