actress Ashley Reign is cast as the character Gwen in the film True Perfection, directed by Sarah Mohen and now being shot in Los Angeles, where Ms. Reign now lives.

True Perfection is a mockumentary about a student fashion designer (Gwen) who is preparing to graduate from a very prestigious fashion university and during her senior year she is given an opportunity to have her own fashion show. While anticipating this big break Ashley Reign's character is followed by two film students, during the twenty-four hours before her show debuts.

"During that time she finds out who her friends are and she has to decide if she wants to become a part of the fashion scene, as she attempts to transform that. This is her journey in the hours leading up to her show," says Ms. Reign.

She says, "It is a good film for young people, because we do not always have to question everything that goes against what we believe. The film (asks) if at the end of the day it is more important to fit into society's standards or your own. The movie has a great message, but it is very funny as well."

Ashley Reign seems to be very aware of the need for good art that can be enjoyed and yet can also present a message, as was the case when she appeared in the play Reviving Ophelia, which was stage in Cincinnati a few years ago.

"Reviving Ophelia was developed in Cincinnati and it was based on a book about young girls and the peer pressure with which they grow up and (issues such as) bulimia and anorexia," says Ms. Reign.

Ashley Reign refers to her preparation for the role of Gwen in True Perfection as, "a unique experience, because although the role is scripted, we were encouraged to do a lot of improv as well. Sarah and I talked a lot about Gwen's history, her personality and we even worked on visualizing memories from her past that were not (related) directly to the script, but might have shaped a certain character trait or helped to determine a response to a given situation. In working with this character, my approach was getting to know her very well outside of the script, so I could realistically bring her into any situation that was called for or that arose organically (during improvisation). As a cast, we also rehearsed a lot of improv, while we worked out where our characters met and how they related to one another. This helped to establish very tangible relationships that could easily be incorporated around the lines in the script."

In 2008, when Sarah Mohen was still developing the film and shooting a pilot in order to attract investors, Ashley Reign responded to a call for auditions and as Ms. Mohen says, "I immediately recognized the talent that she harbored. I still remember when she walked in the door and how she carried herself. I knew then, that I wanted her to play our lead Gwen."

True Perfection is not the first film that Sarah Mohen and Ashley Reign have worked on together, as she also appeared in the short film Eve Is Dead as the socially awkward Leea who has difficulty getting a date and in fact Ms. Reign demonstrates her flair for humor during the scenes in which a much younger date shows up from a dating website, and we ought to mention here that Ms. Reign is only a twenty something year old actress as well.

"It was fun. I feel like I am at a pretty good age right now as I am at the age where I can still play younger people and college kids or whatever, but I am still able to go out for roles of young moms or young professionals. It is interesting to be able to go back and forth. It was a lot of fun. I am pretty good friends with the other actor who really isn't that much younger than me at all. He is pretty funny," says Ms. Reign.

"Ashley really seemed to have fun with it since the character (Leea) was so far from the person that she is and yet (the character) is relatable to every girl out there," says Ms. Mohen.

The film Eve Is Dead also gave Ashley Reign an opportunity to stretch and to demonstrate her ability to get into the many moods of her character as Leea was also grieving the death of a close friend and the film depicts five stages of death. At the end of the film the various friends find themselves together at the funeral. The plan is for Eve Is Dead to be submitted to several film festivals.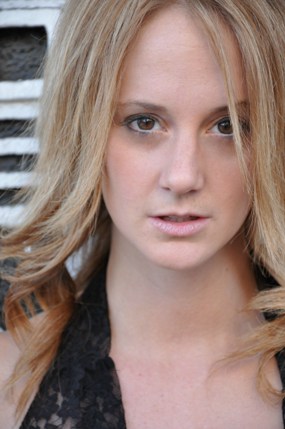 One mark of a good actor or actress is their willingness to take risks when they perform and Sarah Mohen affirms what one easily senses when they talk to Ms Reign, that she is indeed not afraid to take risks.
"You try to get as much into that character as possible so you can answer like they would," says Ms Reign.
With a very impressive resume in theater it would seem natural to pose the question to Ashley Reign as to how she has found the transition to film.
"It is a difficult transition (from stage to film) more so than I think a lot of people realize, because they are two totally different art forms. When I first came out to LA, I was way too big for camera, so I found this woman named Hope Alexander who was teaching this class for people like me and it was called From Stage to Film. We would go through every week and we would just watch ourselves on camera. You begin to realize how much more subtle you have to be. Film is much more about the process and your eyes and very subtle emotion, whereas in theatre you use your entire body and it is much bigger in that way," she explains.
"When you are up on stage you are in front of maybe 300 people, so if you mess up you have to be confident with yourself to just go with it, which is a hard thing to learn and I would say that it is one of the hardest things to learn about stage acting. You just have to trust yourself and to know that if something does go wrong, you can stay so in that character that you just react like they would, whereas in film you yell cut and you do it again," she says.
Without hesitation she replies to the question as to what the ideal role would be for Ashley Reign, "Maggie in Cat On A Hot Tin Roof. I actually got a chance to play a little bit of that role, it was a cut down version of the role, when I was in college and I loved it. I honestly think that it is one of the best modern parts written for a woman, because there are so many levels that you can go to with her and she was so intriguing to study. I would love to do the full role in a show someday."
What is next for Ashley Reign?
She says, "I would really love to keep doing independent films. I love it a lot and I would like to get into producing, just because I have watched what a lot of people have gone through out here, waiting on the studios and it seems like they wait for someone else to give them the go. For me I think it would be fantastic to someday be able to become a producer and maybe even have my own production company and to play the roles that I love."
Perhaps even Maggie in Cat On A Hot Tin Roof.