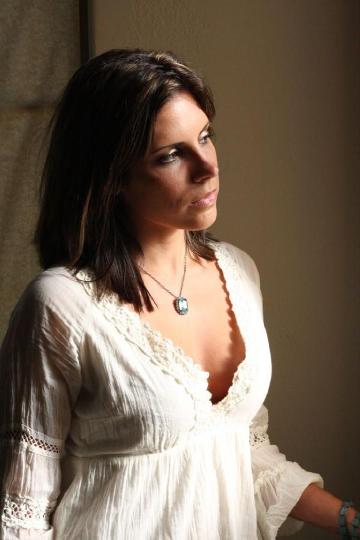 From the first time you hear the voice behind the song, "Rain Down," you are captured by the beauty, the evocative phrasing and you are sure you have heard this voice somewhere before, because Autumn sounds like a seasoned country music singer, but in fact, she is closer to the beginning of her career than she is to the middle. The Tulsa Oklahoma native who has called Austin, Texas home since the year 2000, just released her second album, Velvet Sky, a booklet of thirteen beautiful word pictures, enhanced by her emotive vocals and some superb musicians. The CD also bears the sensitive fingerprints of producer Walt Wilkins.
Talking about, "Rain Down," Autumn says, "I wrote it after my mom had a heart attack, and I was completely desperate (you can hear the emotion in her voice). It is a prayer and when I wrote it, the song was really slow and it was really sad. It was one of the songs which I didn't think that we could fit on the record. I said to Walt, 'This is too personal and I am not sure if I am ready for this, because this is a hard one.' He said, 'No you have to do it.' I love, "Rain Down," and I am glad that I was encouraged to do it. Walt made it a little bit more up-tempo, but we still got the message across. It is a complete prayer, and it is not a happy song. It was a hard song to write and it is still a hard song to sing, but I am proud of it.
Admitting that it is difficult to be as vulnerable as she is, while performing, "Rain Down," before an audience, Autumn says that she sees it as her job to touch other people's lives. "I don't know if this sounds cheesy, but if the song does the same thing for other people that it does for me then it is worth singing.
The former morning DJ on Austin's KAMX 94.7's JB and Sandy radio show, and a graduate of the University of Texas' music program, where she studied classical piano says, "I love country music. I especially love Texas country music, as it has a very specific sound. I love storytelling, which lends itself to the country genre."
She did not however set out to create a country music album, even though it appears, that on this her second album (her first being Sugar Cane), that the music has evolved in that direction.
"I love sifting through (the music) and instead of putting myself into one specific category (such as) country, Americana or whatever you want to call it. I didn't set out and say, this is what type of music it is going to be. Personally, I like country music so much. I like country songwriters, so it (the CD) just came out that way," she says.
Unlike some lesser skilled producers Wilkins did not try to change who Autumn is, but instead encouraged her to rely on her strengths. "He cares so much about music, he is honest, diplomatic, and he lets me figure it out for myself. He never told me, 'This is what you need to do, or you need to sound like this. It is a discovery process.' It is a beautiful relationship. He is one of my favorite people in the world and he is a great human being. (Working with him) was the best time that I ever had," Autumn says, while emphasizing that Wilkins created a stress free environment for her in the studio.
Velvet Sky is a personal album for a lot of reasons, there are songs that will touch most Americans where they live such as, "Trains I Missed," the aforementioned, "Rain Down," a song which holds deep personal meaning for Autumn, and the tune, "Sunny," dedicated to her younger sister. In fact, the back of the liner notes say, "This album is for my sister Sunny."
Autumn says, "It ("Sunny") is obviously her favorite song on the record and she just wants to hear her song over and over. I can't give people a lot of things, but I could give that to her. She's my sister and I adore her. I think that she needed that at the time. The song is for her and the album is for her too. She is a heartbroken type person and I don't know how else to word it. She is a young girl, who has lots of questions and doesn't really know her place yet. It wasn't one specific story that happened, but I felt that she needed a song. I wanted her to listen to the words of the album and I felt that if it were dedicated to her, she would do that, and hopefully it would have an impact on her life. I think that it has."
Sunny is one of Autumn's three siblings, as she has two brothers who live in California, one of whom is an actor, and the other is a director. She joked about her poor parents having all these artsy children.
Walt Wilkins and Autumn were preparing for an acoustic show in Austin a few years ago, shortly after her debut album Sugar Cane was released, and he surprised her by saying that he had a new song that he wanted to try out on the audience. The song was so new that he was still reading the lyrics from a piece of paper. That song, "Trains I Missed," eventually became the fourth track on Velvet Sky.
Autumn recalls that evening, "The room was just mesmerized and everybody wanted him to play it ("Trains I Missed") again. I looked at Walt and said, 'We need to recall all of the Sugar Cane CDs, record it again and I want this song on my album.' He told me no, that I had an album out and I would have to wait until the next record. I begged him to record that song and he ended up recording it with his band. He did a really cool version of it, but it was also the initial reason for me to do a second album, because I wanted to record, "Trains I Missed." The song was on hold by George Strait, and I can't believe that nobody else has picked it up yet."
As for the connection that she believes the listener will make with a song which talks about fighting through the difficult times and holding hope for better days, Autumn says, "Everybody in America is really upset right now and it has been really hard. I think that, "Trains I Missed," is a really relatable song. It is honest. I don't know who couldn't relate to it."
As you listen to the title track from Sugar Cane, you are struck by Autumn's skill when it comes to telling a story and her soulful vocals. Singers far more experienced in a number of genres still do not possess her ability when it comes to bringing a story to life. Close your eyes and you can easily picture her sister and her sneaking out the back way, dressed in their Sunday clothes, as they make their way down Sugar Cane Road.
Yet as good as Autumn sounds on, "Sugar Cane," she refers to the CD as, "my first album and I didn't know what I was doing. I was young and inexperienced. I didn't know what my sound was. Velvet Sky is a lot more focused and I wanted it to be one big piece of an art from start to finish. I wanted it to flow and I wanted it to be a little calmer too. It is not so much in your face. Sugar Cane was a little louder. I really think (with Velvet Sky) you can just sit, listen, close your eyes, hear the words and it is not overpowering. It is completely appropriate. It is appropriate for what is going on in my life right now too, and that was important."