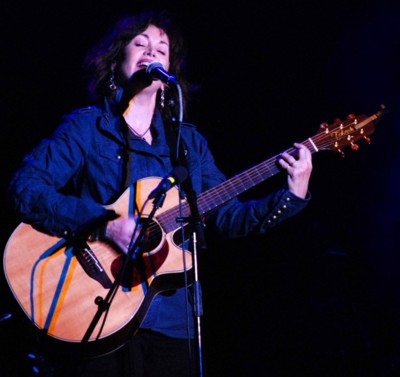 Sometimes less is more, and a few years ago when singer / songwriter Babe Gurr took the advice of former Sarah McLachlan guitarist David Sinclair, to just simplify, and start writing what was in her heart, it represented an epiphany of sorts. "It was the best advice that I ever had. I stopped trying to show off all the complex stuff that I had learned in college. I started writing what was in my heart. It is much, much simpler, but I think that it is truer to who I am. I think that it is closer to the audience as well," says Gurr.
Babe Gurr whose music is a blend of Canadiana and pop, with a twist of roots, is a Vancouver artist who toured extensively with rocker Barney Bentall, and opened for Amanda Marshall, Grapes of Wrath, pop artist Amy Sky and many other high profile artists. She has headlined numerous music festivals including the prestigious Toronto Harbourfront Music Series. Her songs were aired on the Fox television series Higher Ground, and the Canadian Broadcast Corporation recorded, for future broadcast, her May 24th CD release concert, in support of her current album Chocolate Lilly.
Gurr's Chocolate Lilly, clearly demonstrates that she not only has the ability to be vulnerable with her music, but with songs such as, the title track, "Chocolate Lilly," "Understanding," and "Love Is Tough," that she is able to communicate those feelings and moods to her listener, using simple poetry, rather than abstract metaphors, that are based more in fantasy than reality.
Talking about the song "Chocolate Lilly," Gurr says, "It was a song that I wrote at the last minute. I came up with the title "Chocolate Lilly," in a strange way. I was on Savary Island (just off Vancouver Island's north shore on Canada's west coast), last September, and there was a restaurant on the island, called the Chocolate Lily (actually the Chocolate Lily Bakery and Café). I thought that it would make a cool name for a side band (in addition to her regular band), that I hoped to start. I was never able to pull it off. I did some investigating and I discovered that there is a flower named the chocolate lily, and it is a member of the lily family, and it is indigenous to the Northwest. It is on the endangered list right now and it is kind of the ugly duckling of the lily family. It is brown, it smells, and its nicknames are diaper lily and skunk lily. It is really strange, but I really felt for this flower. I thought what a great metaphor for a person who doesn't quite fit in, for whatever reason, a person who doesn't dress like, or look like what society is pressuring people to be like. I had written all of these songs and I thought that I should have one that related to the title (of the CD). I came up with that song. I chose specifically not to put drums and bass on it, so that it would stand out, which became a metaphor for the chocolate lily standing out. Everything else (on the CD) has drums and bass, and not having them (on this song) makes it stand out more." (Just a note if you are confused the name Lilly is spelled with two "l's" while the flower only has one.)
Gurr explains how the song evolved musically, "When I write songs, I noodle around on my guitar, and I get a chord progression going. I don't consciously think about what my next chord progression is going to be, unless I am stuck. I noodle around trying to find chord changes that will fit with what I think will be the mood of what the song is going to be about. In this case, with "Chocolate Lilly," I had an idea, but quite often, I do not have an idea of what the song is going to be about. Usually the chord progression dictates that and I get a feeling from that chord progression. One or two words will start to come to me, and I will start throwing them in every time that I come to a chord. (Soon) I have a full sentence. Now, I know what the song is going to be about. Some musicians feel that they are channeling songs from somewhere, and I feel I am like that, because I am not one of those people who can sit down and say, 'Okay tonight I am going to write a pop tune and it is going to be about this.'
Gurr acknowledges that despite her earlier days as an electric rhythm guitar player, her signature sound has become an acoustic guitar. Whether she is playing her 1962 Gibson guitar or her Takamine, the stripped down, organic music fits the earthy tone of her lyrics and allows her strong vocals to shine through, rather than fighting for airspace with the instruments.
"I went acoustic by default. A few years ago I was touring on and off with Barney Bentall. We were playing a lot of tiny theaters in small towns, and they didn't want full bands, because the theaters were too small. He went acoustic solo most of the time, and I went acoustic as a duo. The songs that I was performing at that time, were originally recorded with electric guitars, were rockier and punchier. Here, we were doing them on two acoustic guitars. I thought it was pretty cool that we were stripping them right down to the basic skeleton of the song, and presenting them in the rawest form that you possibly could," she says
The organic bent to Babe Gurr's music contributes to the success of songs such as, "Love Is Tough," a song whose seed was the breakup that a friend of hers was going through. "I was trying to write it from her perspective, and even though it was about what she was going through, it got very personal. I had to turn it inwards, for me to feel anything, and to be able to write about it. There is another song on the CD, called, "Now You're Gone," and it is such a break your heart song, about someone dying. That song was really hard to sing. "Love Is Tough," is the same thing, and even though I am not experiencing that (in my own life) right now, we have all been there. When I sing that song, I can really feel it in my heart," she says.
When she was once asked by her mother, why she wrote unhappy songs, Gurr replied, 'I am writing about life mom, and it's not all happy,' to which she adds, "When I am going out to a movie, or going out to be entertained, I like to be taken on a ride. I like to feel something when I see somebody. I like to laugh. I like to cry or to be made to think. I also want to have a lighthearted time on some things. That's what I try to achieve when I am doing a concert. I want to bring people on an emotional rollercoaster while they are there, so they will feel a whole bunch of things, and yet walk out with a smile upon their faces."