Interview by Joe Montague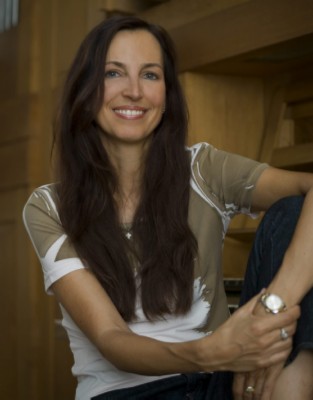 Barbara Dennerlein is one of the premier musicians in the world. If you google her on sites other than her own, you will find her described as a hard bop or post bop organist, which only really scratches the surface, because this gifted, German, Hammond B3 player can swing, boogie and create symphonies as well. Riveting Riffs Magazine first became acquainted with the congenial Barbara Dennerlein, while she was performing at MusicFest Vancouver in August of 2010 one of the top music events in North America. With her new album release BEBABALOO it was definitely time to catch up with Ms. Dennerlein again and she was kind enough to talk to us as we conducted our video interview with her, while she sat in her home in Germany.
"BEBABLOO was recorded during a single concert at the Hedenheim Engine Shed, which long ago was converted into a concert hall. "It was one concert that we recorded and it is always a bit of a risk, as you never know if everything is working well and if the mood and the atmosphere are great. These are things that you can't predict. In the studio you can repeat things and live you can't. We were very lucky, everything was perfect and the audience was great. People loved the music and the exchange of energy was wonderful. The sound was good and the musicians were very inspired. Everything worked well and it was a nice evening for the concert. The whole atmosphere was so relaxed and I think this is something that you can hear on the CD," says Ms. Dennerlein, while explaining that the title of the album is a blending of the words bebop, Barbara and boogaloo.
"The whole album is telling a story in a way and fans told me that my music reminds them of going in an airplane. I think that it is the aspect of the music floating and flowing, so this movement in the music is very important. I like to just be able to let go and the music is carrying you away. I want to invite the listeners to enter my airplane and to come on a roundtrip and to take off and to fly. You have this feeling of being light and being transported by the music. I can give them a roundtrip through the different styles of my music. That is also why we have this plane (on the cover art for the album). When you read the liner notes, there is a little story about the roundtrip for each of my songs," she says.
The second song on the album is "Always Remember," which opens with tranquil keys and the sounds of ocean waves gently lapping against the shore, before Peter Lehel's wonderful soprano saxophone adds texture and drummer Marcel Gustke provides a beautiful accompaniment for Dennerlein's organ. Even though the song is 10:26 in length, it is one of those pieces that you wish would simply never end, for it moves beautifully, is ethereal and the listener feels as though he / she is floating on a cloud, before Ms. Dennerlein breaks into some more spirited playing during the last one third of the song.
In describing "Always Remember," Barbara Dennerlein says, "The introduction is more spheres and atmospheres. This is something that I like; to take a bath in sounds. My drummer has this ocean drum, which sounds like the waves of the ocean and I love the ocean very much. The music is open and endless and then it has these waves. The melody starts with the soprano saxophone, then it (becomes) more lyrical and it starts to get this movement. The music starts to float and you get carried away by the groove and by the harmonies. This is what I love. For instance Pat Metheny whom I like very much, has compositions which have this quality. You can just relax, close your eyes and then you can start moving with the music. The music carries you away and this is an effect which I like very much with music."
As for why she chose to title the second track, "Always Remember," Ms. Dennerlein says, "It has this lyrical atmosphere and it is a very sentimental song. I do not want to tell the people what they shall remember. There are moments in your life which are very important for you and they give you strength and power when you are in difficult times. You have memories of your family and maybe they are not alive anymore. There are friends or things that happened to you that made a big impression on you or maybe changed your life. Every individual has his own world and his own memories. I wanted people to just be open for that and to just feel the music. I want them to remember the positive things that they experienced. I don't want people to remember this or that and so you should remember something similar. I want to keep it open for people."
One can envision Barbara Dennerlein moving to the music as she plays "Unforgettable," another song from BEBABALOO. When you watch her play, there is never a doubt in your mind that this gifted musician thoroughly enjoys performing her music in front of an audience. She is not showy or boastful; she just invites you to the party. She makes her Hammond B3 sing in a fashion that would make her mentors Jimmy Smith and Wild Bill Davis proud and the song conjures up images of the big bands led by Artie Shaw and Benny Goodman.
"Responding to my observation Ms Dennerlein says, "You are absolutely right when you compare it with a big band, because it has a riff in the style of the old big bands and there are some parts arranged like a big band. It is blues and it is in an old swing feeling."
About "Unforgettable," she says, "It is dedicated to Jimmy Smith whom I knew personally and I loved his music so much. I dedicated this song to him, because he is one of the most unforgettable people in the history of the organ. We should not forget that before Jimmy Smith there was Wild Bill Davis who I knew too, and he was the one who made the organ sound very much like a big band. He played with Count Basie and the big bands. One of the other (early) organists was Fats Waller. Jimmy Smith (still) has a lot of influence on organists nowadays."
Photo by: Feinkorn, protected by copyright