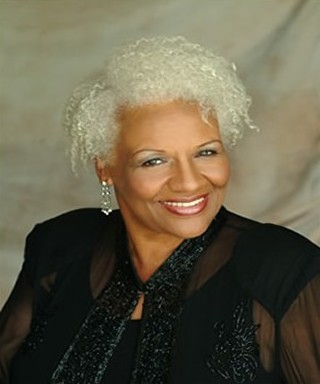 We were just a half hour removed from Barbara Morrison's scintillating performance in the musical Howlin' Blues and Dirty Dogs, presented on the stage at Hollywood's famous Stella Adler Theatre, and the star of the show had just finished signing autographs for her fans when, now dressed comfortably in a track suit she led me to a room adjacent to the theatre. Morrison has a knack for making you feel instantly relaxed when you are in her company and she was gracious with her time as she discussed her role in the musical which is centered about the life of legendary blues singer and songwriter Big Mama Thornton, a woman with whom Morrison was personally acquainted.
"I think that there is a lot of me in Big Mama, and we were discovered by the same person, who encouraged us to be ourselves. I think that I was just being me (in the musical), but I was also Big Mama. We were discovered by the same person who encouraged us to be ourselves. I knew so many of her ways, and so many stories about her that intrigued me. I wrote the songs around the story, so it kind of fits very well, but I didn't do anything different than I normally do," says Morrison.
Morrison explains why she wanted to be a part of this project, "I always wanted to be a part of the theatre and when I looked at this (musical) I thought this piece would be good for me and that I could take it across the country or I could take it around the world. In Europe, one blues festival will pay for four hundred jazz festivals. People love the blues. Spain has a huge (audience for blues) and Italy has a big audience for blues also. It is just one of those things. When I hooked up with this piece for the theatre I thought that it would be a great vehicle for me to get more blues out there. Even though it (the blues) is so big, it is so small at the Grammies, so small at the Oscars, and it is so small in the eyes of the people who make the big bucks."
"When I first met the writers (collectively known as The Theatre Perception Consortium), they were doing a blues show on North Central Avenue, here in Los Angeles, which is a great Mecca for blues and jazz.. I was away in England, but they asked me to be a part of it, so I told them I would be back for one day. I think they just wanted to use my name. They did and it worked, because they packed the house. When they came to me and asked me what I could do for them, I said that I wanted to be Big Mama Thornton. I told them the stories that you saw here tonight, and they wrote around them. When they presented me with a script, I started writing little songs around the stories, and that's how it came together. It was kind of like still being me and being Big Mama too," she says.
Since Barbara Morrison grew up near Detroit, Michigan and Big Mama Thornton grew up in Montgomery, Alabama, one would assume that Morrison might have faced some challenges in learning how to accurately portray the early part of Big Mama's life, but that in fact was not the case.
"My mother was from Birmingham, Alabama and I grew up in a rural area outside Detroit that was just as country as Alabama. With the underground railway, most of the people from Mississippi went to Chicago, and most of the people from Alabama went to Detroit, so we got all of their ways, mannerisms and stuff. Detroit is the place that people from Alabama came to, because we had Henry Ford, the Ford plant and General Motors. When they decided to pay black people the same as white people, they flocked there. I knew about outhouses, coal stoves and wood stoves (that were used) to heat the whole house for us during the winter. I knew about chopping wood, and as a matter of fact (she rolls up her pant leg to reveal a scar) that is from chopping wood," Morrison says.
A journalist from Ohio once said of Barbara Morrison, that she was one of the few signers who could sing the yellow pages or the obituaries and he would give her five stars and the thumbs up, because of her ability to infuse personality and passion into her music.
"The most important thing is for you to communicate and it doesn't matter how you say it, or how it comes out. It is not if you say it and the person that you are talking to understands what you meant. I am earthy and the way that I dress is earthy. (As for being) sensuous, I think that I can tap into stuff that a lot of people are afraid to say or to address. I think it is because I work a lot. Sometimes, like today (in the musical) in that scene with Johnny Otis when he discovered those people, I added, 'and then he discovered a little girl named Barbara Morrison,' because that works," she explains.
Even though Howlin' Blues and Dirty Dogs, is not Barbara Morrison's first foray into theatre, her stage credits pale in comparison with her accomplishments as a blues / jazz singer and songwriter. In 2008, she launched a thirty-three city tour of America, and also toured Australia. She has performed with iconic figures such as; Dizzy Gillespie, Ray Charles, James Moody, Etta James, Johnny Otis, Dr. John, Kenny Burrell, Cedar Walton, Tony Bennett, Nancy Wilson and Ron Carter, to name just a few. She regularly performs with the Count Basie Orchestra, the Clayton-Hamilton Orchestra and Doc Severinsen's Big Band. Barbara Morrison has performed at the Montreaux Jazz Festival, the North Sea Jazz Festival, Monterey Jazz Festival, Nice Jazz Festival (France), the Long Beach Jazz Festival and the Pori Jazz Festival (Finland). She has also played New York City's Carnegie Hall.
Morrison has released more than twenty recordings during her thirty year music career, including her current album, By Request, produced by her friends Mara and Ron New. For her current album Morrison says that she took all of the songs that people like to hear her sing and put them all on one CD, including one of her personal favorites, Brenda Russell's "Get Here If You Can." On By Request Morrison is accompanied by pianist Ronald Bishop who has been with her for twenty-five years, guitarist Charles Small who has been her electric guitarist for eighteen years, bass guitarist Richard Taylor who has served in that capacity with Morrison for a mere fifteen years and drummer Peter Buck.
As far as what musical elements inform Barbara Morrison's music today, she says, "I like the blues. I think the blues are my forte, although I do like soft, sweet stuff. I like ballads which I think that I do very well. I like the idea of being able to do all of it. I just like to have fun. I always say that when I stop having fun, I am going to hang up my vocal chords."
When you watch Barbara Morrison perform and you sit in her company, she leaves no room for doubt that she is still having a lot of fun with both her music and her acting
Interviewed by Joe Montague, March 2008, protected by copyright © Riveting Riffs Magazine, All Rights Reserved.