Interview with Joe Montague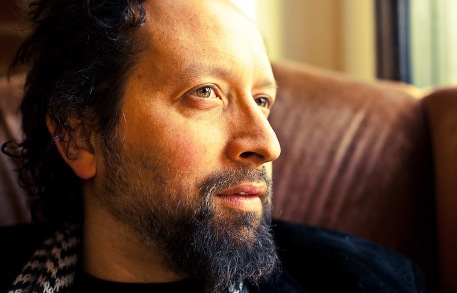 His name is Bobby Thompson and he grew up in Arlington, Virginia, where he still lives. He is a very good Blues Rock guitarist – singer – songwriter, who channels Eric Clapton vibes from the Cream and Blind Faith era. In February of 2011, Bobby Thompson released his album By The Hand, a ten song collection, which features eight original tunes and two covers, the Eddie Floyd / Steve Cropper song "Things Get Better," and Albert King's "I've Made Nights By Myself." The album may represent a significant turning point in the career of Thompson who has toured with a number of Blues and Reggae / Funk influenced bands during his career, for By The Hand, features his own solid guitar licks, complimented by the drumming of Gary Crockett, some solid bass players (Steve Wolf, Mike Echols, Jeff Frank) and the funk master of the tenor saxophone, Ron Holloway, whose performance credits include; Gov't Mule, Susan Tedeschi, Taj Mahal, Allman Brothers Band, Peter Frampton and Little Feat. Benjie Porecki is awesome on the keyboards and the icing on the cake is the background vocals served up by Angie Head and Dusty Rose.
Recently, Bobby Thompson took time to sit down with Riveting Riffs Magazine to talk about his new album and the circuitous route that he took to arrive at this point in his career. He is proud of his southern heritage, his father was from Athens Georgia and as he likes to say, his mother was from the Deep South; Peru, in South America. He was one of three children, with his sisters April being one year older and Angie is two years older, but Bobby Thompson was the only one in his family to pursue a career in music.
His tenure at the Corcoran College of Art and Design in Washington D.C. seemed doomed from the beginning, as he remembers how he skipped classes to play guitar and he did not really see graphic design work in his future. There was another one year stint at a community college and a third post-secondary school in Utah, before he landed at the Musicians Institute in Los Angeles.
"That is where I really excelled. It was really cool and there were a lot of guitar players. It was called GIT, the Guitar Institute of Technology, but under the umbrella of MI so you also had keyboards, bass and drums. There were a lot of rock guitar players and heavy metal guitar players and I was part of a very small percentage of Blues guitar players. We all studied the same things, theory, harmony, rhythm and performance classes. Performance classes were the thing that really got you going and it really got the music out of you," recalls Thompson.
Bobby Thompson reflects upon those who influenced his approach to music, while he attended the Musicians Institute, "There were four, Keith Wyatt who played guitar and who writes articles for Guitar Magazine. He is like an encyclopedia of Blues guitar. Anything that you want to know, he already knows it and he can show it to you. He had a guest by the name of Osee Anderson, a Chicago based Blues guitar player, who I spent a little time studying (under) and I got a chance to play with him on one of the first gigs that I ever did, when I was about twenty years old. He got me on stage with him. Shortly after that Albert Collins came to the school and Keith played with him. I got to sit in the front row and it just blew my mind. It was incredible. Another person who influenced me and who there was Tim Bogert a bass player, who used to play with Jeff Beck in the early seventies. He taught a lot of performance classes. He was playing the bass while he was suggesting guitar parts to us."
After his time at the Musicians Institute, Thompson returned to Arlington, Virginia where he started going to local jam sessions and looking for bands with which he could play. Starting in 1995 he toured with several R&B, Jazz and Blues bands for the next six or seven years, mostly on the east coast, although there was at least one tour that included Texas.
In 2009 he toured with Reggae rockers SOJA and See-I, prior to forming his own band the BobbyT Project. It was while he was on tour with See-I that Thompson experienced somewhat of an epiphany when the band members walked into the legendary Blues nightclub Antone's.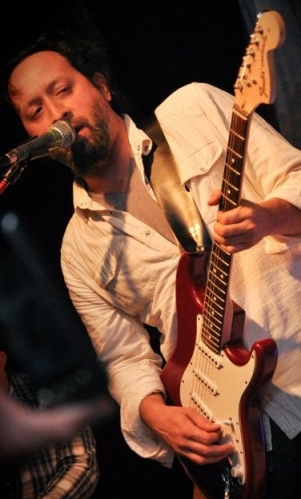 "As soon as I walked in and I saw the poster of Stevie Ray Vaughan, I felt a very strong emotion. None of the other guys had listened to the same music as I had. I was obsessed with Stevie Ray and I was just in awe being in that room. We got to play in front of an awesome crowd that night. The people (in Austin) know their music," says the soft spoken Thompson.
Reflecting upon the time that he spent with SOJA and See-I he says, "The also have a lot of funk roots. To me it is kind of all tied together with being a Blues guitar player. You play Rock, Funk and Reggae if you know how to place it correctly in the music."
It was while he was touring in 2009, including the BobbyT Project, which performed at Reggae Rising in Humbolt County, California, that the seed for the album By The Hand was first planted. "My friends had been putting the idea in my head for a long time, but I would probably say it was when I was on the road in 2009. We spent a lot of time in hotels and in the back of a van, and I had time on my hands. I would keep a few notebooks and I would scribble down notes of what I wanted an album to sound like. After I was off the road early in 2010 I had the time (to work on an album). The first step was working out songs at home. I worked out demos and I worked with the drummer Gary Crockett, who ended up being the producer. That was early in the spring of 2010. When we first went into the studio in April or May of 2010 we did four songs, with Steve Wolf on bass."
Songs such as, the note bending "Let Your Mojo Shine," began to emerge. That song was one of the ones that I was stuck on for a while and it had all the instrumental parts the way that I wanted it. The voice tended to be the backing voice to the guitar. We spent a crazy amount of time in the studio with that song, having fun finding tones and capturing that sound. I have listened to so many artists and heard people like Robert Randolph and Ben Harper play and I have just been blown away by their sound. It is fun to have come back around and to play a song like "Let Your Mojo Shine." We literally had the amplifiers cranked up in the studio. We had a couple of Vox AC30s and a Marshall, and I am playing an Asher lap slide guitar, made by Bill Asher who (built guitars) for Jackson Browne and the Black Crowes (and Ben Harper and Bonnie Raitt)."
Of the sound that music fans will hear in the songs from By The Hand, Thompson says, "It goes back to my early guitar roots; Cream was probably the first band that I really, really paid attention to. I had all of their live albums and (I like) the way that Clapton had the tone of his guitar, during the era of Cream and Blind Faith. I never really got rid of that and it was a joy for me to go into the studio. I wasn't trying to emulate anything, but I was trying to bring that spirit and to do something creative with that."
One of the killer tracks on this album is the song "Every New Day," which features the background vocals of Angie Head and some scintillating guitar work by Bobby Thompson. There is something about the timbre of Thompson's voice that is inviting and his easygoing vocal vibe contrasts nicely with Head's soulful wails.
"I was trying to create the sound of early seventies. We had a couple of guitars going and maybe the touch of a boogie woogie blues sound. I felt that Angie would bring something really soulful to the song. We rehearsed a few times and then we went in and cut the track. From the demo that I created to the way the song sounds, it sounds even brighter than I expected. It sounds pretty energetic and it is one of my favorite songs on the album as far as the energy goes. Angie got to shine on that one. She did a great job. She is in Brooklyn, New York now. She goes back and forth between New York and D.C. to perform. She also has her own EP out and you can find it at www.angiehead.com ," says Thompson.
"Things Get Better," was one of those songs from the Delaney Bramlett era and it kind of stuck in my head. I always wanted to play the song, but the live band that I play in is usually a trio and I didn't feel that song could be done as a trio. I felt like it needed more, so I thought let's give it a shot (on the album). I didn't want to cover the Delaney and Bonnie version, but I couldn't find the Eddie Floyd version, so I ordered it through Barnes and Noble and when I finally got it, I kept playing the record over and over, until I got the rhythm of the Eddie Floyd song. It is different than the Delaney song."
As for the reasons why Albert King's song, "I've Made Nights By Myself," was included on Bobby Thompson's By The Hand, the answer is pretty simple, during the first part of 2010, he recalls that much of the Washington D.C. and Virginia areas experienced heavy snowstorms, so much so that he could not get out to see anyone, so he spent a few nights alone and listening to Albert King's song.
You can listen to songs from Bobby Thompson's By The Hand on his website.
Protected by copyright ©, Riveting Riffs Magazine, All Rights Reserved