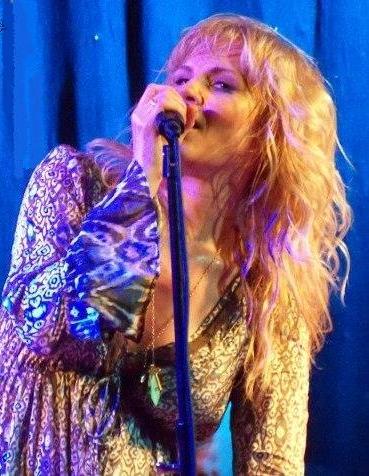 She started acting when she was two years old and he played drums for Daryl Hall and Robbie Dupree among others. A child actor from the time she was two years old, she became by the time she was five years old and told her mother Shelle she did not want to act anymore. He took a hiatus from the music industry for ten years and when he was ready to return he asked his daughter if she wanted to be in a band with him and she said no. She asked her father to be in a band with her and he hung up on her. As unlikely as it sounds, drummer and songwriter Steve Shive and his singer-songwriter daughter Brooke Shive would evolve into one of the best emerging Americana / Blues bands in the United States, Brooke Shive and the 45s. The band formed in 2008, in the Greater Philadelphia area, originally consisted of Jim Gilheany (bass and background vocals), whose music resume includes Sonny Rhodes, Rick Danko and as a member of the Kings In Disguise, opening for Van Morrision, Taj Mahal, Steely Dan, Don Henley and Dr. John, the guitarist Randall Thompson, who departed recently, for health reasons and who has been replaced by Skip Spady, and of course Steve Shive on drums and Brooke Shive as the lead singer. Joining the band for their current album Way Past Gone, were multi-instrumentalist Andy Goessling (acoustic guitar, banjo, dobro, mandolin, flute, saxophone), from Railroad Earth and Kings In Disguise and Jay Davidson (harmonica, tenor saxophone and keyboardist) who has recorded with Steve Winwood, Daryl Hall, Billy Preston, The Funk Brothers, Levon Helm and Horace Silver. This is a stunning cast of superb musicians who serve up some incredible solos, but who also know how to accompany a singer in a manner that allow for her vocals to be showcased.
Beginning with the first line of their original song, "Can't Get Over Loving You," Brooke Shive turns in a commanding performance, "You just told me something that I thought I'd never hear / I just can't get over loving you / I know that when I close my eyes that I'll always see your face / I just can't get over loving you," with the conviction of a brokenhearted woman, longing for the love now lost.
"Can't Get Over Loving You," should be heard, let's change that deserves to be heard on your favorite Americana radio stations. This is not a good band. This is a fabulous band consisting of world class musicians, fronted by a terrific singer whose emotional pitch drives the songs and draws the listener in.
During our recent conversation with Steve and Brooke Shive, Steve talked about the song, "I wrote that with one of my many collaborators over the years, a guy by the name of Rick Stallard and it was over the winter of 2010. We just were sitting in my music room. He was playing the guitar and he had this idea. I was playing the drums and we had this groove. We had this verse and the bridge of a song, but we had a difficult time with the chorus and I wasn't happy with the way the chorus was going, so finally I just said to Rick play this and I started singing the notes that I wanted him to play the chords to. Then I came up with the title line "Can't get over loving you," we just finished the lyrics and boom we had the song."
Brooke Shive says, "(The song) "Can't Get Over Loving You," is one of the first songs that we do, when we put on our shows. I am not on stage at the beginning and then I come on stage and I start the song. Everybody really likes it. Going into the studio it was not my favorite song and I could have taken it or left it. It just never grew on me. After we recorded it, it started to grow on me. Then when we started getting a response from the audience I was like okay this is a really good song and I need to embrace it. That is what I have done."
In addition to their original songs, Brooke Shive and the 45s cover songs by music icons such as Elvis Presley ("Trying To Get To You,") and Etta James ("W.O.M.A.N"), always a risky proposition for an artist as critics are apt to draw comparisons.
Brooke shrugs off whether or not comparisons are inevitable, "A lot of people don't know that Elvis even recorded that song. If it is a guy singing it, sometimes I won't even continue to listen to (a song), because I want my interpretation of it. I think that I have only listened to Elvis do that song, maybe once or twice. We took it and we did it as though it was our own from the beginning, so I can't even really tell you how he sang it. Nobody has really said to me, it is not as good as Elvis singing."
Steve says, "The other covers that we selected were more obscure. Even Etta James, "W.O.M.A.N.," was not a big hit for Etta (it never charted in the top 100 on Billboard). "At Last," and "I'd Rather Go Blind," those were more well-known tunes. I don't even remember how I stumbled across "W.O.M.A.N." I have been an Etta James fan for years. I had never really heard that particular song, until rather recently and it ended up being in the repertoire and it stuck."
It seemed from the beginning that Brooke Shive was destined to find her home in the arts, however, music was not where she began. At two years of age she started appearing in commercials and she also studied ballet, jazz, tap and modern dance from a very young age and in fact pursued dance for eighteen years. It was when she was about five years old that she told her mother that she did not want to be in front of the camera anymore.
"I guess it was when I was about eleven or twelve and in the eighth grade that it was mandatory for everyone to take Chorus. I was taking chorus at my elementary school and the instructor had given me a solo. I said I can't sing and she said "Yes you can." I said, "No I can't." She said, 'Do me a favor and start coming after cheerleading practice and we will work on your vocals.' I didn't tell my parents, because I didn't think anything of it. I always loved music, but I was a dancer first. I decided for the talent show that year that I was going to sing, instead of dance. When I told my mom she said 'Why would you embarrass yourself?' (she laughs). Nobody knew that I could sing. I didn't think that I could sing, but my vocal coach told me I could, so I thought well why don't I try it and see what kind of a response I get. I sang a song from The Little Mermaid. I remember my mom's jaw dropping when (she heard me sing). I kept singing and I quit cheerleading, because it's hard on your vocal chords. I started getting into musical theater. As I got older, I kept tuning my musical instrument and taking vocal courses."
Eventually, Brooke Shive wound up singing in a cover band, as she was not writing songs at that time. Her father Steve had revived his musical career by founding the Blues band, The Bluescasters (not to be confused with the Michigan band), and he says that his band "crashed and burned," after three and one-half years. By this time Brooke was getting the itch to perform original material and it was after her husband had listened to one of her father's records that he asked why she was not working on a project with Steve.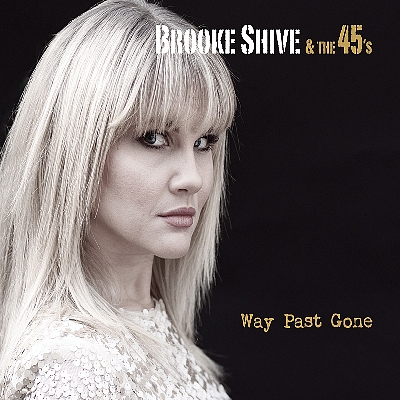 "I phoned up my dad and I asked him if he wanted to put a band together and he hung up on me, because he thought I was joking," she says.
Steve picks up the story from there, "I had asked her a number of times and I had said hey we should put a band together, you play the singer and I'll play drums and she would say, 'I don't want to be in a band with my father. My wife finally said, stop with that, she's not going to be in a band with you. She doesn't want to be up there with her father. I laid off, and at that time I was on a hiatus from music. When she called and asked, I thought she was joking (he laughs). When I hung up on her, I was kind of joking as well. It wasn't in anger. It was stop with this already. Then she called back and said that she was serious. I said if we are going to do this, it is 200%, not 50% or 100%."
As for why the band chose the Etta James song "W.O.M.A.N.," Brooke says, I have always loved everything of Etta James, but that particular song, I just felt like I tore it up, chewed it up and spit it out. She is talking about men and how she is going to eat you up and spit you out, no matter who you are (she laughs and then adds). That is one of the songs that my husband really likes."
Whether Brooke Shive and the 45s performs and / or records a song, Steve Shive says it comes down to, "Ultimately, does Brooke feel it and does she want to sing it. That goes for the original material too. We have a backlog of original material that we have either not gotten to or maybe there are a couple of things that we have that Brooke didn't feel. We don't automatically do it, because one of us wrote it. "
The original song "Kiss The Sky," gives Brooke Shive an opportunity to demonstrate her versatility as a vocalist as her vocals have a Country bite to them and during the bridge segues into a softer, more soulful feel. Instrumentally, this may be the best song on the album, which includes some spectacular guitar playing.
Brooke says the song is about, "standing my ground, but at the bridge, I am sill vulnerable and although I am saying all of this stuff, I still have these feelings inside and I am not going to let you take that away from me."
Brooke Shive and the 45s are an incredible band, boasting a cast of amazing musicians and a singer who is going to be a force to be reckoned with, for a long, long time.
Brooke Shive and the 45s will be performing September 15th at the Utica Music & Arts Festival, in New York State and at the Paoli Blues Festival, Paoli, Pennsylvania on October 6th.
You can listen to the music of Brooke Shive and the 45s here and you can visit the band's website.
Interviewed by Joe Montague
This interview is protected by copyright © and may not be reproduced in print or on the internet or through any other means without the written permission of Riveting Riffs Magazine, All Rights Reserved