Reviewed by Ethan Silver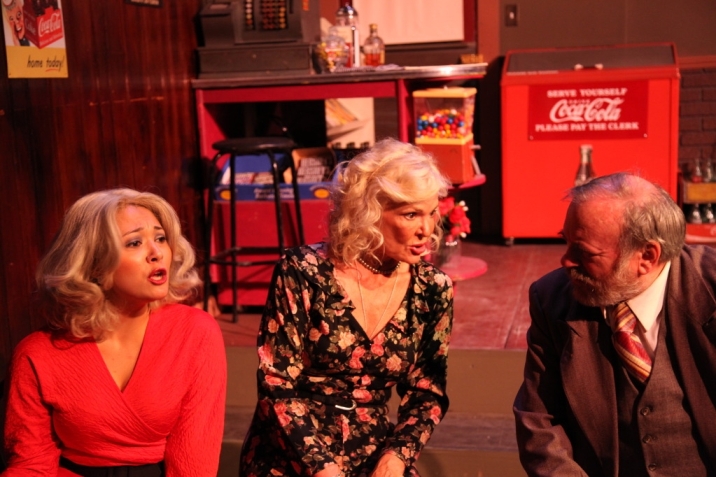 Wise-guys are everywhere. Marked by their expensive suits, sly walk and the shadowy outlines of their concealed pieces, they make sure your business pays its dues and keeps their pockets full. In Brooklyn, New York in the 1930s, a faction known as Murder, Inc. owns the town and has their hands in every racket and pocketbook in the city. Organized crime is a way of life and when you get pinched you deal with it if you know what is good for you. But sometimes people talk and when the heat comes down, the mob has to ensure the security of its setup. This is when things get hectic, life gets real and the high life becomes rife with consequence.
Brooklyn U.S.A. promises to be a melodrama and absolutely delivers on this promise. The production maintains the integrity of its genre with a slow and steady plot progression that leaves plenty of time for character exposition. The actors deliver their dialogue in a delightfully conversational manner interspersing colorful vocabulary that period-fanatics and mob aficionados will thoroughly enjoy. In roughly two hours the production tosses in humor, plenty of drama and a hint of action, all of which are key ingredients to a great gangster story. Add the fact that the characters and the action are based on actual events and you have an even more compelling reason to see this show.
The fifteen member ensemble works exceptionally well together and creates a realistic group of characters so diverse that one cannot help but appreciate the level of attention each brings to his role. Director T.J. Castronovo and Casting Director Stephen H. Snyder do an excellent job in casting an ensemble in which everyone hits their mark. It is rare to find this type of widespread quality in a production, let alone one with such a large cast, but Brooklyn U.S.A. defies the norm.
Rico Simonini leads the pack as Smiley Manone, the wildcard and physical manifestation of the stereotypical gangster. Simonini ensures that his character remains grounded while at the same time exhibits a fierce, no nonsense air that commands the stage and drives the plot. But Simonini is not the only powerhouse on stage. He shares the title with actor Stevie Guttman who plays Mike Zubriskie, a Murder, Inc. member frustrated over issues with his new lush of a girlfriend, Jean (Danitha Bockoven). Guttman proves himself with lots of dialogue and a consistently natural delivery full of east coast attitude. Adding sentimentality and a bit of conscience to the group is Louis Cohen (Shelly Kurtz), the local barber shop owner and the mob's connection to the big boss, Albert Anastasia (Joe Sabatino). Also of note is actress Elisabeth Noone's portrayal of Lena Rose, the candy shop owner and the mob facilitator.
The set /scenic design in Brooklyn U.S.A., headed by Thomas Brown, ranges from the dark and brooding Brooklyn waterfront to the shadowed walls of Sing Sing prison. Most of the action, however, takes place on a split set where, on one side of the stage lies Lena Rose's colorful candy store and on the other, Louis Cohen's barber shop. By adding only a portion of a separating wall between the two sets, Brown leaves the majority of the mid to downstage area open for the actors allowing for a flawlessly uncluttered stage.
This is the third time this show has been produced - the first in 1941 on Broadway and the second decades later by its current director, T.J. Castronovo. With a talented cast, a well written script, a beautiful set and solid direction, this production is a sure-fire winner for lovers of American melodrama. Brush up your gangster vocabulary and bring your fedora but be sure the coppers ain't on your tail or you may find yourself behind bars in Brooklyn U.S.A..
According to Executive Producer Lois Shaffer Oda, the show may be moving to New York in the spring so be sure to catch it before the end of its run at the Met Theater in Hollywood, CA, Thursday through Saturday at 8 pm through October 30th.
Brooklyn USA is presented by John Lant, Ken Cosby & The Write Act Repertory Theatre in association with CRC Entertainment and Fremd-Immortal Siblings Ventures.