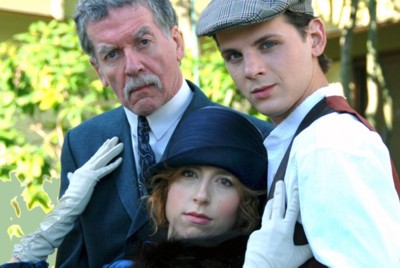 With all due respect to Paul Toolan who portrays the miserable old curmudgeon Francis "Ratz" Rattenbury and Kevin Kraussler who is cast as George Stoner, in Vital Spark Theatre Company's production of By Some Divine Mistake, which is being staged at the Jericho Arts Centre in Vancouver, it is the ladies who steal the show in this drama. Leading lady Vanessa Parent, an alumnus of The American Musical and Dramatic Academy in New York City, appears as the leading lady, Alma Rattenbury, who, at least in this production is depicted as a woman who combines her substantial gifts as a composer, with her somewhat equal talents as a seductress. In a supporting role, Kerry Constable who portrays Alma's domestic assistant Irene put in an outstanding performance. Constable brings to the stage authenticity and the ability to truly be "in the moment," no matter what situation her character finds herself in.
The play is based on the historical account of famed Canadian architect Francis "Ratz" Rattenbury's scandalous and quite public affair with Alma Pakenham (later Rattenbury) which began in 1923. "Ratz," was still married when the two first met, and although in her twenties, Alma was already, both a widow (first husband) and a divorcee. The two are introduced by a mutual friend, at the Empress Hotel in Victoria. Immediately sparks begin to fly and director Joan Bryans does a fabulous job in several of the scenes, of creating both the illusions of the passages of time and utilizing a few actors to give the impression of crowds or of many people. As Alma and "Ratz's" affair becomes more public, the gossiping starts and society's wagging tongues, refer to Alma in derisive describing her as a harlot and trollop.
Although there is no disputing Alma Pakenham's questionable morality in bedding an already married man, theatergoers will have to decide as to whether she is victimized by "Ratz's" neglect or if she is a villain, when she falls for hired hand George Stoner. After the couple move to Bournemouth England, "Ratz," becomes a self-centered alcoholic, who is petulant, jealous and takes no interest in his wife, her music or other things which are important to her.
Vanessa Parent is one of those gifted actresses who delivers her most powerful performances, not when the action reaches a crescendo, but in moments such as when Alma is suddenly inspired to pen a new composition. We watch Alma begin with simply rifling through some papers, and then a lyrical line and a bit of a melody pop into her head. As Alma sits and then lies on the floor working through her new composition, Parent truly captures the essence of the creative process, and we catch a glimpse of the side of Alma not often seen in this play, a woman, simply relaxing as she delights in that which brings her pleasure, her music. Do not misunderstand what we are saying here, Vanessa Parent is equally adept at delivering those more exciting moments, such as when she discovers that someone has caused a fatal head injury to "Ratz," however the true measurement of any actor or actress is how they are able to recreate the subtler moments in their character's life, and Parent does this in spades.
British actress Kerry Constable is a powerhouse in this play. Sometimes, it is the lilt of Constable's voice, the look in her eyes or the mere tilt of her head that say far more than her lines could ever do. She brings wit, humor and disappointment to the character of Irene. After watching Constable's performance, it would be very difficult to imagine this production without her. For all the well-deserved attention that leading actors and actresses receive for their efforts, most will tell you that the difference between an average performance and a very good one is the supporting cast, and Vital Spark Theatre's production of By Some Divine Mistake, is very good.
Director and playwright Joan Bryans says of Constable, "She has that vulnerability and honesty that the part demands."
A relative newcomer to the Canadian theater scene, actor Albano Carreiro as the policeman investigating "Ratz's" murder, is simply fabulous. He is convincing, as well as stoic, and for the ladies in the audience who like a man in uniform, this guy is a pretty good looker.
By Some Divine Mistake runs until November 1st at the Jericho Arts Center in Vancouver. By Some Divine Mistake captures the imagination, because it is both titillating and true. It is debatable whether you should feel sympathy for any of the leading characters, I certainly did not. Joan Bryans' production deserves an opportunity to tour, so let's hope that she attracts the kind of interest and financial resources from those in the United States, Britain and throughout Canada that allow this to happen.