Chelsea Crowell - "I'm Gonna Freeze" From Crystal City
When last we talked to Nashville based singer – songwriter Chelsea Crowell, she was on tour with her Grammy Award winning mother Rosanne Cash and it was only a few weeks removed from her tour with her father, singer – songwriter Rodney Crowell, also a Grammy Award winning artist. Since that time Chelsea Crowell has toured with her own band both in Europe and on this side of the Atlantic and at the time of our conversation in March, she spoke to us while on her way to play at the Savannah Stopover Festival in Georgia. Later in the month, Ms. Crowell performed at SXSW, the world's largest annual music festival, held in Austin, Texas.
Chelsea Crowell's current album Crystal City is her third studio recording and a follow-up to her self-titled album that caused a stir in Nashville and as the granddaughter of Johnny Cash demonstrated she has both inherited her family's musical genes and she can easily stand on her own merit as both a singer and songwriter. In fact, it is already becoming apparent that Chelsea Crowell is quickly establishing herself as one of the most prolific young writers on the music scene today, regardless of genre. She is also demonstrating her versatility as an artist with earlier songs such as "Never Be A Beggar," from her last album, which addressed the theme of never allowing someone to demean you in a relationship, to the Deep South flavored "Where The Hell Is Robert E. Lee?," which chronicled William Sherman's destruction of the south during the Civil War's March To The Sea. On the current album Crystal City, Ms. Crowell leans heavily towards Rock on her song "I'm Gonna Freeze," with heavy drums and bass guitar leading the way to create a darker mood for the lyrics, "I'm gonna' say I'll look the other way / 'Cause that's how much I need you babe/ She can't mean as much as I do / And I don't care if that's even true /…this man's so cold I'm gonna' freeze."
Just so the listener does not read too much into the song "I'm Gonna Freeze," Chelsea Crowell is quick to point out, "I made up most of the songs. I made up the song "I'm Gonna Freeze," entirely. That song came from my imagination. I have too much pride and I would feel pathetic if that was my real life in any way."
The song "Don't Talk About That Girl," straddles the line between Country Music and Americana and it is a song with a mid-tempo melody and more languid vocals. Featuring strong guitar by Loney John Hutchins, who also served as producer and Ms. Crowell who played the gut string guitar, it is a ballad about two lovers who for a night would rather not know the truth and if it means losing themselves in a lie for a night "I'll pretend you meant that last kiss."
As for the diversity in her music, Chelsea Crowell says, "I don't necessarily think about it, it just happens and it probably just sinks in when I am listening to other music. I probably just recycle the hell out of it and I don't really recognize that I do it."
The songs, "Baptized Part One," and "Baptized Part Two," are two of my favorite songs and they were recorded live all of the way through. We didn't overdub anything. The whole record is mostly an entire take, all of the way through. I wanted to make it so that all of the recordings were live and that I didn't stop, start over and fix things. What you hear is completely raw in the sense of it is all one thing (and take). I guess a better way to say it is there wasn't any fixing anything. I liked writing them. I liked playing them and I like how they sound. I don't think they are for everybody, but I like them. I don't think everybody wants to sit through that kind of stuff and that is perfectly fine," she says of the songs that she describes as containing metaphors and that are meant to tell an apocalyptic story.
We agree that the song ""For Stormy," is "a beautiful song. That song was the most fun to record. There were tornados and it was spring time. Loney and I recorded that together. It used to have lyrics, but instead of singing it, we used the lap steel for the melody of the lyrics. There were tornados and thunderstorms. You can hear the sound of the tornado sirens in the song as well," she says.
How does Chelsea Crowell see herself as an artist? A year ago she said, "Honesty I consider myself to be a lyricist who is not a very good singer or a songwriter or I could say that it does not come as naturally to me. I am very timid on stage and I have stage fright and all of that stuff. It is getting easier and I have to say it is a lot easier when I am doing my own thing. I am more relaxed with my own playing. Playing guitar and singing comes second (to her songwriting). The writing comes very naturally to me and the rest of it I have to work on."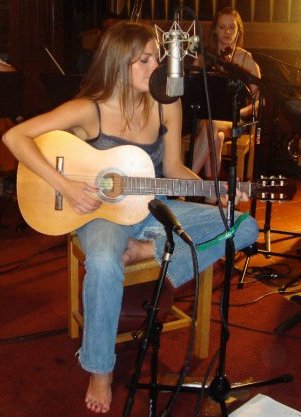 Ms. Crowell does not give herself enough credit as she absolutely sparkles on her original song, "Better Than Her," a Country tune, possesses an easy flowing melody line, but will make the listener sit up and take notice is Chelsea Crowell's superb vocals. Instrumentally, this may also be the strongest song on the album, with drummer Ben Martin, guitars by Dave Gleason, bass by Loney John Hutchins and Chelsea Crowell also accompanying herself on guitar.
"Obviously I made up "Better Than Her," and (it is influenced by) Albert Lee and my dad's old records like What Will The Neighbors Think? (Rodney Crowell's second album - 1980) or when they all used to play in The Hot Band together with Emmylou Harris," she says.
The Hot Band consisted of guitarist James Burton (The Crickets, Ricky Nelson, Elvis, Gram Parsons), pianist Glen Hardin (The Crickets, Elvis, Gram Parsons) , drummer John Ware, pedal steel guitarist Hank DeVito, bass guitarist Emory Gordy Jr. (Neil Diamond, Elvis, J.J. Cale, John Denver, Alabama) and as the original members departed, the band would eventually feature artists such as, Rodney Crowell, Albert Lee and Ricky Scaggs).
"Essentially we just ripped that song off altogether and if anything it pays tribute to them (her family and the artists mentioned) and they (her family) should like it," says Ms. Crowell.
During previous conversations, Chelsea Crowell said, "When I am at home and not traveling so much, I try to get myself to write something every day. I am usually pretty good about that and I keep a book. Sometimes they turn into songs and sometimes they just turn into pages in books that I never look at again. For the most part, I am pretty impulsive when it comes to writing songs. To keep myself sharper I try to make myself write something every day," Chelsea Crowell explains.
With Crystal City just starting to perk up ears of music fans, Chelsea Crowell told us recently, "In May I am going back into the studio. I already have most of it written and it is definitely a departure from this one (Crystal City). It is a lot less serious and it has a lot more radio friendly songs with short songs and nothing too whiney or love lost. It is less emotional. "
The album Crystal City is a winner and so is singer – songwriter Chelsea Crowell. Check out her music on I-Tunes or on her website.
Interviewed by Joe Montague
This interview is protected by copyright © and may not be reproduced in print or on the internet or through any other means without the written permission of Riveting Riffs Magazine, All Rights Reserved