Interview with Joe Montague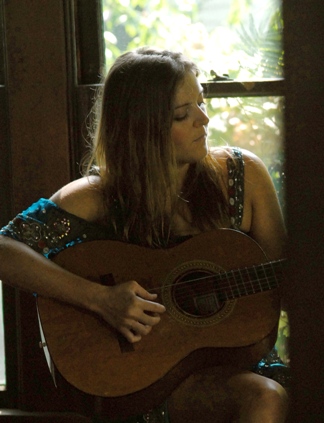 Singer-Songwriter Chelsea Crowell was on the telephone from her hotel room in Salt Lake City where she was preparing to perform in concert, both on her own and with her mother, Rosanne Cash. In some ways, it was a continuation of a conversation that first took place when this writer met Chelsea, earlier in the year, after she had appeared on stage in Toronto Canada, performing two songs, a solo, "Where The Hell Is Robert E. Lee?" a song that she wrote and "I Want My Seven Years Back," another of her own songs, and one that she performed as a duet with her father, Rodney Crowell. Some people might wrongly assume that when both your parents are Grammy Award winning artists and your grandfather was Johnny Cash that getting up on stage and strumming a guitar and singing songs would come naturally, but that has not been the case for Chelsea Crowell, who although immensely talented, has dealt with anxiety throughout the early part of her career.
Crowell says that rather than being drawn to a career in music, "I wanted to own a horse farm and I wanted to write books about horses. I think I was almost finished my record, before I told my parents that I was recording it or that I wrote and played songs. I just wanted to keep this stuff to myself. Once I got to the point of putting out my record, it was wait, wait a minute. Before it was all great that it was coming together and that it worked for me and I felt good about it. Then there were a couple of months I had some anxiety about, if people were going to think that I was riding on the coattails (of her family). Looking back, I think that anybody in my position would have thought that. I have been doing pretty well for a couple of months now and I only have little flashes of (anxiety) now and again, but it's not a giant shadow."
"I am not signed to any labels. I have paid for everything. Loney John Hutchins and I, my co-worker and co-producer paid for everything and we did everything ourselves. That makes me feel a lot better. I have put out two records, this one and my band record and (I also have) a third one (currently in production). I have done it all by myself. There haven't been any strings pulled and I haven't asked for any favors. I know at the end of the day, those kinds of things don't really matter, but it does make me feel better. It makes me sleep easier to know that I've done it myself," she says.
As for how she ended up in Salt Lake City on this day; Rosanne Cash sent out a bit of a SOS to her daughter when the doctor ordered her to rest her vocal chords for a couple of months. Rosanne Cash asked if her daughter could help her out, and Chelsea did not hesitate. "I am here helping my mom, because I want to help her, but I would not have done this a year ago (because of the anxiety). I don't know why I feel much more at ease in doing this now," she says.
For the show in Salt Lake City, Chelsea Crowell performed some Carter Family songs and some of her own songs and then she assisted her mother with singing some of the higher parts, so she would not damage her vocal chords further.
Chelsea Crowell is a gifted songwriter and one who leans more towards ballads than she does to hooks, as she paints very strong word pictures with relationship songs such as, "Never Be A Beggar." On songs like "Where The Hell Is Robert E. Lee?" she teases you with her vocals and one suspects, as she gains more confidence and her sound matures, more people will sit up and begin to take notice of her.
While taking various breaks from touring, Chelsea Crowell has been recording her third album, the first solo album was self-titled and turned some heads in Nashville where she now lives and she also recorded a CD with Jane Only, the band that she founded in 2002, and which in addition to Crowell consisted of Stephen Braren (guitar, mandolin, piano, banjo, dobro, vocals), Fletcher Bangs Watson VI (vocals, bass), Marty Linville (percussion) and Scottie Gilbert (mandolin, lap steel, shredder guitar).
"I started it (the new record) last summer and I had all of the demos done and then life kind of got away from me. I wasn't able to get back to it until January in Nashville. My old friend and band mate (Stephen Braren) has a studio in his house and I wanted to work with him again, because he is creative and he is one of those people who stirs things up. He gets you to think about things more. I decided that I wanted to record some of the tracks with him and to see what happened. As far as the songs (are concerned) I have all of them written for this record, the next record and the record after that and whether or not I will use them or I will write new ones I don't know, but I am playing around with what I want to do. I want to take a step forward from my last record. I want to take the mistakes that I made and I want to try and correct them," says Crowell.
"When I am at home and not traveling so much, I try to get myself to write something every day. I am usually pretty good about that and I keep a book. Sometimes they turn into songs and sometimes they just turn into pages in books that I never look at again. For the most part, I am pretty impulsive when it comes to writing songs. To keep myself sharper I try to make myself write something every day," Chelsea Crowell explains.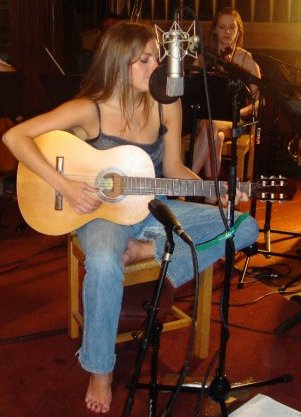 Laughing, she responds to this writer's question as to how she views herself as an artist, "Honesty I consider myself to be a lyricist who is not a very good singer or a songwriter or I could say that it does not come as naturally to me. I am very timid on stage and I have stage fright and all of that stuff. It is getting easier and I have to say it is a lot easier when I am doing my own thing. Doing that song with my dad (while they were on tour); he has been doing that for a long time and he is very well respected, (whereas) I am green, so it is intimidating. I am more relaxed with my own playing. Playing guitar and singing comes second (to her songwriting). The writing comes very naturally to me and the rest of it I have to work on."
Chelsea Crowell confesses that for the most part the songs from her self-titled album are autobiographical, with the exception of "Where The Hell Is Robert E. Lee?"
"I have to be honest, I am a serial monogamist, so I usually have long term relationships and then they end. I guess everyone knows that the longer the relationship, the harder it is when it ends. One of the songs is about a strained relationship with a family member, so some of the songs are not about a boyfriend. They are about a family member, like "Someday," particularly and "Lost Aimless Beauty," the last song. "Tremolo Trees," is actually about the sun and the moon. The first two verses are about the sun and the moon and then at the end I put my own take on what I would do in that situation," she explains.
Trying to assign a musical genre to Chelsea Crowell's songs would be fruitless, because she appears to draw from many influences, punk, rock, country and folk, to name just a few.
"I don't know if it is conscious, because I can only think of one instance where I (did something), because I really liked that sound. We worked really hard and there was a lot of blood, sweat and tears and I was very experimental. I wanted to try every different thing to get exactly what I had in my mind. It ended up being right. We were in the studio adding this and that, tweaking it and getting it how I wanted it to be and when I listen back, I can hear where I got those ideas from. I definitely wasn't conscious of it when I was doing it. It is like when you are kid, you get that one song and you listen to it over and over and over again, until you know it inside and outside. I went through some different phases with music when I was completely immersed. There was everything from punk, metal to old country and jazz. I had a lot of phases when I was a teenager and you get pretty excited about that kind of stuff when you are a teenager. It just kind of sticks with you I guess," she says.
"I have no idea where the song "Where The Hell Is Robert E. Lee?" came from. When I started writing it and I wrote "Lincoln and Grant and his right hand man," I thought, man is that going to sound like some kind of rebel flag crap. I made sure that it is historically accurate. Sherman was in Savannah and he didn't burn Charleston, even though they thought he was going to, and it was a carpetbagger's glory and all of that kind of stuff. My education assisted me in knowing those facts. For a lot of my songs, I have used my education. I wrote a song about "Typhoid Mary" and for this opera that I am writing I am using a lot of my history, as well as my English education. It has come in handy.
Crowell then elaborates on her life's experiences, "I was born and raised in Nashville until I was ten, then I moved to New York (with her mother) and then I moved back to Nashville for a couple of years and then I did boarding school in Baltimore, then I moved back to New York and finished high school, then I moved to Memphis and Charleston and back to Nashville. Boarding school was a lot of sheltered independence. It feels independent, but obviously it's not. You are not out on the street by yourself. It is very upper class independence. I was thirteen and I think that shaped me a lot. When I was living in New York when I was ten and eleven, I was walking around New York by myself, so I was always like that. I will say this, by the time I got to college and I was around the people who were moving into the dorms and out of their homes for the first time, I was way over this. I had a sense of being out of the house way before college time."
"I am a writer and I am writing an opera right now. I am half the way done with it. I started it about a year and one half ago. I loved photography when I was in high school and I spent half of my time after school and on lunch breaks in the dark room. I would put on my headphones and I would just spend hours in the dark room. That was kind of a no brainer for my wanting to go to art school. I love Memphis. It is three hours from Nashville and I am very comfortable with the south. I have Memphis as well and it seemed like the perfect fit for me. History was always a secondary thing for me. It is something that I always wanted to be involved in and I have just never been very good at. It is one of those things where you know you are supposed to be one thing, but you desperately want to be an astronaut and it is never going to happen," she says, laughing softly.
"I have been around creative people my whole life. Everybody that I am around is creative and I have traveled a lot overseas by myself. I have spent time by myself in weird cities and I had to get myself out of situations, so there is that part of education too. I have had relationships and all of that kind of stuff. I am a big reader too, so all of the reading, all of the schooling and all of that kind of stuff makes it a lot easier when writing. Imagine if I had been raised sheltered, I don't know who I would be," Crowell muses.
Humor plays a significant role in Chelsea Crowell's life, "I don't go any days without laughing. I am naturally drawn to fun people. I can't operate unless I am able to laugh at something bad that happens. It just doesn't work for me. I strive for humor in any situation that is possible. Even "I Want My Seven Years Back," that is a great song. I wrote it from a heartbroken place, but there are jokes in that song. I wrote some jabbing jokes in it, to be humorous, not to be nasty by any means. I thought it would lighten the mood of the song. Otherwise it was just going to be too dark."
Chelsea Crowell is starting to blaze her own trail as a singer-songwriter, but the dream of owning a horse someday, still lingers. "I have been riding since I was four and I still work with horses. I don't work with them when I am traveling and that is frustrating. I volunteer at a program in Nashville for children with disabilities and it is physical therapy through horseback riding. I try to do that at least once a week when I am in town. I don't get to ride as much. I used to show Hunter Jumper and I used to travel and show. I completely forgot in that roster of places in which I have lived, I lived in Colorado. I lived at the barn that I worked at for a prolonged summer period. I did it for two summers and then I went back and forth. I also rode in boarding school and I showed in boarding school. I rode in New York too. I live in Nashville now and I travel so much that it would have to be a boarding situation (if she owned a horse), but that is in the future and I will someday (own a horse). They are very therapeutic animals."
Chelsea Crowell is a singer-songwriter that you ought to get to know. Her songs have substance and they cause you to think and to feel deeply. They are well written and they give you far more than your top forty stations have to offer. You can listen to two of Chelsea Crowell's songs on her website.
Protected by copyright ©, Riveting Riffs Magazine, All Rights Reserved