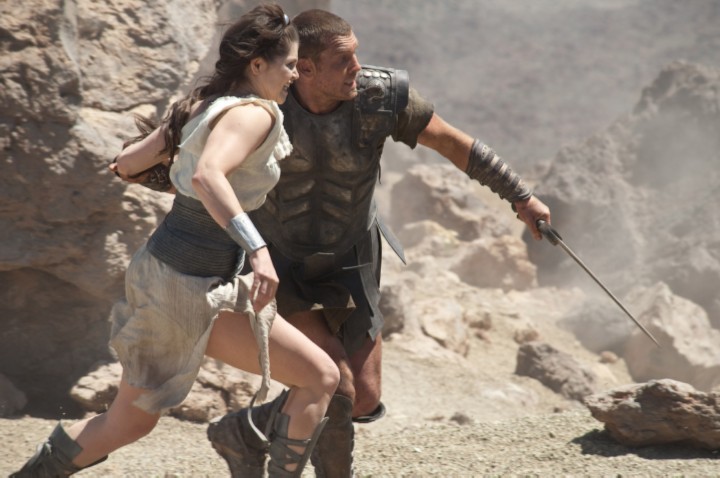 Reviewed by Barry Benintende
Back in 1981, a group of friends and I went to see "Clash of the Titans." I was amused by the genius of Ray Harryhausen, but bored by the performances of many of the actors.
Eight of us went to see the film and I was the only one who even moderately enjoyed a small part of the movie, and as my friend Pat said, 'This is the last thing that I am going to see before going to boot camp? I was robbed.' In the years which have passed since I originally saw Clash of the Titans, I have grown to like it more than was my initial impression of the movie and I also enjoy the kitsch factor of Harry Hamlin's performance, so I have been looking forward to Louis Leterrier's new version of the film.
With Leterrier's rendition of Clash of the Titans, not much has changed, other than the post-production 3-D effects, and it is still the tale of Greek gods who make life hell for the demigod Pereseus, played by the adequate and stoic Sam Worthington. Pereseus is still engaged in a battle with the Kraken and Medussa, the serpent-coiffed guardian of something or other, and in the new film, the scenes are pretty cool to watch. Perseus must still rescue the fair Andromeda (Alexa Davalos), and meter out revenge on Hades, Zeus and the rest of the Mount Olympus gang. There is plenty to like about the new version, and very little to dislike.

Perhaps I am in the minority group, but I do not think that the 3-D affects add anything to either the storyline or the viewing experience, however, the acting is solid, and with Liam Neeson and Ralph Fiennes you would expect nothing less.
The action sequences come often enough to maintain your attention and anyone with even a passing interest in Greek mythology will find plenty of moments to smile. The mechanical owl Bubo from the original movie has a cameo as the toy which Perseus picks up before he ventures out on his quest. According to the rumor mill, it was widely debated, whether or not to keep the cameo in the film, but Bubo won out and appears on the screen briefly, but if you saw the original movie, he probably annoyed you on the screen then as well. It is also rumored that James Woods wanted to portray Hades, much like he did in the animated Hercules, and this is one editor who would have been happier with Woods in that role than Fiennes. Clash of the Titans is not likely to win any awards, but it is an entertaining film and it does provide for a pleasant diversion.
Rated PG-13 for fantasy action violence, some frightening images and brief sensuality.