Reviewed by Joe Montague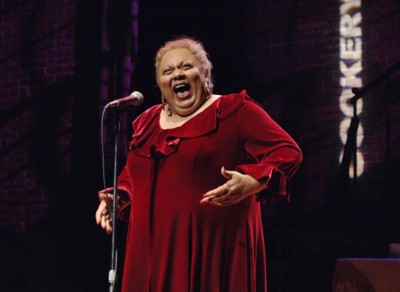 It was during an interview with singer Maria Muldaur earlier this year that she drew to my attention the importance of Alberta Hunter in the history and development of blues music in America. Like Hunter's contemporaries, Memphis Millie, Josephine Baker and Bessie Smith, she honed her craft early in the 20th century, at a time when racial discrimination was rampant, and African Americans were denied an equal seat and say in American society. Hunter more than perhaps any other African American singer paved the way for those who followed her in every genre of music.
It is with this understanding of the importance of Alberta Hunter, her role in shaping the role of the African American female vocalist, and her willingness to give back so much to her country that writer/director/choreographer Marion J. Caffey, created Cookin' At The Cookery, aptly billed as a sizzling musical revue. The musical which has played thirty American theaters, as well as ten more in Canada, was staged by the Arts Club Theater Company, at the Surrey Arts Centre, in British Columbia, Canada, on October 12th.
At the end of the two hour presentation Jackie Richardson who portrays Alberta Hunter, and Janice Lorraine, who portrays the young Alberta Hunter as well as several other cameo roles, received a warm and rousing standing ovation from the audience. In all my years of theatergoing, this was probably the best-deserved and sincere standing ovation for two actors, who literally left all they had on the stage. In fact, the woman setting next to me said to her male companion, 'We should have paid more for the tickets.' When was the last time you heard someone say that?
As I indicated, with only two actors, Lorraine was cast in the role of several characters, not an easy task to pull off. Richardson's role demanded that she make the transition to different time periods in Alberta Hunter's life. The musical is so well scripted, and the acting of such a high caliber, that segues were seamless, and only noticeable because of the presence of a new character.
The director, the actors and the musical itself have been the recipient of numerous awards and accolades including, being named The New York Times Critics' Choice as Best Musical of 2003, a Dora Award (Richardson), and Lorraine received the Beverly Hills/Hollywood NAACP Theater Award for Best Lead Performance in a Musical.
Both actors and Caffey are veterans of high profile stage productions. Richardson's credits include, stage, television and theater, having received Canada's highest music award, a Juno, and Canada's highest television award, a Gemini. The Toronto Blues Society bestowed upon her a Lifetime Achievement Award. Janice Lorraine, in addition to her many awards and nominations, has appeared in The Bernadette Peters Special at Radio City Music Hall, in the national tour for Ragtime, the national tour for Dreamgirls, several national and international tours for Ain't Misbehavin. She has shared the stage with such luminaries as Al Jarreau, Jennifer Holliday and Gregory Hines.
This musical is dependent on audience participation as the theater audience is cast in the role of, well what else, an audience. In particular, Richardson's Alberta Hunter, talks to the audience, and sings "My Handy Man," to a man in the front row, named Freddie. The song was written by Eubie Blake and Andy Razaf. Last year Maria Muldaur recorded the song on her album Naughty, Bawdy and Blue, which pays tribute to many of the outstanding female blues singers from the early 1900's.
Although Lorraine is officially listed as the narrator, and won an award for her supporting role, in my mind you cannot easily discern who the leading actor is in this production. We have two outstanding performers in lead roles. I give the edge to Richardson in the vocal department and to Lorraine for her acting ability.
A hilarious and yet accurate vocal, facial and body language depictions of Louis "Satchmo" Armstrong, is delivered by Lorraine, during a duet with Hunter (Richardson). Her portrayal of club owner Bernie and numerous other characters had us splitting our sides in laughter, but also dropping our jaws in disbelief that she could successfully pull off so many roles, regardless of gender or age.
In an entertaining, fashion Cookin' At The Cookery, will educate you, and leave you marveling at the woman who worked as a nurse for twenty years, until she was eighty-two and was forced into retirement by the hospital, who believed her to be seventy years old. You will witness first hand Alberta Hunter returning to the studio in 1961 to record four songs for a LP, after an absence of more than twenty years. Marvel at her ability to tour throughout the United States, Brazil and England, as an octogenarian. You will have a seat at the Whitehouse, as she performs for President Jimmy Carter, and your heart will break as she learns of her mother's death while she is entertaining American troops in Seoul Korea.
Cookin' At The Cookery is playing throughout British Columbia Canada during the months of October and November. You can check for venues and times here. For information, concerning future performances in other cities throughout North America please check this website.
While you are sitting in the theater, enjoying the music, clapping your hands and laughing until your belly hurts, to paraphrase the woman that I was sitting beside, whatever you paid for your ticket, it will not have been enough.
Photo: Jackie Richardson; Photo by: David Cooper, protected by copyright ©, all rights reserved