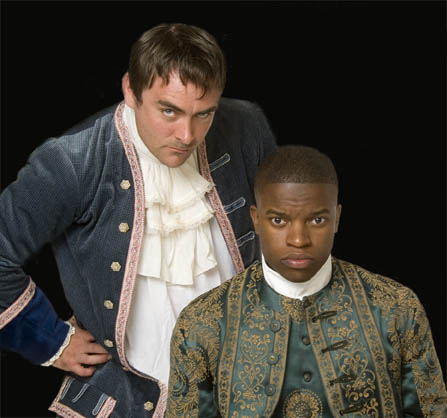 The Coram Boy presented by The United Players of Vancouver at the Jericho Arts Center, in Vancouver, Canada, is one of the most disturbing plays that I have reviewed in a long time. It is disturbing, not because the production was done poorly, nor because the acting was not up to par and not because the content was controversial. On the contrary, the opposite is true on all three accounts. The play which is based on Jamila Gavin's Whitbread Children's Book Award-winning novel, is set in 18th century England, and was first adapted for the theater by Helen Edmundson. The production at the Jericho Arts Center is directed by Bernard Cuffling, who always seems to draw passionate performances from his actors and actresses.
The superb acting is led by the villain, Tariq Leslie as Otis Gardiner and Goddarn, Grace Grosvenor as Melissa, Missy Cross as Meshak, and two actors who portray Alexander Ashbrook, Spencer Wallace as the more youthful Ashbrook and Kevin Parr as the older Alexander. The set, costumes, lighting and music were wonderful, and the script has its origins in history.
Coram Boy is a disturbing play for a number of reasons, not the least of which is the fact that it is to an extent based on the life of Thomas Coram, an English philanthropist who opened a hospital for foundling infants, whose families could not or would not care for their children. The tragedy is that the hospital attracted so many children that the facility could not care for them properly and many died as infants. The second thing that is disturbing about Coram Boy, is it reminds us of a time in English history in the mid 1700's, at the advent of the industrial revolution, when child labor was rampant and the lives of children were often considered to be disposable. The subject matter for Coram Boy is disturbing, because it forces us to confront the reality that in many countries in the world today, child abuse is still rampant, especially in areas of child prostitution and slave labor, with government which seems to have little in the way of will or interest to protect them.
We would be remiss if we did not compliment Costume Designer, Kyla Gardiner who immediately transports us to the mid 18th century, with splendidly attired actresses and actors, and this reviewer's only regret is that I lack the facility to adequately describe the clothing to you.
If the measure of a villainous character is how much you learn to despise him during the course of a play, than Tariq Leslie has accomplished this in spades. He is very believable in his depiction of the hideous Otis Gardiner who later transforms himself into Goddarn. He values the lives of others, no more than, if they were dead leaves falling from trees during the autumn.
While the Coram Boy is filled with outstanding performances from this large cast, two actresses stand out, Missy Cross who is cast in a male role as Meshak, a (kindly put) somewhat deranged young fellow. The inner tensions that exist between Meshak's mental and emotional stability and his desire to perform good deeds result in a series of cataclysmic events. This role must be absolutely emotionally and physically exhausting for Cross.
If there is a heroine in this play, it would be in the person of Melissa played by Grace Grosvenor, a beautiful young actress who ignites romantic sparks between herself and Alexander Ashbrook. How authentically an actor believes in 'the moment,' that they are their character, is often reflected in their eyes and Grosvenor's eyes tell you when she is experiencing heartbreak and when she is in love.
John Harris cast in the role of Sir William Ashbrook recreates an age-old theme of a father trying to impose upon his son, his will, including the very occupation that his son would choose. Many actors and their directors opt for vocal volume and demonstrative gestures to communicate dramatic tension between characters, and often it comes across as somewhat hollow and unbelievable. Harris and his director Cuffling instead went for tone of voice, body language and facial expressions to communicate what appears to be an insurmountable chasm between father and son.
Coram Boy is a riveting production that is well acted and directed, but it is not for the faint, for you will be jarred into the reality of what once was and reminded of what work still remains for us to do.