Dala a harmony based folk pop duo who draw their name from the last two letters of Canadian singer- songwriters' Amanda Walther's and Sheila Carabine's first names, performed in over 300 concerts during 2010, and at one stage last fall, they were in concert sixty times within sixty days.
"Wow! It was insane (Amanda Walther laughs). I hardly know what my house is like anymore. We were all over the place and we were mostly in the United States. We also got to go the U.K. for the first time, which was a dream come true. We opened for Arlo Guthrie in London and we played a festival called The Rhythm Fest. It was in Bedford just about an hour north of London. It was amazing being in the U.K. and we absolutely loved it. I think that was one of the highlights for me for sure. I have a lot of family in England and it was just amazing to be close to them too," says Amanda Walther, the blond haired, half of Dala, who has an on stage persona that is juxtaposed to dark haired Sheila Carabine's saltier presentation.
Dala recently signed an agreement with Nashville based Compass Records, that still results in giggles and "Woo Hoo's" from Ms. Walther and at the end of January their album Everyone Is Someone will be released across the United States, an album that was first released in Canada, a year ago.
"Another highlight for sure was the New Orleans Jazz Fest and that just about blew our minds. I have never seen so many people at a festival. It was unbelievable. New Orleans is one of my favorite cities. It is incredible. It has food and culture. The people and the atmosphere, it is just one of the most amazing places that I have ever been to and it is warm," says Amanda Walther, and as she does throughout our conversation, she laughs lightly and giggles softly.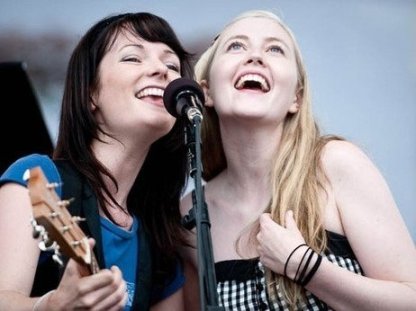 With references in their music to Marilyn Monroe, John Lennon and Paul McCartney, two of whom had passed from this life, long before either Amanda Walther or Sheila Carabine were born, and with an acoustic vibe and harmony that reminds one of Simon and Garfunkel, only in female bodies, the duo has been able to capture the attention of a diversified audience.
"We grew up with our parents' music and we wanted our music to be able to cross borders and to be able to touch people of all ages and generations. I think that is one of the things that I am most amazed by is you can look into a Dala audience and you have people that are our parents' ages, people older, people our grandparents' ages, people our age and then children as well. I do not think that is as common as it used to be. I would hope that there are more musicians and bands that connect people from all ages, from all generations. I think that is the thing that we have been the most amazed by in terms of touching our audiences," says Ms. Walther.
Walther and Carabine met in band class, during their high school days, when Sheila Carabine played the trumpet and Amanda Walther played the bass clarinet, which she refers to as, "the coolest instrument ever."
"We were friends for four years in high school, before we even sat down to write a song together. As soon as we did, it was magic and we knew there was something special. We just loved it so much. I had actually graduated by the time that we wrote our first song, as Sheila was two years behind me.
As for the naming of their duo, "We decided to pull letters from our names and using the last two letters from our names seemed a lot better than using the first two, because if we had taken the first two it would have been Sham. It would just be sad and not fun," she says
Carabine and Walther come from families that in a lot of ways mirror each other, both are the youngest of three children and both of them have two older brothers. Both of them also come from musical families, whose heritage is in the United Kingdom, Ms.Walther has extended family in England and Ms.Carabine is of Irish descent, which led to the inclusion of the Irish Classic "Red Is The Rose," on their concert DVD Girls From The North Country produced in 2010 by Lenz Entertainment. The DVD which also features guest artists Oh Susanna and the Good Lovelies, is well worth purchasing and the production quality is significantly higher than many of the DVDs that this magazine has been asked to review in the past.
Amanda Walther's first recollection of performing is when her father suggested that they she try singing "Dream A Little Dream of Me," first performed and recorded by Ozzie Nelson and his orchestra and perhaps best known for the cover version recorded by the Mamas & the Papas another vocal harmony group that Walther and Carabine seem to channel.
"I remember when my dad taught me that song, I was in grade eight and he said, 'Hey I have a song that I think would sound really pretty if you sang it,' so we worked it out together for the next Toronto song circle. It is a pretty amazing community of some professional, but mostly non professional musicians in Toronto, who are interested in singing together and carrying on the folk tradition. They meet once a week on Friday nights at various homes throughout the city and they share songs and music. I was brought up in that community," she says and you sense both the pride that she has in that heritage and a sense of gratitude, something that is evident throughout our conversation.
"Sheila's dad plays guitar, he sings and he performs in his folk choir at church. Her brothers are very musical and so are mine. My oldest brother Adrian is a professional musician and he has been on tour since he was fifteen (she giggles). He plays bass guitar and he also song writes with a number of artists all over North America. He is based out of Nashville at the moment and he is in the country scene down there," she says.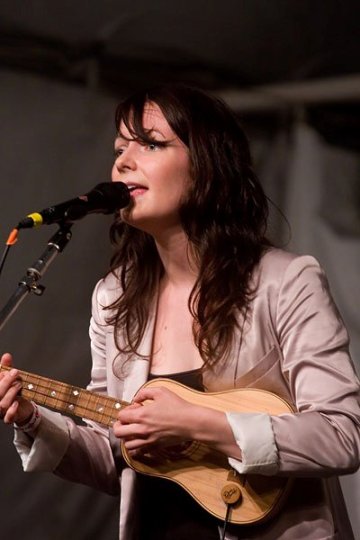 For two artists who are still quite young and whom this writer would guess are in their early twenties, Dala demonstrate a tremendous amount of poise while on stage and they are quite relaxed, while easily engaging their audience. With the giggle we have now come to expect, Ms. Walther says, "A little too comfortable. When we first started out neither of us was as comfortable as we are now. I have to say that having your best friend on stage with you is a huge icebreaker. I don't know if I would be able to be that comfortable without having Sheila beside me. I really love having someone to talk with on stage and that really breaks the ice for me immediately. I think so much of our show is based on us being authentic and just being ourselves. That it is important for people who want to hear our music and who want to know who we are as well. We really do (use humor) and that has developed from our humor off stage. If you talk to anybody who is friends with Sheila they will tell you that she is one of the funniest people that they know. She just cracks me up and I am authentically laughing on stage, because I don't know what she is going to say next. We feed off of each other and we bounce off of each other as far as humor goes, for sure," says Amanda Walther.
Ah yes, the humor that resulted in a song, a ditty, being written about a harlequin romance novel.
Obviously relishing telling the story behind the song, Ms. Walther's voice rises as she recounts the events for me, "We picked up this horrible and amazing book when we were up in the Thunder Bay area (Canada) and it is called One Night Stand (she laughs) It is a pretty hilarious story about a couple who meet in Halifax and the main character in the book, a man is a karate instructor and the woman Jodie is a dance instructor. It is pretty hilarious. He obviously doesn't want commitment and Jodie comes with tomorrows (she lowers her voice mysteriously). It is the funniest book we have ever read out loud. It did (strike a chord with our audience) and we were just letting people in on behind the scenes stuff. They seemed to really enjoy it, so we just kept going with it (in concerts)."
Amanda Walther talks about the importance of writing from personal experience, "I think that is what binds us. Sheila and I have a lot in common in terms of our lives and what we have experienced. I think that is why we can write together, because our songs are personal."
Writing personal songs is only one half of the equation, as every performing artist knows, for then you have to get up in front of your audience and let them see that side of you. Ms. Walther says that being vulnerable and transparent, "has definitely gotten easier and I think we were searching for that when we first started performing. Through the process of working with our mentor (and manager) Mike Roth, we really found ourselves on stage, if that makes any sense. We are able to tap into our vulnerability while we are on stage and yet still feel like we keep enough of our personal lives for our friends and families as well. It is a fine balance to strike, if you want to give everything to the audience. I think we have found that now and I feel really comfortable being honest and vulnerable with our audience," she says ending with a thoughtful and reflective tone to her voice.
The song "Horses," is deeply personal, although, it is inspired by the life of another. It is a song that when you realize it is based on personal experience, will cause even the most stoic of individuals to wipe a tear from their eye.
"Horses is a very special song for us and it is inspired by a young man who lives just north of Toronto. We went to meet him. He is a Dala fan. We played some songs for him in his home. He had been in an accident when he was a teenager and he is now in a wheelchair and he now is unable to speak. He is an extraordinary young man. We were blown away by his story, his passion and his personality and from everything that you could sense from him, without him actually speaking. After meeting him that day, we were so moved by him that we started to write "Horses," and we were bawling our eyes out, every minute of writing that song. It was definitely a force that was not our own and it worked into that music. It is a blessing and that's how we see it. He came to our CD release, he heard it live and he loved it. I was very nervous to play it that night; because I wasn't sure whether or not he would resonate with what we got from his story and whether or not that would be his perspective. He was very happy to meet us after the show and he wouldn't let go of my hand," Ms. Walther recalls.
A fun, upbeat song that strikes a chord with their teenage girl fans, is "Levi Blues," a tune that explores the lighter, more fanciful side of love and of touring.
"Levi Blues," was a really fun song to write and we actually wrote it after touring like crazy and when we had a moment of peace to write at the cottage at Honey Harbor. We sat down and we wrote the whole thing in about fifteen minutes. There was so much brewing in us after all of our traveling. "Levi Blues," is our wish list of places that we wanted to play and we have actually checked a lot of those places off by now. We have been to London, we have been to New York and we did a California tour this year as well. The only ones left are China and I think Paris, and then we are done," she says.
A glance at Dala's schedule for 2011 reveals that they are booked solid for the first half of the year with several concerts on university and college campuses in the United States.