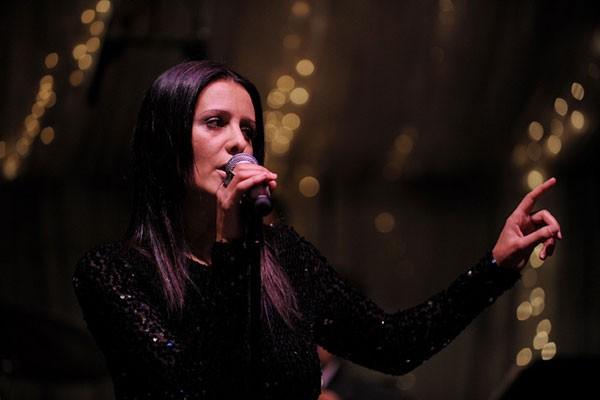 Can a self ascribed pop music mongrel receive accolades from the jazz world, while she performs music comprised of a wide range of elements including; electronica, blues, R&B and the songs of Italian crooner / composer Paolo Conte? Apparently she can, evidenced by Canadian singer/composer Daniela Nardi, who would already be a household name, if not for the fact she took almost four years away from her career to be by the side of her mother Rose, who tragically passed away from cancer in 2008, two days after Nardi released her current album The Rose Tattoo. Early in 2009, Daniela Nardi was named Female Vocalist of the Year by the Canadian Smooth Jazz Awards. Although Nardi is grateful for the honor bestowed upon her, she also noted that it came as a surprise and it does have its drawbacks, when it comes to attracting new fans to her music.
Nardi explains, "I don't consider myself to be a jazz artist. I don't put any particular label on it, but I certainly wouldn't call it jazz. Having said that, The Wave (94.7 FM) has been very supportive of my music and I think that smooth jazz, from what I have seen in the United States and throughout the world is more adult contemporary, even though they play the Warren Hills and the Lee Ritenours and all of that classic smooth jazz. It has really opened itself up, to playing R&B, to playing Sade and Sting or whatever. I think that my music fits into that, you can't really put it on KICK Radio (Classic Rock) and it is not Celine Dione like adult contemporary. It just seems to fit. Smooth Jazz seems to be this catch all and I manage to fit into the format which is great. It means that I get exposed to a few more folks than just CBC. Thank God for CBC, because they are very open, they are supportive and when they really like something they get behind it. There are elements of jazz to what I do and then if you add ninths to what I do, suddenly it's jazz. In terms of how the award came about, it is voted upon by the listeners. The fact that people voted for me was quite astonishing. I was sitting in my seat and I had to shake my head when they announced my name (as the winner). I couldn't believe it (you still hear an element of surprise in her voice) that they actually gave me the award. It is great to have and it is a great acknowledgement."
However, Daniela Nardi sees the smooth jazz award as, "It is a blessing and it is a curse. It really has been a challenge, because on the one hand you want the recognition, you want people to listen to your music, and you want to get it out there, but smooth jazz certainly has a stigma and has a reputation, unfortunately. There is a lot of great stuff happening in smooth jazz and change is happening. I am doing a show for smoothjazz.com and I do what is called On The Rocks. It is a three hour show and I am finding all different kinds of music from all over the world, but generally it is chill and nu jazz. There seems to be an evolution going on with electronic music, as it is experimenting with jazz and it is finding a new way or a new sound. Where is it going to fit? It is going to fit into the smooth jazz category. I think the smooth jazz world needs a bit of a makeover and I think that it is about to experience it, but at the moment my music does have the stigma of being smooth jazz, which is really interesting that people could think that I am a part of that world, when really I'm not a part of that world. (for emphasis she repeats) Really I am not part of that world."
As one listens to the sultry "Fugitive Kind," from Nardi's current album Rose Tattoo one hears an electronic vibe, an Annie Lennox like vocal and a groove that should appeal to primarily two demographics, the university crowd who have always been more open to cutting edge music and less inclined to conformity, and the second being those in the over forty crowd who were fans of the eighties duo the Eurythmics, comprised of Annie Lennox and Dave Stewart.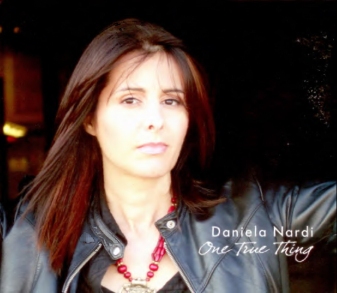 Concerning "Fugitive Kind," Nardi says, "It is one of my favorite songs (the excitement is evident in her voice) I am very proud of that song. I really love it and I am surprised that it didn't do more than it did (on radio). The title was inspired by a movie with Anna Magnani and Marlon Brando, which was called The Fugitive Kind (1959) (adapted) from a Tennessee Williams play Orpheus Descending (1957). I just fell in love with the movie and Anna Magnani is one of my favorites. I was mesmerized by the relationship between the two of them and not only the chemistry between them as I watched them on the screen, but the story itself; the love story and the attraction that they have for one another. They were both fugitives. He was on the run and she was stuck in this marriage where she felt completely trapped, yet they had this bond and this connection. It was just magic to watch, so it (the song) was inspired by that. It started off as a blues tune, because the movie is set in the deep south, so it has that kind of inspiration. I really wanted to experiment more with electronica on this record, and that was the first song that I really tried to work with in that genre. I just took it right out there. I have more of an acoustic version as a bonus track on the record as well, but that was the first song on which I experimented with the whole electronica world. I love how the two things come together. The blues format with the electronica really set the tone and the vibe for that track."
"I struggle with two worlds, I love organic, acoustic, but I love the electronic stuff like the Eurythmics. I just love that world or even more modern or contemporary acts like Massive Attack and Moby. It is part of our world now and part of the music making world. I am intrigued by it. The Eurythmics incorporated more live instruments, but definitely this is where the influence for "The Fugitive," came from. They were like The Beatles of that time. They were just such amazing, amazing songs and they had such integrity. There was such integrity in the production as well. They were just a great band," says Nardi.
Continuing to discuss her formative years in music, Nardi says, "My influences were in the pop world. When I first wanted to get into songwriting and getting into bands and stuff, it was Police and Sting and the Eurythmics who were my heroes at the time. I just went along the pop route and we worked on my pop songwriting chops, but it wasn't until university, when I was exposed more to jazz and world music that I noticed, while I was composing that I have this pop songwriting foundation. I was bringing in influences from everything else that I was being exposed to. It is kind of like when Obama first came into office and he called himself a mutt. There are all these different kinds of elements coming together (in my music) to create this, hopefully unique sound and this unique approach to music. Nobody has been able to label me and say that this is pop or this is jazz. It just seems to be a mixture of everything, and I kind of like it."
Daniela Nardi is articulate, and whether she is on stage addressing her audience or in a more relaxed setting such as an interview, that quality, as well as her awareness of what is happening in the world around her becomes apparent early on. Her music is just as articulate and rather than relying on lyrics with hooks, she lures you in with sophistication and imagination, as evidenced in songs such as "The Longest Road," also from The Rose Tattoo or her concert performance of Melody Gardot's "Who Will Care For Me," on which she provided a poignant interpretation.
Perhaps the talking heads at radio stations could learn a thing or two from Nardi's astute observation concerning the listening patterns of music fans. "When you look at their i-Tune collections, they choose whatever it is that they like and it could be pop, country, jazz or whatever," and Nardi indicates that her own musical tastes are varied as well.
A magical moment occurred late in 2009, during a concert at the Old Mill Inn and Spa in Toronto, a venue that breathes elegance and class, as Daniela Nardi was joined on stage for a few songs, by her husband, Ron Davis, who is a very accomplished pianist and composer. With divergent musical paths, the two seldom have the opportunity to appear together. However, in the music of Italian singer / songwriter Paolo Conte they have found a common ground, and backed by a solid band, the duo brought a rather stodgy audience to life with their performance of two Conte tunes, "Via Con Me," a song that North American audiences may recognize from the soundtracks of several movies, including French Kiss (starring Meg Ryan and Kevin Kline), and the second song "Azzurro," on which Davis was simply scintillating.
Daniela Nardi talks about her fondness for Conte's music, "Paolo Conte has been a legend in Italian music and a friend of mine introduced me to "Via Con Me," many, many years ago. I just absolutely fell in love with it. Paolo Conte is like the Leonard Cohen of Italy, he has that same kind of raspy, dark, yet sexy kind of a vibe to him. I love the feel of the track and I get the humor. It seems like every time that I perform it, people really enjoy my interpretation of it and it led me to explore other songs of his. Ron just fits Paolo Conte's style of piano playing really well, so it has given me a chance to work with Ron as well. Even though Paolo Conte's music is dark, he is able to put it in a humorous (light)."
As to where Daniela Nardi's music goes from here, she says, "I am in that process now, of asking where I want to go. I think that I want to keep the electronic elements in there. I want to explore new ways of doing jazz. Jazz such as Duke Ellington and John Coltrane has become classical music and I think the genre needs new life. There are all of these acts coming out of Norway and Germany who are doing some really interesting things. I would like to do that too and I would like to experiment with the genre. I would like to see if I can strike more of a balance between the acoustic and electronic world on the next record, leaning more to the acoustic, but definitely keeping the electronic elements in there. At some point I would like to do a complete record of Paolo Conte, but I don't think that I am there yet."
So in other words Daniela, you intend to keep on being a pop mongrel and if you keep doing it as well as you have so far, accolades will continue to come your way, new fans will discover your music and hopefully radio stations will "get it," that music does not have to fall into a nice neat little box, to be considered good, or in Daniela Nardi's case, excellent.