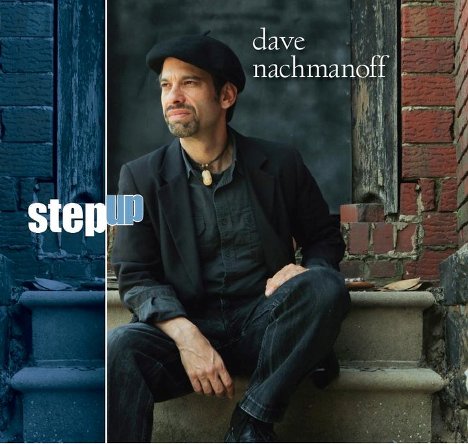 The first song I ever wrote was called "The Bumble Bee," for the band that I had when I was seven or eight. I remember the words, 'Here come the bumble bees, they are coming up the road, you better not run, because…' It was a knockoff of the Monkees or something like that. The first real song that I wrote was called, "Spotlight Of The Sun," and I ended up recording it with my brothers. It was basically a John Denver knockoff and I was nine at the time. I am rather proud of the fact that the second verse had a Shakespeare reference and I don't know if I knew Shakespeare. It was, 'I am an actor in the play of life and the world is my stage.' I don't think I had read Shakespeare by age nine, so somebody must have told me about it. I don't think I came up with that on my own," recalls guitar virtuoso and singer-songwriter Dave Nachmanoff, who since those exhilarating days of "The Bumble Bee," has gone on to tour and record with Al Stewart ("The Year of the Cat," and "Time Passages"), as well as performing with Alison Krauss and the Celtic band The Pogues. As a child, Nachmanoff shared the stage with legendary Blues guitarist and singer Elizabeth Cotton and yes you did read that correctly.
Nachmanoff had the good fortune with his current album Step Up to draw in with some musical heavyweights, including producer Ronan Chris Murphy (Kim Crimson, Steve Morse from Deep Purple, Steve Stevens guitarist for Billy Idol and Michael Jackson and Tony Levin whose resume includes playing with Peter Gabriel, John Lennon and Pink Floyd). Among the artists to appear on this album are vocalists Rosemary Butler, Al Stewart and John Wicks, with longtime friend Liz Bligan also making a guest appearance. Music fans may recall Rosemary Butler for her own Rock band the Ladybirds which opened for the Rolling Stones in 1964 and then a second all female late sixties and early seventies Hard Rock band Birtha. Butler also has recorded with Linda Ronstadt, James Taylor and on Jackson Browne's song "Running On Empty." Wicks was the lead vocalist and primary songwriter with the British Mod Power Pop band The Records and in subsequent years his songs have been recorded by artists such as, Mary Chapin Carpenter and The Searchers. The musicians are equally impressive, drummer Victor Bisetti (Los Lobos), electric bassist Ian Sheridan and keyboardist Bob Malone (John Fogerty).
Two things stand out concerning the music of Dave Nachmanoff, his mastery over the guitar and his ability to write songs that paint vivid word pictures. Take for instance, his song "Postcard To Stan," which appeared on an earlier album.
"I had the good fortune to be traveling in Italy with my family and we were in (Parousia) Italy. I saw a tourist writing a postcard and her expression looked so different than the Italian people who were walking by and who all looked so beautiful, confident and comfortable. For whatever reason, she was having a bad day and she was writing somebody a postcard. This little story popped into my head and I invented this story from her point of view or what I imagined it to be. The result was that song. I guess as a songwriter you have that instinct. You will be sitting in an airport or café sometime and letting your mind wander, while imagining what these other people's lives are like. That can be fun and it can also lead to an interesting story and song," he says.
David Nachmanoff relishes the role of the storyteller, "Absolutely, and I find it hard to get away from that," indicating that American songwriter Richard Shindell, now living in Argentina is one of his favorite songwriters. He adds, "There are some songwriters who don't really tell stories, but they create a mood or an obscure vision of a song and you don't really know what it is about. I appreciate those kinds of writers, but I have a hard time writing like that."
On the album Step Up, Nachmanoff tells another story, this time inspired in part by the philosopher Rene Descartes who spent time in Amsterdam, while developing much of the philosophical thought that he would become known for, something that David Nachmanoff knows just a thing or two about as he has a doctorate in philosophy.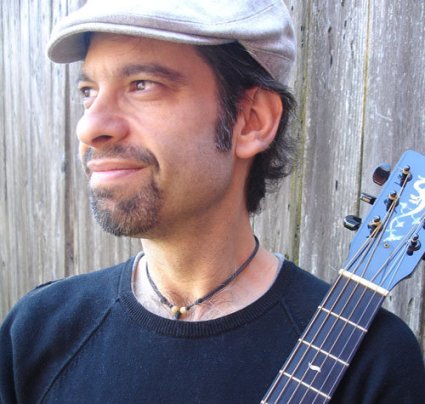 "I like that one (song) and funnily enough I believe it was written on the same trip to Italy as "Postcard to Stan." Descartes has a very interesting biography and what a lot of people don't realize is though he is a French philosopher he did most of his writing in Amsterdam, where he went to hide out from his friends and family and anybody who might try to interrupt him while he was working on his philosophy. It is a strange choice, because Amsterdam is a major metropolis and even in Descartes' time it was a huge city. In a big city you can sort of lose yourself in the crowd and that is what he did. I was walking in Italy or somewhere, I can't remember and it occurred to me that nobody there knew me and I didn't know the language. I was enjoying the solitude of being in an unfamiliar place and I suddenly thought, I wonder if that is how Descartes felt when he was living in Amsterdam and kind of hiding out from the world. This image emerged of what some people refer to as an intellectual hobo. The song isn't about me or about Descartes, particularly, it is about this feeling that I got when traveling in a foreign place and connecting to that. That song is on my new album, but it is also on my first album, which came out in 1997. It was probably written about 1995," says Nachmanoff.
Nachmanoff who plays numerous instruments played the violin on the incarnation of "Descartes In Amsterdam," whereas on his first album he played the viola.
"When it came to doing this (album) I did a much more complicated arrangement (of the song). It has electrical guitar and some cool keyboard textures, but I missed that original string feeling that was there from the viola. I put little touches of violin in. The violin has a certain sound that moves people. There isn't much of it and I am not a great violinist, but it is just another thing that I do and it brings a nice color to the song. It also pays a bit of homage to the first recording that had the viola," he explains.
Having an earlier song appear on his current album seems fitting as Nachmanoff indicates that he was looking to create more of a retro vibe with a sixties Jangle Pop feel to it. David Nachmanoff grew up listening to Jackson Browne, The Eagles and James Taylor.
The song "Sheila Won't Be Coming Home Tonight," was a collaborative songwriting project from Al Stewart and David Nachmanoff, with Nachmanoff developing the original storyline and the music and later on, the original lyrics were replaced by ones written by Stewart.
Nachmanoff talks about the evolution of the song, "(Originally) it was a very dark story about a young woman or girl who is living with her father and he is neglectful, maybe abusive and she more or less runs away. By the end of the story he sees her on the news and something terrible had happened to her. It was a dark story with fun Poppy music. I sent it to Al as a demo and he said he loved the music, but the story didn't seem to sit. The music didn't match the words at all. I asked him if he could help me come up with a different set of lyrics."
When it came time to record Step Up, Dave Nachmanoff decided to include a cover, "Rain King," by Counting Crows. When he first met with his producer Ronan Chris Murphy they talked about Nachmanoff's own songs and then about the merit of adding a cover song, a thought that was first planted by Al Stewart. The producer and Nachmanoff shared a common fondness for the music of Counting Crows. That led to an on the spot improvisation by Dave Nachmanoff as he pulled out his guitar and played the Counting Crows song "Rain King." He was encouraged by Ronan Chris Murphy to record the song for the new album. Rosemary Butler provides the background vocals.
Nachmanoff credits his producer for "getting me out of my own way. I can be my own worst enemy in the studio. He did a great job of spinning me around 180 degrees and making me approach it in a different way. That got me singing better than I ever have in the studio. He did a fantastic job of keeping things organic and simple, whereas if left to my own devices I might have made them complicated and artificial. Ronan was able to provide focus. He was able to pull out the Dave that we wanted to focus on and make that as strong as possible. I wanted to do an album that was much more focused than anything I had ever done. I am very, very happy with the way the record sounds."
Please visit the
Dave Nachmanoff website
Interviewed by Joe Montague
This interview is protected by copyright © and may not be reproduced in print or on the internet or through any other means without the written permission of Riveting Riffs Magazine, All Rights Reserved