From Evil Foster Mom to Goddess Of Love - Debrianna Mansini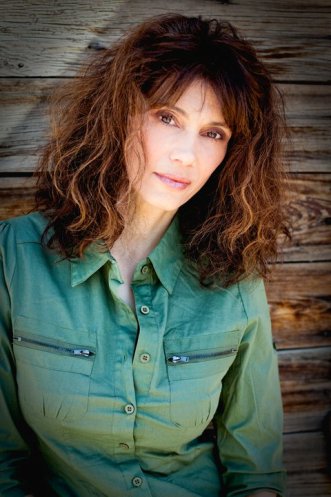 Debrianna Mansini who along with her husband David Forlano long ago opted for the New Mexico oasis called Santa Fe, over the bright lights of Los Angeles, it is safe to say, is an actress who is very much in demand these days, a tribute to her versatility and excellence performing in films, on television and on stage. She has appeared in films with Academy Award winning actor Jeff Bridges and actress Maggie Gyllenhaal (as Ann in Crazy Heart), with Charlize Theron (as Paula in The Burning Plain) and with Jennifer Lopez / Martin Sheen / Antonio Banderas (Bordertown). Most recently, Ms. Mansini has appeared on television in A&E's modern western Longmire (July 2012), AMC's Breaking Bad (July 2012) and ABC Family's The Lying Game as Clarice. She just finished appearing (June 2012) in the stage version of Other People's Money presented in Santa Fe and she is playing Aphrodite in a short film (being shot in July 2012). In addition, Debrianna Mansini is producing, starring as Helen Sawyer and in collaboration with British director and screenwriter Peter Kershaw, is writing the screenplay for Cyphers a web based series filled with suspense and that poses serious questions as to what is happening with our food and water supply and who is controlling it. Cyphers is preparing to enter its second season.
"I auditioned for The Lying Game in New Mexico and I was very happy that I got the part, because it was a large part to be cast from here. I got the role and subsequently the production moved to Austin, Texas. It was (to be filmed) here and then they (the politicians) started fighting about the film incentives and that did not get straightened out in enough time, so the production moved to Texas. I thought for sure that they were writing my role out, because I didn't think that they would import me. We shot in (continuous) 103 degrees weather there. Holy cow! I was quite pleased that they brought me back and they are scheduled to do a second season. I don't know if I will do a second season, but it does not appear that I have disappeared (from the series and she laughs). I definitely threaten her (the step-daughter) in my last scene with her. It is possible that she could still be a troublemaker, so we will see.
The Lying Game is based on a novel called The Lying Game, which is about a set of twins who were separated, I believe at birth and who were adopted into two very different families, one very wealthy and one very poor. They find each other via the internet and they want to meet each other then they exchange families. That is basically what the story is. The one who is on the poor side, is into the foster system and I play her nasty foster mother, which I got some flack about, because (people said) 'Oh you are playing the typical nasty foster mom and there's a lot of good foster parents out there.' I was well, it is television and there are also nasty foster people and that's the one I play. There are nasty people in every walk of life period. There are bad doctors, there are bad policemen, there are bad teachers and there are bad everything. The point is this is fiction and that is what this is based on, someone who's bad," says Ms. Mansini.
As we went to publication with this interview, the episode of Breaking Bad in which Ms. Mansini appears, was being kept under wraps, but she was able to talk more at length about Longmire. "I play a woman whose brother is the object of the investigation. It is a modern western. This is the first season and it was shot in New Mexico. Longmire came here after the incentives were decided (the tax incentives have now been significantly reduced) and we were all surprised that they decided to come."
For those of you who may have Longmire tucked away in your PVR, Debrianna Mansini played the role of Pam Grey. The series stars Peter Weller as the sheriff and he also directs Longmire. Ms. Mansini refers to Peter Weller as an "amazing director, an actor's director." Two other actors from New Mexico, Merritt Glover and Jackamoe Buzzell, also appeared in this episode.
As for the play Other People's Money, "It just closed yesterday and it was great. It was co-directed by Ron Bloomberg who was a big writer in Hollywood. He did Three's Company and All In The Family. He co-directed it here with another fellow. It is a play that he said he read every year, whether he needed to or not. It is so interesting and it is prophetic in a way that we aren't real happy about. It's about venture capitalism and in this case it is about a New England company that is (experiencing) a hostile takeover. That is the setting and it is about the relationships between the family members and the owner of the company and his secretary who plays my mother. I am an investment banker lawyer that they ask to represent them during the hostile takeover. Larry the Liquidator is the main character and he is doing the hostile takeover. It has two of the most powerful monologues about venture capitalism ever written into theater. It is a Tony Award winning play. The thing I love about this play is that it presents both sides of the argument and it allows you to contemplate the other side. It is still relevant," she says.
Continuing to talk about her busy summer, Ms. Mansini says, "I am working on a short film called Psyche Ascending and it is based on Greek mythology. I play Aphrodite. A friend of mine wrote it and Peter Kershaw who directed the season finale of Cyphers and with whom I am writing season two, is also directing Psyche Ascending. It is about the love story between Psyche and Eros. I play Aphrodite, who is not that thrilled about Psyche (she laughs). There are no togas (she laughs again). We haven't started rehearsals or anything, so I am not sure what the approach is going to be. Greek mythology sort of transcends time in a way. We all still fall in love and we have bitchy mother-in-laws. All that stuff still goes on believe it or not. (She quickly adds) I love my mother-in-law. See there you go, just like in all things there are good people and bad people. It is (being filmed) in Santa Fe and it will be shot as a short film. I believe the purpose will be film festivals and stuff like that. (Digressing she says)We were really lucky to get Peter to work on Cyphers, because it was one of the first projects that he did in the U.S. "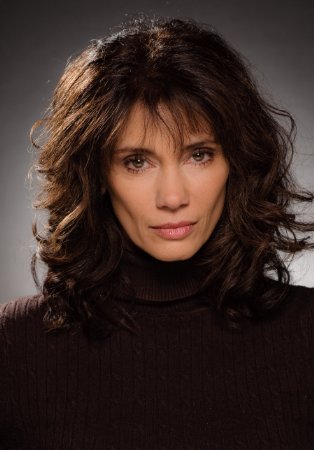 "We are on track to finish writing the end of season two at the end of July and then we will begin fund raising. We hope to shoot it and have the money and everything by probably January or somewhere in there. Part of the funding is being raised from the new script and the concepts that are in it. What we want to do is to present our ideas and the script to a group of people, so we can raise the money that way. We will see if these people are interested in contributing and to get this kind of a project off of the ground. It's a big deal. I am really committed to developing web television, because I believe that's where we are headed. It is all that I ever see coming up, so and so is backing independent production. We know that's where it is going.
The storyline for Cyphers is the same in terms of the corporations trying to gain control of food and water. That is our theme and that will continue to be our theme. It may end up looking different and feeling different, because there are different writers, it is me and Peter. We have a different approach to writing then the previous writers had. The themes that we are dealing with will definitely be the same in terms of the starting point. It is similar to what I was explaining to you about Other People's Money, the framework and the backdrop was about the takeover, but it is always about the relationships and the characters and that is the way that I see Cyphers too. The backdrop is the corporate takeover of food and water, but the story is about the characters and the personal relationships. That's what garners you an audience and it is what people find interesting. What do those situations do to people and how do they behave in ways that we either like or don't like. You care about the characters and what is happening to them and what choices do they make when they are under the gun in those kinds of situations. That is really the interesting part. It is who we are as human beings. We all have the same DNA and we all have the same makeup. It is what choices that life presents us with and how we handle them that make an interesting story. Taking over a business, bad parents, those kinds of issues, all of those things happen and they have happened since the beginning of time. Jesus throwing over the tables of the money changers, HELLO, it goes all the way back as far as we can think. Capitalism and greed and all of those basic things we all deal with, the seven basic sins are always there. It is just how we deal with them that make life interesting," she says.
Perhaps, it is fitting that an actress of Italian descent and one who is known for her great recipes, is working on her own project called The Meatball Chronicles. "I call it a coming of age story through food. It's a one woman show that I have been working on and off on for ten years. I was more concentrated in the last year, as I worked closely with Tanya Taylor Rubinstein. She is well known for teaching her gift of solo performance. She has been on Oprah. She started her journey doing what is called the cancer monologue. She takes people who are going through cancer and talks about what is happening to them in a performance way and then they end up doing a ten minute show. Her show is powerful and it teaches people how to take their life and turn it into theater. I had always wanted to work with her on this piece and I was fortunate enough to be able to do that all of last year. Now I am in my rewrite stage. It is a high concept performance piece. It is not just going to be me talking, because I will be cooking. I am developing the concept of how to present it and now I am just looking for the right director. I hope to do the first presentation of it in November."
You can visit the Cyphers website here.
Interviewed by Joe Montague
This interview is protected by copyright © and may not be reproduced in print or on the internet or through any other means without the written permission of Riveting Riffs Magazine, All Rights Reserved