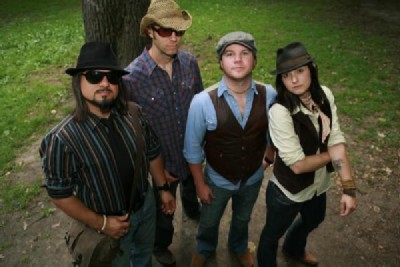 People are using Twitter to tweet about just about anything these days; what they had for lunch, earthquakes, their favorite movies and a hot new song or singer, but now there is a band that you can feel completely justified about including in your tweets, Diana Catherine and the Thrusty Tweeters, a rockabilly – southern rock group from Toronto Canada, whose music is being played by radio stations across the southern United States and they have become a favorite of numerous radio stations in Florida. The band's name is not an attempt to leverage technology, but instead originated as a result of a concert, but not one of their own.
Lead vocalist and songwriter Diana Catherine explains, "We (the band) are the type of people who are big jokers and we are all very sarcastic, people that like to tease and just have a good time. We were at a show and the guy performing said, 'This song is the emotional thrust of the album.' We all started giggling and after that we started saying things like, 'Why don't you thrust me anymore,' and 'the emotional thrust,' as we started making up words like thrusty and thrustable. When Nic DiSanto (the bass player for the band) rolled in the next day, he said, 'the thrusty tweeters,' and I thought that is brilliant. It made me think instantly of the Traveling Wilburys and their song "Tweeter and the Monkey Man." I love the Traveling Wilburys and they are one of my biggest influences. I just thought from that time on, "Thrusty Tweeters," was the name for the band.
In its current form, the band Diana Catherine and the Thrusty Tweeters is barely more than one year old, but this is not Catherine's first band, drummer / percussionist Matt Blackie has been an integral part of several groups, bassist Nic DiSanto and guitarist Kevin Robinson, although still young, are veteran musicians. Diana Catherine also plays guitar and the harmonica. Yet despite the newness of the band, their debut album The Spirit Ranch Sessions has ignited a fever pitch throughout Canada and the southern United States. In Canada their music is being played on radio stations across the country and during the second week of March the band will be performing at Canada's largest single annual music event, Canadian Music Week, an event which draws solo artists and bands from across Canada, as well as artists and music professionals from around the world. At last year's event Swedish pop star Sofia Talvik who is now beginning to make a big splash in the United States, was one of the performers and it is rumored that this year's Canadian Music Week had requests for credentials from more than six hundred members of the media, quite an accomplishment in a country which has a population which is approximately eleven times smaller than that of America.
The Spirit Ranch Sessions opens with "Walk," as Diana Catherine plays the harmonica and the infectious guitar chords immediately prompt swaying hips and feet shuffling to the music as the singer's good vocals with a bit of a rasp, introduce a melody that invites the listener to sing along, while the lyrics speak to the life of a traveling musician traveling the Canadian highways.
"I am dating a musician and he is our drummer (Matt). He plays with a lot of other bands and so he is constantly out on the road. When we first started dating each other, it was kind of odd to be in a new relationship with somebody who was almost never there. It just felt new for a very long time and yet he would keep coming back to me, even though it had been a very long time. I was like, great this is still working and I know that you have to walk away from me, but as long as you come back, this is all still good. That is where the song comes from, the experience of him walking away and coming back," she says.
As for the influences that have shaped her own musical style, Diana Catherine says, "I grew up listening to classic rock stuff and Tom Petty, who has undoubtedly been my biggest influence. He is the reason that I do this, and when I was young I heard him play the songs that he wrote and it made me want to pick up a guitar and to do that. I pretty much have done it ever since. There's a lot of him (Tom Petty) in the way that I write, because he writes from a lot of different perspectives; a little bit of rockabilly, a little bit of boogie, a little bit of rock 'n' roll and countryish kind of songs. I think that really reflects the way that I write, but I have listened to a lot of other stuff along the way too. During my teenage years I listened to a lot of rock and even metal, and it got that frustration out. It is funny when you listen back to your old mixed CDs or tapes and you go, 'Oh my God I can't believe I listened to this.' My musical tastes have grown and matured as I have. It was not all bad, it was just different, and it helped to carve me into who I am as a songwriter."
In the later part of 2008, Diana Catherine's career appeared to be on the upswing with performances in Nashville at a showcase of Canadian talent at which she performed with Linda McRae of Spirit of the West and blues singer-songwriter Colin Linden who was doing some work with Catherine's friend Cindy Doire, joined Catherine and her band for a song. As she says, since they were a bunch of Canadians they decided to cover "The Weight," by legendary Canadian musicians The Band, which consisted of Robbie Robertson, Richard Manuel, Garth Hudson and Rick Danko, as well as American Levon Helm. That sojourn into the south was a filled with thrills and chills and the chills came as Diana Catherine and her band left for a mini tour of Florida. Read more