Divine Brown Is Fun and Soulful on The Love Chronicles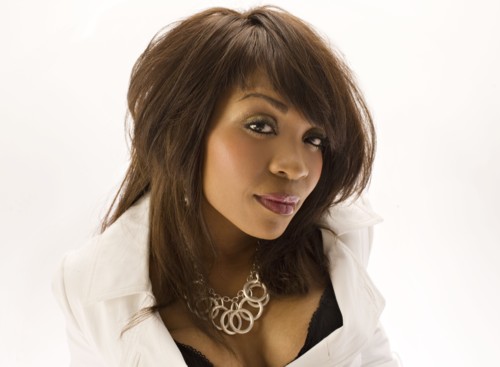 Toronto's Divine Brown, will soon join an elite group of female singer / songwriters, such as Alanis Morissette, Alannah Myles ("Black Velvet"), Sarah Slean and Shania Twain, in being recognized as Canada's next diva. After previewing, some select tracks from Brown's soon to be released album The Love Chronicles, and meeting with her on Canada's west coast, in the city of Vancouver, it became increasingly clear, that Brown will soon outgrow the smaller Canadian market. The vocally gifted Brown, whose music mixes old skool R&B vibes, with soulful phrases, and modern beats, to inspire wiggling hips, jiggly butts and dancing feet, will eventually accomplish what she has already done in Canada, which is, to light up the airwaves and stages across America.
Songs such as "Lay It On The Line," "Boogie Slide," and "Bebe," are fun songs, that represent influences from three different periods of R&B history. She explains, "What inspired me, were the memories of growing up, and listening to soul music. I got to listen to a lot of Al Green, Otis Redding, Aretha Franklin, and that type of stuff. With each artist, there are specific memories that are attached."
The soulful phrases in Brown's music, which first became evident in her hit single, "Old School Love," from her self titled debut album, resurface on The Love Chronicles with, "Lay It On The Line," a song which recalls Doo Wop girl groups, and blends the beat with soulful R&B melodies more commonly heard from artists such as Corrine Bailey Rae and Alicia Keys Brown's vocal performance exceeds that of Keys, and if the breaks go her way, she could soon find herself mentioned in the same breath as Rae. While Brown is the first to admit that her music, particularly on The Love Chronicles is inspired by artists who once dominated the rosters at Motown and Staxx Records, she has however, also succeeded in bridging the gap between her fondness for songs that were recorded before she was born, and original tunes that reflect contemporary dance music.
As we sat outside Starbucks, on this warm afternoon, Brown recalled the inspiration behind, "Lay It On The Line," "That is just honesty right there. I was feeling this guy for the longest time. I wanted to tell him, but I was scared to, so I did it through this song (at this point she giggles as if she is a schoolgirl sharing about a big crush). At that point, I just released a lot of emotion into the song."
"I had this line in my head and I just wrote (she breaks into the words of "Lay It On The Line"). A lot of the times, I write from what I am feeling. I write from an emotional perspective. It's not like I am laying all of my business out in the open, but if I have just gone through something emotionally, or I am observant about something, I am definitely writing about that," says Brown, while confessing that her writing can often be a very cathartic experience.
Brown worked with noted director Paul Boyd to create a video for "Lay It On The Line." She says of the experience, "We wanted something that provided a fresh perspective, but was a throwback, with a new twist. It is very much about hanging out on the street corner, hanging out with my girls, and the guys across the way, kind of a feel. There is also the love interest thing, with the longing in my eyes (she laughs). We try to come from a fresh perspective on an old thing, Doo Wop. There is a little bit of a Doo Wop feel to it, yet the song is so contemporary. I haven't seen the cuts (for the video) yet. I wanted the Doo Wop theme infused into something that is very urban. That was pretty important to Paul and me. I think that we achieved something that is fun."
One of the best examples of Brown's ability to bridge the past and the present can be heard in her new song, "Meet Me At The Roxy." She breaks into a few lines of the song, before saying, "That is an Ike and Tina Turner kind of song. I have the most abstract way of putting things into songs, and if I tried to explain, where that came from to you, it wouldn't make sense."
Brown plays guitar on both "Meet Me At The Roxy," and on the song, "Lay It On The Line."
All I have to say to one of Brown's old boyfriends, is, 'You are so busted.' From her ex-boyfriend mistakenly phoning her at in the morning, thinking he was dialing his new girlfriend, was birthed the song, "Bebe," a fun tune which demonstrates a lot of creative ingenuity. If ever an original song born in this century captured the flavor of the late fifties and early sixties music, then "Bebe," would be the one.
"It was so much fun to record," she says despite being under the weather, Brown perks up noticeably when discussing, "Bebe," "I had the wildest time doing it. I am a ham, so I like breaking into different characters and stuff, and with "Bebe," I got the opportunity to do that. This is me doing my thing with voice acting (something else Brown does), and I got to explore that a little bit. I kept thinking about the feeling that I get when I listen to Ronnie and the Rockettes. I had a friend that I hung out with in high school, and whenever I was at her house, her mom always had the radio on the oldies station. I heard a lot of Ronnie and the Rockettes and The Platters. That is the memory that is attached to the song, "Bebe."
When I ask who owns the magical, deep male voice on "Bebe," Brown squeals with delight and then laughs. "That is a friend of mine, by the name of Brian Hamilton. I just dragged him in. I said, 'Your voice is perfect for this. You have to come in and do this.' He was really happy when I told him that his voice made the record, because he had said, 'If my voice doesn't make it (she lowers her voice to imitate his) that's okay.' He has that big burly bear voice. I needed a big burly voice, and he was the only person that I could think of who could pull it off."
When the question comes up, about how audiences respond to the song, "Bebe," Brown starts to laugh before I finish asking my question. "Saturday night in Winnipeg, was the second time that I performed it live. I found that the girls immediately started doing the twist, before I even started doing it myself. They immediately do this (she starts to twist in her chair), so they know what the connection is."
For all but one of the songs on The Love Chronicles, Brown did her own background vocals. The exception was the fifties influenced song, "I Need Your Love," a tune for which producer Colin Munroe already had background vocals, but wanted Brown to record her own. "There was something about these background vocals that seemed very fitting to me. I told him that we needed to keep them, and that we would drown them in reverb from that time period."
"For this CD we used an old fender bass on a lot of the songs. My bass player wanted to use his suave, brand spanking new bass, but the producer and I were like, 'uh, uh.' We need the old, dirty, gritty fender. We used some old, vintage guitar amps as well, to try and get a certain feel. It's about the texture. We even recorded a couple of the songs, on two-inch analog tape. There is such a big difference in the warmth. We had to dump it back into digital of course. We also recorded all of the horns on two-inch tape as well, and then dumped that back into digital," as Brown discusses the recording process you can easily detect the enthusiasm in her voice.
Brown called upon Nashville strings maestro, David Davidson to come up with the strings arrangements for the song, "Sweet Surrender." "He was referred to me by Ron Sexsmith. Ron told me, 'Devine you don't have to worry, just send him the track.' David Davidson really understands how to do arrangements around vocals, so that they never get in the way. I would definitely like to have him to some arrangements for my next record," she says.
For her disco era influenced song, "Boogie Slide," Devine Brown channels Donna Summer, whom she grew up idolizing.
Early in her career, Brown shared the stage with George Benson, Nikka Costa, Maceo Parker, The Temptations and fellow Canadian Taylor Dayne, soon we will be asking, 'Who got to share the stage with Devine Brown?'
In 2005 Divine Brown's first chart buster, "Old Skool Love," helped ensure her debut album would reach gold status. One cannot help but be excited for an artist whose music is fun and whose vocals are as beautiful, as she is pretty.
Devine Brown's music is all about memories, recalling the past, respecting the music that paved the way for today's artists, personalizing it, and then placing it within a contemporary context. Start building your own memories today, by attending one of her concerts and getting your copy of Love Chronicles (to be released in August), so years from now you can say about your Divine Brown experience, 'I remember when..'
Interviewed by Joe Montague
This interview is protected by copyright © and may not be reproduced in print or on the internet or through any other means without the written permission of Riveting Riffs Magazine, All Rights Reserved