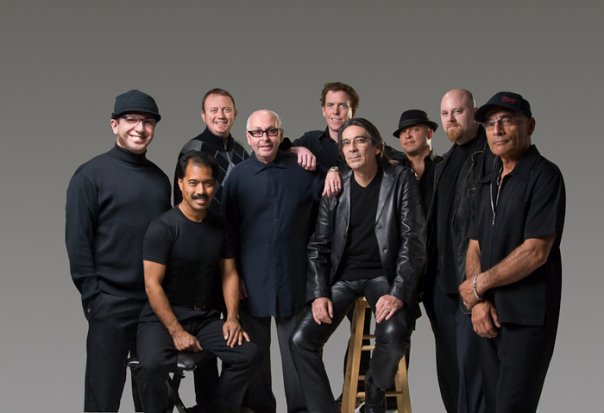 "I have been pulling back on the heavy instrumentation on a lot of my stuff, because I wanted to have more of a sports car kind of a band than a station wagon. A little more agile and with less guys you can really take a left turn immediately. I have these guys who are almost loyal to a fault and I love them all. They are some of the greatest players that I have played for and played with ever," says Greg Adams in describing his band East Bay Soul, one of the funkiest, hippest ensembles in America.
The trumpeter and arranger, who is a former original member of Tower of Power and wrote that iconic group's horn charts, as well as those for Huey Lewis and the News, appears to be savoring every moment of his new adventure and with good reason, because songs from this project's debut album are receiving widespread radio play. On October 8th of this year, East Bay Soul performed at the JazzTrax festival on Catalina Island, California and according to Adams they had, "a wildly enthusiastic audience. There was a lot of love in that ballroom. We can't wait to do it again."
The members of East Bay Soul are veterans of the jazz and funk scene and one might take a cue from the opening song on their self-titled album and refer to their funky band as the "Survival Of The Hippest," for they have pulled out all the stops and the song incorporates funky soulful horns and a rap by Tom Bowes.
"That is what I had in mind. I knew that I could pull the retro off and I wanted to include the newer sounds that we had available and so we did," says Greg Adams in describing the approach the band took to this album.
Bowes is just one of four singers who appear on this recording, the others being, Darryl Walker ("iHope"), Sean Holt who sings "Jump, Shout, and Holler," and another former Tower of Power alumnus Lee Thornburg who is outstanding on "Stop." For the CD, Tom Bowes also recorded "Someone New," and "Reading Lips."
"I know that vocals are starting to take on more of a role in smooth jazz and I wanted to broaden my horizons and to get back to my roots, when I was with Tower of Power. I have done contemporary jazz and all of that, but I wanted to get a little funkier this time. To that end, I am kind of a slave to a big band and a horn section. We went out and we pulled it off. I am very proud of this record." says Adams.
Returning to "Survival Of The Hippest," for a few moments more, Greg Adams says, "I wrote "Survival of the Hippest," in my head and I started with the bass line and (I wanted) to make the horns really cockeyed and to have really tight voicings. They move very linearly. When the melody is played by the lead trumpet, everybody moves a minor third up. It is very craggy and funky in its own way. I wrote it down, we scored it and we recorded the rhythm track. Then we put the horns on it. Nobody had played it. We had rehearsed it in the studio for about twenty minutes. It is very simple and that was the whole idea, it is a groove song. My business partner asked if I had ever thought of putting a rap on anything that I have done (he laughs) and I said not really. I asked him if he wanted to write something. Tom Bowes was out to sing with us at Spaghettini's and we put a rap on it. It sounded kind of cool. When we put it out to radio we sent out two versions, one with a rap and one without a rap, just in case smooth jazz radio said we aren't going to play rap. It's a groover and nobody knew what it was going to sound like until we played the parts. We didn't rehearse it for weeks or do it in pro tools and all of that kind of stuff. One of the things that I really like about the song and it is really prevalent throughout the record is the Hammond B3 organ. We didn't even know that Joey (Navarro) played the Hammond B3 organ and we had never incorporated it into our sound on any of the other records. In the studio there was a B3 and it is one of the best B3s that I have heard. It was there for our use. It gives the record a nice warm tone and everybody likes the sound of the speakers whirring back and forth. James and Brian nail it. It is a cool song and it gets us off to a cool start." Read more