Falling Wins Award at California Film Festival - A Must See Film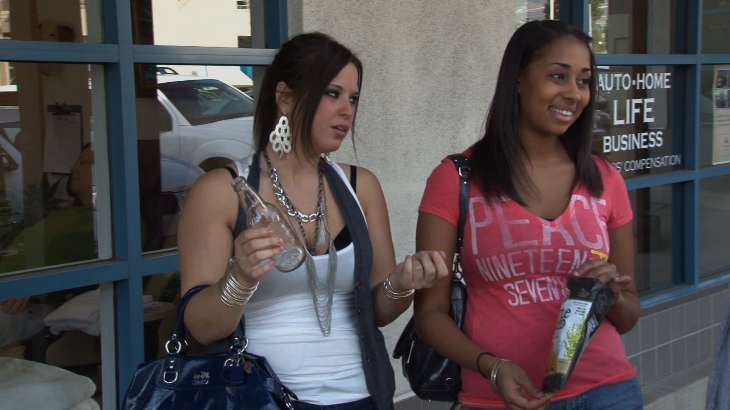 L - R: Christina Gudjenova as Blair and Paige Gibson as Zoey, Photo protected by copyright ©, All Rights Reserved
Can ten young actors write their own film script and then have all ten of those scripts woven together into one cohesive film? Director and screenwriter Michael Zelniker thought so. He asked ten young actors to write individual short scripts with the intention that they would be filmed, so the actors would have a calling card to show to agents and casting directors.
It turns out he was right, because in August (2012) the film Falling won Indie Fest USA International Film Festival's Best of the Festival Award.
"As we considered the structure of the class, a question came to me. Would it be possible to weave together the ten self-contained, independent short film scripts into a feature length story? So, the idea for this larger experiment was conceived from the outset. What excited me about the experiment was I knew we would be exploring an entirely novel form of storytelling. As doable as the short films were, the prospect of emerging a feature film from this process was much less certain. I knew that we would never sacrifice the integrity of any individual story in order to create or find connective tissue /overlapping moments between the stories," says Zelniker
We know what you are thinking and we thought that too. This is going to turn out horribly disjointed, artsy perhaps, certainly novel, but not cohesive. Guess what we were wrong and so are you. Zelniker and Celeste Chute, Sharon Elliott, Maryanna First, Paige Gibson, Christina Gudjenova, Matthew L. Hart, Richard Perry, Samantha Seargent, Sarah Wahl and Elizabeth Wubishet wrote, acted in and produced a high definition film worthy of winning film festival awards, but it is so much more. This is a story, no it is a journey that you will take with people such as Elizabeth (Sarah Wahl) who asks whose child is she? You will meet Fred (Richard Perry) who is so introverted that he struggles with telling the woman he has a crush on, just how he feels. You will hate Michelle (Sharon Elliott) and you will love her at different points in this film. You will cheer Oina (Christina Gudjenova) on and you will want to hug Bradley (Matthew L. Hart) and let him know it is not his fault. Your heart will break for Millie (Celeste Chute) and you will call her boyfriend Preston (Reid Boutte) a jerk. Maryanna First (as Kara) reminds us that acting is so much more than just words that are spoken.
April Smith and the Great Picture Show's song, "Movie Loves A Screen," serves as the intro and the outro theme song to this film, and these words from the song speak to the heart of this story, "Maybe what I mean is that I love you more than any other I've seen / If you couldn't tell well I hope you're quite keen on it / Like a rhyme loves a sonnet / Like a movie loves a screen / That's what I wanna mean to you "
Falling is much more than a film, it is about self-discovery and it is about the things that impact our lives that we cannot help and that send us plunging out of control into a world we often do not know how to emerge from. Falling, is also about people needing other people, reaching out to other people, loving other people and helping to restore their self-esteem and allowing them to breathe again. Falling is an experience each one of you who is reading this should have. Paige Gibson's performance as Zoey leaves you wondering what you would do in similar circumstances. Some of you will be angry at the situation that some of these characters find themselves in and you will cry with Michelle. You will at the same time laugh and hurt for Shelley (Samantha Sergeant) who performs karaoke for her fish and her (we think it was a gecko).
Michael Zelniker says, "I realized early that I wanted to start with Elizabeth's story, because the discovery of her adoption papers sends her on a journey...and that's what our movie is - a journey. About one-third through the process of merging the scripts, I knew I wanted to end with Bradley's line to Millie, "Wanna do another puzzle sometime?" In a way, that's what our movie is - a puzzle."
"Another way to challenge the students more fully was to have each of them play a secondary role in one another's story. During the first reading of the short scripts for the group I was able to consider casting. The ones in the group that created distinctly different characters made for a delicious moment at the end when I juxtapose the two characters in the tail credits," says Zelniker.
The versatility of these young actors is evident with performances such as Celeste Chute playing the demure Millie and also playing the office bitch Audrey. Not to take away from any of the performances but these actors also got our attention, because of their exceptional performances, Richard Perry, Samantha Sergeant, Sarah Wahl and Paige Gibson.
"When one endeavors away as modestly and humbly as we have on this project, it is so rewarding to meet with some outside validation," says Zelniker in talking about having the film accepted by Indie Fest USA International Film Festival. "I have been to Cannes with Clint Eastwood with a movie that I starred in, to Sundance twice with movies and to Toronto as well. I traveled the film festival circuit with Stuart Bliss, a movie that I co-wrote, produced and starred in and I am as excited about what is happening with Falling, this humble little offering, as anything I've ever been a part of."
The film Falling makes its debut at the Indie Fest USA International Film Festival on Sunday August 19th, at 4 pm in Garden Grove, California. Get your tickets early and be part of the journey, because it is going to be a good one.
When you watch Falling, you will be treated to some superb acting, an inspired producer and screenwriter who took a group of young and gifted actors and rookie screenwriters on a journey they will never forget. If good films are about evoking strong emotional responses from those viewing them, because they tell stories to which people can relate, then the film Falling, has become the gold standard for all young filmmakers.
Reviewed by Joe Montague
This interview is protected by copyright © and may not be reproduced in print or on the internet or through any other means without the written permission of Riveting Riffs Magazine, All Rights Reserved