Fashion Designer Pamela Quinzi

Pamela Quinzi, a fashion designer originally from Rome, Italy, via Milan and who now makes her home in New York City, is considered to be one of the rising young stars on the international fashion scene. Her collection of couture shoes, Kilame is popping up in boutiques in Beverly Hills and in New York City and since there are no two shoes exactly alike you can also contact Pamela Quinzi directly through her website and follow her on the official Kilame Facebook page. Pamela Quinzi also has an accessories collection, but her main focus right now is Kilame. In the past she has collaborated with some of the world's leading designers and fashion houses to design dresses, handbags and other accessories and she still does create new designs for dresses, jewelry and accessories. Kilame however is her baby and she works feverishly day and night to grow the international presence of her brand (the shoes) and it has earned her the nickname Cinderella of New York.
During our recent conversation Quinzi was in the southern part of Italy on the coast of the Adriatic Sea for a month where she works closely with manufacturers, creating new styles and in May she will be heading back to Los Angeles for the second time in 2017.
"I had been before to LA for traveling and for checking out everything, but this was the first time for the collection to be in LA

Read More
Cindy Morawetz - Fashion Designer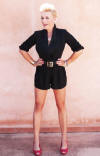 The story of German fashion designer Cindy Morawetz who established her own brand drezz2imprezz is both inspiring and amazing. With more and more celebrities wearing her dresses and jumpsuits she can now fondly look back to where even though she did not realize it at the time, it all began, in her teenage years and she can look forward to a bright future. She already has her sights set on making a big splash on the American fashion scene.
Cindy Morawetz started designing her own clothes when she was a teenager, but she very emphatically says "absolutely not," when asked if that was when she first started thinking about a career in the fashion world.
"I never had this idea, because it was only just for me and I never studied this. I only had fun doing things for myself, because everything that you could buy I did not like. If something was not done like I would have liked it, I recreated it.
My family is also very conservative, so they told me I had to study something to get good money, so after school I started to study (to be) a lawyer. It was my family's idea but I only studied for one and one-half years and I noticed this wasn't something that I could be creative doing. Absolutely not. This was the moment
Best Selling Author Nancy Naigle
This Christmas season the Hallmark Channel in the United States and the W Channel in Canada are debuting two new Christmas movies, Christmas Joy and Hope At Christmas, both of which are based on romance novels written by Nancy Naigle, a USA Today Best Selling Author. The affable Virginian who now makes her home in North Carolina was on the film set for both movies earlier this year and when she sat down with Riveting Riffs Magazine she was effusive about the actors, the production crew and the completed movies.
This writer read Christmas Joy and did not want to put the book down, because the storylines and the characters were so well developed that you felt like you knew them personally.
Joy Holbrook one of the two main characters in Christmas Joy learns that her Aunt Ruby in Crystal Falls has been injured from an accident and so Joy travels from her high profile job in the big city to the small town of Crystal Falls to help out with feeding her aunt's farm animals, do some Christmas decorating and help out with Molly. You will not see the little girl Molly in the movie edition, but as Nancy Naigle says it is difficult to condense 70,000 or 80,000 words contained in a novel into a movie script of approximately 20,000 words.