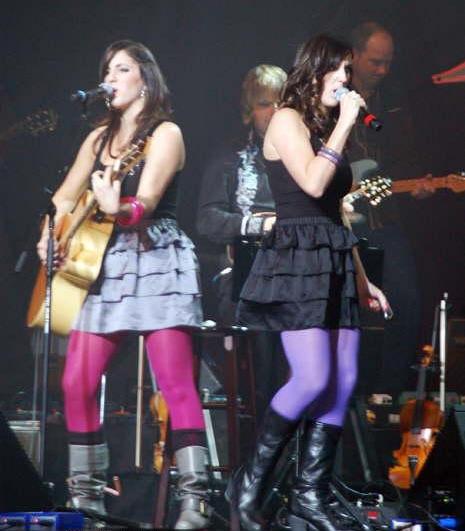 Perhaps not since Shania Twain, has there been a female country music act from Canada, as exciting as the duo known as Fera and which consists of identical twin sisters Stephanie and Courtney Fera. Sure there have been some pretty significant cowgirls, such as Michelle Wright, Terri Clark and Lisa Brokop (with whom they have shared the stage), but with the exception of Twain, none of them packs or has packed, the energy that Fera brings to the stage, nor have they had the same crossover appeal as this dynamic singing / songwriting twosome.
"Yes our music definitely has a crossover feel and appeal to it. We are not straight line country, we are alternative country and even sometimes we are pop. It depends on the Fera song that you hear. It is something that we embrace, and I think that it will help us and it won't hurt us," says Stephanie, although as they seek to become more established artists, their style seemingly comes with a few challenges, "It's not completely easy to get into the country genre when you are alternative country, it is quite hard."
To which her sister Courtney adds, "Especially with radio play. Our hearts aren't completely alt country, because we have rock, pop and other elements in us. That is fine, but it just makes the road a bit harder."
Stephanie says that the problem appears to be, "Nobody knows how to market us."
"We run into that quite a bit, because we are genreless. There are elements of country in certain songs, but then almost every song is a different genre (or sub genre). We don't fit anywhere," says Courtney.
That might be true for the tightly formatted commercial radio market, but it has not stopped a growing legion of fans from flocking to Fera's music which has been influenced by the likes of country pop crossover singer / songwriter Patty Griffin, American pop rock band Hanson and country music artist Vince Gill.
Recently Riveting Riffs Magazine ran into west coast concert promoter Keith Sedar, who has twice booked Fera for the annual Golden Spike Days Music Festival, which has been held for thirty plus years, and he spoke enthusiastically about what the twins bring to their performances in terms of energy and the quality of their music.
They also have highly respected country music producer, songwriter and musician Tom McKillip (Aaron Pritchett) championing their cause and he is the producer of record, for their current album Familiar Feeling.
Although Fera has many influences in their music and they claim to be without genre, the underlying groove in all of their music is country. Stephanie recalls when those seeds were first sown, "When we were of the legal age (nineteen in Canada) to go and have some beers, we went to a place called Roosters in Pitt Meadows (British Columbia, Canada) and that is where we really got into country music. We listened to country music when we were in grade ten and grade eleven on Country Music Television (Canada's version of The Nashville Network), but it was really when we saw the Aaron Pritchett band, back in the day when he was the house band, that our eyes opened up to country music. We were songwriting at that point in our careers and those (country) influences got into us."
Courtney picks up the story, "We also met Tom McKillip and he really put us on the country track. We met Tom through Dale Wallace who at the time was playing keyboards in Aarron Pritchett's band, but now plays in Emerson Drive. Dale introduced us to Tom one night. It took a while to get his attention and to convince him to meet up with us in a Starbucks one night, he listened to our demo CD and he loved it. He took us on and he produced our full length album."
Keeping up with Stephanie and Courtney is a challenge as they are high energy even when they talk, often switching off in mid sentence as one sister finishes the sentence of the other.
Enthusiastically Courtney continues, "The experience with Tom was the first time that we had recorded a full length CD with a band."
Stephanie cuts in, "He got us."
"We are still on the track of trying to get people to understand us and to get it. Tom got it right from the beginning. He didn't try to rearrange a lot of stuff. He took songs that we only ever played acoustically and he brought them to life with a full band. It showed us what we could do with our music. He is also very comfortable to work with, and when you are comfortable, you sing better, you play better, and you are more open to sharing ideas," says Courtney.
The opening song of a Fera concert is only a few bars old, before you become keenly aware of Stephanie and Courtney's incredible vocal harmonies, but they are equally gifted songwriters and "Fairytales," from the album Familiar Feeling provides all the evidence that you need of their keen songwriting sensibilities.
"Fairytales," was inspired by a couple of different things, one of them being, a long distance relationship or the wanting of that relationship, but not yet actually being in it, and how things don't always work out. Sometimes you just have to suck it up," says Stephanie.
Courtney talks about the other inspiration behind the song "Fairytales," "We have entered a time in our lives when we always have to go for it and we always have to put ourselves out on a limb. We learned that at a young age, right after high school, and we learned really fast how to put ourselves out there, even if we get rejected, whether we are talking about guys, music, trying to get a gig or trying to get anything. The song was inspired by (that attitude). "Fairytales," is from the perspective of a girl who isn't afraid to go for it and who puts herself on the line. It was written by both of us. I started the melody on the guitar in my room one night, but we always write everything together, so it is a collaborative effort. What will usually happen is, I have the rhythm and the chords and Stephanie will help me to tweak this line here, or she will try a verse. It changes every time, but it is always together."
Steve O'Connor's keyboards and Stephanie and Courtney Fera's acoustic guitar riffs introduce the country twang, "Dark Dirty Dusty Hallways," a song that begs to be played on country music stations throughout North America. The song's origins also speak to the types of themes that made people like Johnny Cash, and Merle Haggard household names.
"We wrote that song in 2004 on a trip to Toronto when we went to the NXNE music festival and we were there for three and one half weeks. It was the first trip that we took alone without any friends or parents. We wrote "Dark Dirty Dusty Hallways," in a hostel about a week into the trip. We were so miserable and we were so scared. It was about being completely abandoned and alone, because we felt it was almost a waste to go to this festival. We couldn't get a gig and we were told that we weren't the right kind of music for the venues. We felt completely isolated and like, 'What are we doing here? We got a song out of it (the experience) and we played it for everybody in the hostel that night," says Courtney.
Songs such as "Tornado," "Fairytales," and "Liar," have become fan favorites, and along the way, Fera has taken full advantage of the fact that Stephanie and Courtney are identical twins.
"Absolutely we play it up. It's something that gets us more attention than maybe another duo might have. We like to have fun with it. Also we like to make fun of ourselves. We like to laugh at each other, poke fun, and embarrass each other, but most of the time it is the twin thing," says Courtney.
Fera is having fun with their music careers and it shows on stage, as they deliver a high energy country rockin' good time, but they still possess the ability to slow things down and deliver a thoughtful ballad. Fera is a country crossover act to listen for, and to sample their music you can visit the band's website.