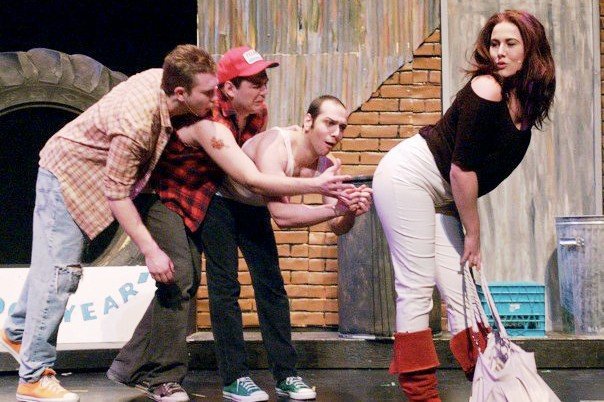 Staging musicals which require large casts, especially ones where the actors, actresses, singers and dancers are for the most part young and in many cases may not have a lot of experience, can be challenging at best and risky at its worst, and on February 19th the Meadowvale Music Theatre, engaged in such a venture. The theatre company which is located in Mississauga, a city adjacent to Toronto Canada, presented Footloose, based on the original screen play by Dean Pitchford and the stage adaptation by Pitchford and Walter Bobbie. The musical runs until February 27th. To be honest the first fifteen minutes or so of the opening night, did not seem to bode well for the rest of the evening, as the choreography was not tight, the singers seemed like they were stretching to hit their notes and the acting was mediocre, but then something magical happened and the cast and the dance ensemble seemed to find their groove or perhaps opening night jitters simply disappeared, as the audience was treated to a solid performance for the rest of the evening, in addition to some memorable moments from individual members of the cast.
While the lead male actor Ryan Gauvin as Ren McCormack was good, he was overshadowed by three other members of the cast who were superb; Alana Bostock as Arial Moore, the daughter of the Reverend Shaw Moore (Bill McBride) and Vi Moore (Elizabeth Bell), the aforementioned Elizabeth Bell who was outstanding and Heather Taws as Rusty. All three actresses trumped their male counterparts in this musical, because they demonstrated the ability to believably convey to the audience heartfelt emotions that originate from an actress or actor being able to look deep inside and touch some painful or joyous occasion, and then allow themselves to be vulnerable enough to let those feelings surface.
Alana Bostock has an excellent singing voice and her phrasing evokes strong emotions from the listener, as her performance keeps the audience intently focused on her character. Whether her character Ariel is feeling intense loneliness and isolation from her grieving father who has insulated himself from the world, or Ariel is feeling affection in a romantic scene with Ren McCormack, the new guy in Beaumont, Bostock is able to remain completely immersed in her character, which allows her audience to experience her pain, her sense of rebelliousness and her more tender moments. One of her real gifts is she is able to remain in character when she sings and that comes through with her evocative phrasing.
On the other hand, Ryan Gauvin, with the exception of one scene, which we shall talk about later, never seems to get to the point when he is able to bring that same vulnerability to his character. We do however, want to point out that that this ensemble for the most part, is comprised of young actors and actresses who will over time improve with experience, so our comments should be considered in that light, rather than how we might critique a much more experienced cast. As an actor, life experiences give you the emotional material to draw upon.
As for Elizabeth Bell's portrayal of Vi Moore, enough good things simply cannot be said. Vi Moore's character is strong but not loud and so the performance requires a different type of actress, one who, similarly to Bostock, is able to project a sense of vulnerability, as Vi Moore finds herself caught between losing her husband more than she already is the case and completely losing her daughter. Elizabeth Bell is also a magnificent singer who also remains in character.
We do not want to divulge the reasons for Reverend Moore's grief, but we will say this, what is missing from Bill McBride's performance is an underlying element of anger. He portrays a fundamentalist preacher, who is the town of Beaumont's heavyweight in matters of morality, but his personal life is one of resignation. McBride's Reverend Moore is too placid in throwing around his weight and with his proclamations, especially for a man who we are led to believe was quite a preacher "in his day," and his attitude at home is too insular without any real sense of emotion driving him to that state. His criticisms of Ariel are completely devoid of emotional impact and if not for the acting of Bostock and Bell, the musical may very well have floundered at this point.
Remember the name Heather Taws, if she decides to pursue a stage career. Even though Taws is cast in the supporting role of Rusty, the heartthrob for Willard Hewitt, portrayed by Matt Willis, she was the one performer on the stage that my eyes kept drifting back to, because she brings passion to her character, she dances well and she has a good singing voice. She took the lead vocals on the song "Let's Hear It For The Boy," which Deniece Williams turned into a number one hit for the movie version of Footloose. As for Taws, she seemed to relish being at center stage and she performed with gusto and passion that brought the theater to life!
Heather Taws was cast opposite Matt Willis and his character Willard Hewitt is not exactly the most sophisticated male to ever walk the planet, but he has a good heart. What intrigued this reviewer about Willis' performance over most of the other male members of this cast is his ability to tap into his character's emotions and for a big guy he moves well on stage. It is often more difficult to portray a character who is as unrefined as Willard is, without appearing to be nothing more than a clown, but Matt Willis is able to allow the audience to see the transformation that takes place in Willard as he works through his shyness and musters up the courage to let Rusty know how he feels about her; well as close as Willard will ever come anyway.
A pivotal moment in the story occurs when Ariel and Ren are under the train bridge and they bare their feelings, which culminate in the singing of Eric Carmen's hit song "Almost Paradise," (originally sung by Mike Reno of Loverboy and Ann Wilson of Heart). This was one moment during the evening, when you could really see Director John Thomas' hand at work, as Ryan Gauvin and Alana Bostock turned in a spectacular performance during the scene and their duet of "Almost Paradise," was equally as good. We should also mention that the musicians under the direction of Erica Feggans were very good throughout the entire evening.
If you live in the Toronto area, we would strongly suggest that you take in the Meadowvale Music Theatre's performance of Footloose, which runs until February 27th. We suspect now that the ensemble has its opening night out of the way, the jitters that may have contributed to the musical starting slowly, will long be gone, and you will enjoy some excellent individual performances.
Photo: Alana Bostock and cast