Interviewed by Joe Montague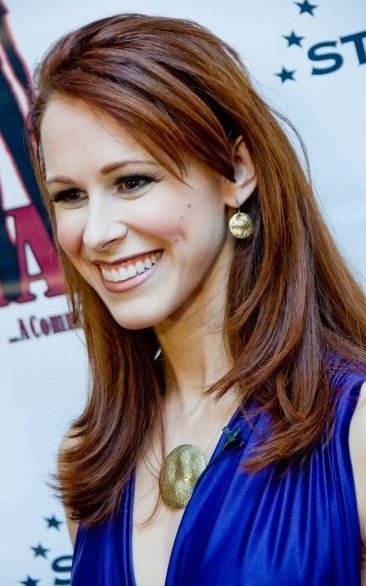 By her own admission, actress Heather Parcells who revived the plum role of Judy Turner in A Chorus Line on Broadway in 2006 and who also appeared in Chitty Chitty Bang Bang at the Hilton Theatre on Broadway, relishes roles where she can portray strong women, with strong opinions, who can really go after what they want out of life.
"I am really drawn to characters that are so extreme, but you do not have any repercussions from that, because it is fake," she says.
Ms. Parcells ability to immerse herself in roles such as Velma Kelly in the national tour of Chicago is just one of the reasons why she is considered to be one of the bright young stage actresses on the New York theatre scene. Her role as Velma Kelly resulted in a nomination for Best Actress by the National Broadway Theatre Awards.
The five foot seven inch brunette, with the soprano vocals grew up in Newport News, Virginia, as the daughter of Patrick, a neurologist and Cathie, a nurse, with one brother T.J., got her first real taste for the stage, during her junior year of high school when she auditioned for and landed the role of Audrey in the musical Little Shop of Horrors. It became a pivotal moment in her life, as she had ridden horses since she was six years old and held aspirations of becoming a Grand Prix jumper in the Olympics. Ms. Parcells who also played tennis, ran track and managed the varsity football team, during her high school years, decided one summer to forgo her usual summer routine of attending horseback riding camp and asked her parents if she could attend the Carnegie Melon pre-college program for musical theatre.
"I loved it. I loved every second of it and I couldn't get enough. At the end of the camp they gave us an evaluation and they said that I would never make it in this business. So much for that one!" she laughs.
Yes, so much for that one, as Heather Parcells would eventually appear in Some Like It Hot with Tony Curtis and Off Broadway productions, Mademoiselle Modiste and Meet Me In St Louis, as well as serving as the understudy for the national tour of Thoroughly Modern Millie. Then there was her role as Velma Kelly in Chicago.
"There are people who thrive on research and knowledge and all of the very intellectual experiences with characters and I do to a certain extent, but ultimately, my way (to prepare) is to take it from the script. You have to know that it is Cook County in Chicago, circa 1920 something. You can't ignore that. You have to find out how people speak and how they walk, but as far as Velma goes I analyzed the script, because everything that you need to know is in the script, as far as what is informing the character. When somebody writes a play, a film or a television show unless they are horrifically bad, they have included everything, because they have fleshed it out in their head. They are just taking their ideas, which are very, very clear and they are putting them on paper. You just have to learn how to interpret them. That is how I approach a character. Specifically, in the first scene, Velma comes out and tells mama that she is amazing and thanks her for what she did and mama is like, 'by the way I can get you this, this, this, and this,' and you know all of the time that Velma has been paying her money to get her publicity, because that is all that Velma wants. You learn from that exchange that Velma wants to be the hottest thing in town. It doesn't matter how she does it and she will climb her way to the top to do it. She will pay for it and she doesn't have any trouble socializing with people who will get her things, knowing full well that she will have to return the favor, whether it is monetarily or in some other way. She is a very goal oriented, social climbing person, who will stop at nothing, to get what she wants. You can look up the woman that Velma Kelly is based on (Belva Gaertner) and you will get the same information, but I can tell you that from the script," says Heather Parcells.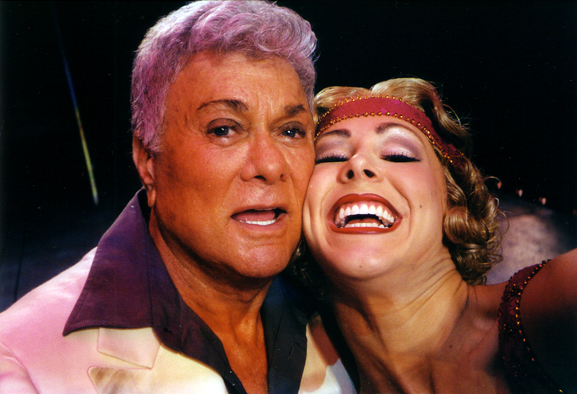 She refers to appearing in Some Like It Hot as an amazing experience. "Tony was one of the most loveable and sweet men and he was so full of stories. We were doing one scene, when all of a sudden the director said, 'Tony what was it like when you guys did this scene and the entire room went silent. It was about Marilyn Monroe and we turned and looked at Tony and he started telling the entire story of how they got on the beach and what they had done."
Although she was thrilled to be cast in the Broadway production of Chitty Chitty Bang Bang, Ms. Parcells also says it came with its embarrassing moments. "I called myself stage parsley, because I was just garnish on the stage for that one. In that one I was with fifteen children, eight dogs and a flying car. I also had to wear a hairpiece that looked somewhat like a toilet brush on my head, as well as a giant white cone and it ended up looking like a giant tampon. I had a huge collar around my neck, because I was playing a dancing jokester. That was probably the most embarrassing costume that I have worn to date, aside from Gordon the Dragon, but at least nobody could see me then. It was an amazing experience to have one of my first Broadway shows (performed) in one of the most beautiful theaters in the city."
Wait a minute. Did we miss something? Gordon the Dragon?
"We had been going to Busch Gardens all of my life and I heard they were (holding) auditions. I was hired for the part of Gordon the Dragon after my senior year of high school and before college. The dragon was green, weighed fifty pounds and it was hot as hell outside. I did 616 shows of Gordon the Dragon and I think that I weighed 90 pounds by the end of the summer and I am five foot seven. (she laughs) that was my first paid performing job," she says.
Some might say that Heather Parcells landing the role of Judy Turner in A Chorus Line came about in a rather unorthodox fashion. Apparently, she was one of the few people to audition who had never seen the musical, the movie or the script. There were also the added challenges of having to duct tape her feet into her dance shoes, because of her high arches, coming down with the flu the night before her final audition and dropping all the papers she was carrying as she walked onto the stage and she deftly kicked them under the piano with her foot. Oh did we happen to mention she prepared her part as a monologue and when the director and the casting director asked her to sing, she had to explain that she had never received any music with the words. The director liked what he saw and he cast her immediately.
Heather Parcells' current projects include working as a producer for the Breadth Films' movie Bruiser, which she describes as being, "about a boxer who is unable to fight back, because of his insecurities. He is into pills and drugs and he can't punch out. He just hides behind his gloves. This is about this guy's journey, as he learns to open up. It is an amazing thing for women and men and for anyone who has demons. It is portrayed in a sport, where if you don't hit back, you are not successful. In the end, he overcomes his demons. There are so many people in the world, who work so hard to get somewhere, but when it comes to stepping off of that ledge, they are not able to do it. The director is Joshua Durham. The screenplay was written by Joshua and John Patrick Hayden. John also plays the lead character James."
Heather Parcells teaches dance master class, on camera commercial classes, vocal technique, vocal audition and acting for the camera, for those between the ages of ten and twenty-one years old. She has been doing so for the past seven years, while she continues to perform. Please visit the Heather Parcells website.
Bottom Photo: Heather Parcells with Tony Curtis in Some Like It Hot
This interview by Joe Montague published in 2011 is protected by copyright and is the property of Riveting Riffs Magazine © All Rights Reserved. All Rights Reserved
This interview may not be reproduced in print or on the internet or through any other means without the written permission of Riveting Riffs Magazine, All Rights Reserved