Reviewed by Joe Montague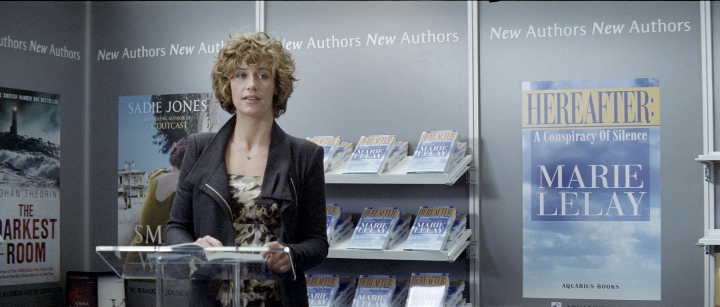 Actress Cecile de France, photo courtesy of Warner Bros. Pictures, protected by copyright ©
It somehow seems fitting with Halloween looming that the movie I am reviewing, Hereafter is one that is comprised of a mixed bag of tricks and treats and deals with the subject of near death experiences or what one might easily argue are the experiences of those who died and came back to life. Hereafter is directed and produced by Clint Eastwood and stars Matt Damon (as George Lonegan), Belgian actress Cécile de France (as Marie LeLay), Thierry Neuvic as Marie's boyfriend Didier and Frankie and George McLaren, whom we assume are identical twins as they play twin brothers Jason and Marcus. Jay Mohr is cast as Billy, the brother of Damon's character and Bryce Dallas Howard appears briefly as his love interest Melanie. For the most part the treats in this movie come in the form of some great acting by Cécile de France, Matt Damon and Bryce Dallas Howard and with a solid performance from Neuvic. The character Marcus spends much of his time in a state of shock, so it is a little difficult to get a handle on how well the McLaren lads perform.
The tricks come in the script. To be blunt Peter Morgan the screenwriter did a poor job of tying this story together. There are too many subplots and an ending that has next to nothing to which to connect the dots. As the credits rolled up this writer was left asking, wait a minute, how did we get here? The meeting between Marcus, the traumatized youth and George Lonegan the psychic is handled in an awkward and not very believable fashion. If not for the superb acting of Matt Damon and Cécile de France, their characters' chance meeting might be called into question as well.
As for the directing of Clint Eastwood, we are going to assume that he did a good job, despite the script, as the acting ranged from good to great and even those who appear in minor roles Marthe Keller as Dr. Rousseau, Richard Kind as Christos and Laurent Bateau as the television producer are excellent during their brief appearances. I cannot think of a movie that Clint Eastwood has directed where he disappointed and in recent years, as was the case with Gran Torino, he has shone brilliantly, while tackling difficult subjects
Cécile de France is always "in the moment," whether she is recovering from her near death experience, dealing with the aftermath or dealing with hurt and anger, she is simply fabulous. She was handpicked for her role by Eastwood and during a filmed interview she spoke gratefully about the opportunity to work with him, Matt Damon and the rest of the cast. She also revealed that all the scenes were "one takes," which makes the performance of most, if not all of these actors and actresses even more impressive. When asked by an interviewer directly if she planned on doing more Hollywood films, Cécile de France replied honestly and said not necessarily. She has some other European films she is appearing in, including one that begins shooting in January.
What can one say about Matt Damon? He has an ability to make you forget that you are watching an actor in a film and he draws you into the life of his character. It is a skill that he has demonstrated consistently from the first time we really first took notice of him in Good Will Hunting (1997), for which he was nominated for an Academy Award, Golden Globe Award and a Screen Actors Guild Award. George Lonegan is troubled by what his brother considers a gift, his ability to communicate with the dead, and even more troubled by his brother Billy's attempt to make money from George's gift despite the detrimental effect it seems to have on Damon's character. Matt Damon does an excellent job of demonstrating disdain for his brother's antics and the intrusion of those who want George to communicate with their deceased loved ones.
Bryce Dallas Howard appears for a brief time during this movie and yet she puts in a very memorable performance. She was excellent in all of her scenes. Howard made this writer want to go out and sign up for a cooking class, as she is romantic and seductive in a tasteful way, while charming her way into George Lonegan's life and Matt Damon is very authentic and innocent as George. What makes this short lived romance believable for me is the way that it unfolds and this is one place where we should tip our hat to screenwriter Peter Morgan. This is not some trumped up Hollywood version of slick or fairytale romance. These are two people who meet naturally, develop some chemistry and begin to develop a relationship. Unfortunately, there is that brother Billy and George's psychic gift that get in the way of Melanie and George's relationship.
If you are going to Hereafter expecting a thriller, such as the film Flatliners you will not find it here. If you want to see it, because you are looking for answers, you will not find any here and that is perhaps the way it should be. The movie is plodding and where Peter Morgan could have dug in deep, he either chose to play it safe or he did not research the subject of near death experiences or coming back from death experiences well enough to provide us with a more thought provoking movie. With this cast, this director and this subject, moviegoers should be leaving the theatres thinking about this film for a long time, yet instead, you are left more perplexed by the incongruities of the script.