Jesse and Noah, Grandpa Homer and Switzerland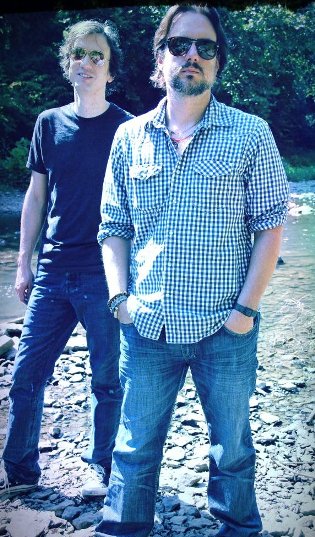 Driven Back is the name of the new album from Florida native sons Jesse and Noah, who now make their home in Nashville, Tennessee and the title song from the new record possesses superb guitar work by both of these fine musician – singer – songwriters.
"It is three chords and it is a Blues structure," Jesse Bellamy says of a song that has more Blues overtones and rocks a bit more than the Country and Americana vibes that we have become accustomed to hearing from Jesse and Noah since their debut album The Key To The Highway (2001) under the band name Elston Gunnn several years ago, Drivin Nowhere (2005) their breakthrough album Nowhere Revisited (2007) and their last record Landfall (2010). Noah Bellamy's keyboards introduce the song and then we get a delicious guitar appetizer that whets the listeners' appetites preparing them for the blistering guitar work that will follow, in a song that has great crossover appeal for radio formats other than Country and Americana where Jesse and Noah have built a strong core of fans, particularly in Texas and in the northeast United States.
Jesse Bellamy says, "We cut the track ("Driven Back,") before we wrote any lyrics on that one. We just really wanted to make a good record and that is how we wrote a lot of these tunes, as we recorded. That one was really more about making a record than it was about writing a song in a lot of ways. These songs don't have to work outside the context of this record. That is the cool thing about a lot of them. It was about feels and putting words up against them and seeing what stuck.
We haven't performed any of the songs with a full band. We have some acoustic gigs coming up and the arrangements that we are doing live are not really locked into the album arrangements. There are only the two of us and a percussionist. On this (album) I don't really know where the writing stopped and the recording began and vice versa. We both built the tracks and we added things to each tune. It wasn't like we sat down and wrote these tunes (at the same time), as much as they came out during the recording process. We are pretty happy about the direction this record took and we are excited to see where it goes from here."
The progression in Jesse and Noah's music and the refinement of the production over the years is particularly noticeable with the new album and in the 2010 release Landfall. On the previous album the songwriting, the excellent instrumentals and the smooth, signature Country vocals of Jesse Bellamy on songs such as "Tryin' To Keep It Real," the fun "Dirty With A Southern Drawl," that begs for a line dance, the love song "Waiting On An Echo," written with Southern Rock guitarist / songwriter Billy Crain (The Outlaws, Henry Paul Band) and the pretty waltz "First Call After Last Call," sent a clear message that Jesse and Noah are here for the long haul and perhaps they will have careers that are as lengthy as the ones enjoyed by their father David and their uncle Howard, The Bellamy Brothers. On the new album, Driven Back, hand played percussion introduces "True Love Doesn't Beg," and continues throughout the song, on a meandering tune where the guitars are more subtle and the feel is more laidback. Songs such as "Bend In The Road," "Florida Water," and "You Could Have Had It All," showcase what now has become the sound of Jesse and Noah, timeless and solid vocals combined with guitars that leave you drooling.
"One of the positives about being in Nashville is being around people who are professionals and who have done this for a living for many years and every time that we have worked with outside people, I have learned different things. Every time that I have worked with other producers, I have learned new tricks. That is probably the best thing about being in Nashville," says Noah, while talking about self- producing their albums and he adds that they have made some recent upgrades to their studio.
A common thread that runs through Jesse and Noah's music videos is a vintage element, often with old movie scenes or in the case of the companion video for the song "Dirty With A Southern Drawl," they dressed in Second World War uniforms and drove military vehicles. On the new album they have included a very 1920s or 1930s sounding tribute to their grandfather, "Homer Bellamy Centennial Blue Yodel."
Jesse says, "We like a good combination of vintage and modern themes, sounds and looks. Sometimes it is easy to get the vintage type of look, especially when you are drawing from old movies that weren't that well made to begin with. We like old B movies and spaghetti westerns. The details are obscured in those and so it kind of gives you license to do whatever you want with the videos. I think we will continue in that vein, it just depends on what ideas we can come up with and to see what we can do."
In what a few years ago would have been considered a reach back to the past and now seems very in vogue, Noah Bellamy tells us that the plan is to release Driven Back on vinyl.
Jesse elaborates, "We really worked towards making the vinyl version the definitive version of the record and that is just something that we have always wanted to do…"
Noah finishes the sentence, while laughing, "..before it even came back (to being popular)."
"We have wanted to do this for years and now it is a lot easier," says Jesse.
"It is part of reality now. We are really excited about that. It really has taken off. This is a new generation of kids that never had a chance to have it (the vinyl experience). Jesse and I are probably the last of the (generation) to have vinyl record players and of course we had cassettes and then CDs came out, but there is a whole other generation that never got a chance to experience it and they are curious about it. When we told a lot of older friends of ours that we are going to release Driven Back on vinyl, they were surprised that they still make, LPs," says Noah laughing.
Jesse and Noah also possess a knack for writing good ballads, although their repertoire is not ballad driven. On their new album the song "Lilly Vereen," demonstrates Jesse's skill as a storyteller, while on Landfall, "Buried In Blue Jeans," a tribute to another grandfather and on Elston Gunnn "Oh Mercy No," were the ballads of choice.
Talking about "Lilly Vereen," Jesse says, "It is more of a composite of a couple of New Orleans stories. They just work. I find new things in the song every time that I listen to it. I wrote the lyrics pretty quickly (he then backtracks), well I say that, but it was a month from when I wrote most of the song, until I wrote the bridge. I find new stuff every time that I listen to it and things that I didn't even realize were there. I think the obscuring of the some of the historical details and especially the part of history that…"
Noah jumps in "the ones (details) that they try to bury."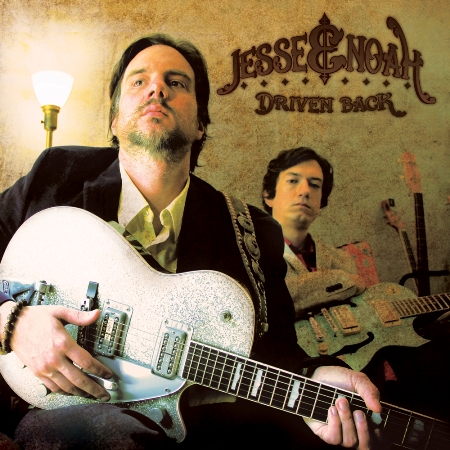 "We have been going to New Orleans for years, and we went a couple of times within the last year, so I have been on a New Orleans kick in general. New Orleans is the birthplace of Jazz and American music. It has been a fascinating story.
I really like writing story songs and I feel like you are only allowed one per album, because it just seems as though a whole bunch of them could get old. I excel as a lyricist when I write story songs. I like writers (such as) Tom T. Hall, Roger Miller and old writers like that. I am not sure that storytelling is in vogue like it used to be in the sixties, but I really like doing it a lot," says Jesse.
As for Homer Bellamy, "He was our grandfather and his 100th birthday would have been April 2nd (2012). When we realized that, we wanted to do something for it, so we put together that track in a weekend. We put it up on Youtube for friends and family to share around Facebook (Jesse starts to laugh) and we liked it, so we put it on the album," says Jesse.
Why the short yodel, we wondered. "I opted for a short yodel to keep from embarrassing myself," says Jesse.
Noah chimes in, "You don't want to press your luck."
Jesse laughingly continues, "Ya' if I have to sing it live, I just don't (Noah laughs). We have been listening to Jimmie Rodgers and all of that old music that our grandparents listened to for years (and that Jesse and Noah did too). I knew there were a couple of tunes when he did just a short yodel and I opted for that. My grandfather didn't yodel per se, but he played dobro in a local square dance band and I am sure he was known to yodel a time or two in his life. He was very much in that Jimmie Rodgers style and in that era when Jimmie Rodgers was the biggest or pretty well the only thing in Country Music (Rodgers recorded his first songs for the Victor Talking Machine Company in 1927). That was the beginning of Country Music.
We have a lot more of our grandparents' influences musically. Our grandmother raised us on Merle Haggard, Marty Robbins and Jim Reeves and so we heard a lot more old Country music. When I think of Country Music, I tend to think of older stuff. I really don't know a lot about what is going on in current Country Music. I tried to keep up with it for a while, so we could compete and sort of stay in it. It is harder to do and it is less interesting now, at this point. I think the older music is just so much better. Even when we tried to be a clone and we tried to do music that fit into that commercial Country box it just didn't work for us. Kitty Wells just passed away and a few years back I met Kitty Wells here in Nashville. This was before my grandmother passed away as well and the first thing that I did, was to call up my grandmother and tell her that I met Kitty Wells. That was a Country star to her and she wouldn't have known who Carrie Underwood is."
As for Jesse and Noah's niche in music, "On the past albums we made an attempt to meet Music Row halfway on a few things. We were never comfortable going totally music Row on everything, but there were definitely conscious attempts to meet it halfway. We said this is what we do and we think that we can fit into what Nashville does as well and we realized there really isn't any way to meet it halfway. You either have to go full in or do what we have done on this album and go back to the basics to figure out what we do really well and just do that as (best) as we can," says Jesse.
Early in their careers, Jesse and Noah gained a strong foothold in the Texas music scene. "Our touring band is based out of Dallas. Texas is more open musically and there is a whole scene there that is original Country Music. That is a rare thing. It seemed like the best place for us to focus our efforts and it probably still is," says Jesse.
Jesse and Noah are also popular in Switzerland. "We did a few shows in Switzerland in February and they went really well. We had big crowds. The European Country audiences seem to really dig what we do. Dad has always done well in Switzerland and in Germany and the first time that we played in Switzerland was seven or eight years ago when we opened for him. Now we are able to go back on our own and we have gained our own audience," says Jesse.
Noah expands on their experience in Switzerland, "It is a small community of people who are hardcore Country Music fans and there are several big Country Music festivals that happen there annually. The last time that we played at a festival (in Switzerland) it was one that is known for being the longest running Country Music festival. It is one that runs every weekend for a month. They bring in different bands from the U.S., the U.K. and everywhere. The local Swiss bands that open are actually very good at doing American Country Music. We had really good bands that opened for us."
Jesse and Noah's new album is Driven Back, their audience is growing and their music keeps getting better. Visit their website.
Interviewed by Joe Montague
This interview is protected by copyright © and may not be reproduced in print or on the internet or through any other means without the written permission of Riveting Riffs Magazine, All Rights Reserved