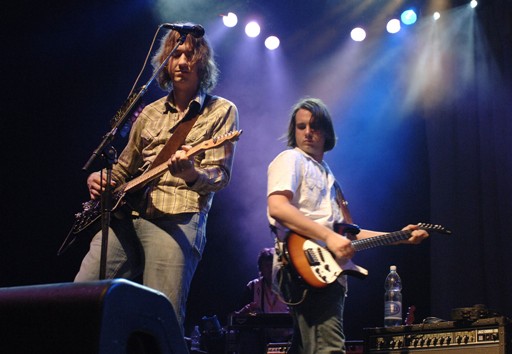 There is a song on country duo Jesse and Noah Bellamy's current CD Nowhere Revisited, called "Drivin' Nowhere," and it would not be more inappropriately titled if it were being used to describe the careers of one of country music's hottest new acts. The Bellamys (if that sounds familiar, they are the sons of David Bellamy of the internationally acclaimed The Bellamy Brothers), have been eating up the Texas music charts. The duo's first two singles from Nowhere Revisited charted in the top twenty.
In a recent interview, Noah explains, "The groups of stations that make up the Texas charts are not all in Texas. A lot of the (reporting) stations are in Oklahoma too. Our music was also on the After Midnight With Blair Garner, Pick It Or Flick It, and we received a seventy-seven percent rating for one of our songs. The radio show is syndicated to a large group of stations (250). They play the record and people call in to say pick it (as in keep the tune) or flick it (deep six it). Our music has also been played in New Mexico, Missouri, Louisiana and the surrounding states."
The first single to be released in 2006 was the lyrically fun and musically edgy, "Daddy's Got A Shotgun." In response to my poking fun at the two brothers, as I wondered aloud if the song was based in personal experience, Jesse replied, "It's not about either of us. I am sure that it is somebody's reality, but not ours (and both of them laugh). A co-writer friend of mine and I were on our way to a gig in Nashville, and we just started telling farmer's daughter jokes. That is where the first verse came from."
"Daddy's Got A Shotgun," was released in Texas and they loved it. It was the first significant airplay that we received. It was really cool because we didn't know how it would go over in Texas since we are not from there (they lived most of their lives in Florida). We are real happy that everybody embraced us, and recognized that we wanted to be a part of that scene (in Texas)," says Jesse.
The second single, "Wild And Willin," released in March of this year, has a rhythm and melody that incites memories of The Eagles' "Lying Eyes," and gives us a taste of the excellent two part harmonies that are becoming part of Jesse and Noah Bellamy's signature sound.
"I'm All About You," which Jesse refers to as one of the songs which he favors, sounds more like a country tune from a band that has been at this for a decade or two, rather than artists who are closer to the beginning of their careers. This is a good two-stepping song.
It is not just the southwest of the United States that has discovered Jesse and Noah, as they have already toured throughout Switzerland, Norway and the UK. They drew high marks from British country music magazine Maverick.
Whereas their father (David) and uncle (Howard) The Bellamy Brothers, have a more easygoing and quirky approach to their music, Jesse and Noah possess an aggressive guitar driven attitude, which smells of cornbread, has the feel of a dancehall and is earthy.
Noah says," Our vocal style is a little bit more push. You can hear some similar things about it (to The Bellamy Brothers' music), in the harmony, but at the same time it is a little different, because it is more pushed and less laid back." Noah says that their first group, a rock band named Elston Gunn (one of Bob Dylan's earlier stage names), and a good dose of blues music influence their vocal style.
"One of the reasons our music tends to be a little heavier than our dad's music is because we are more guitar oriented than his music. Noah is the lead guitarist of our group (they have a backup band), and I think the biggest part of it is we are just into heavier guitar sounds. We are guitar freaks," says Jesse.
Noah's abilities extend far beyond being a very good electric and acoustic guitarist. He also plays bass, mandolin, dobro, banjo, keyboards, bass and percussion. If that is not enough of a repertoire, he possesses excellent engineering skills. Jesse is the primary songwriter and his rich deep vocals are going to break a lot of women's hearts when he serves up songs such as "You Got The Wrong Number," and "Santa Ana Winds."
There is a gold record hanging on their studio wall, the result of a Danish singer named Wenche covering Jesse's tune, "You're The World," which also appears as the fourth track on Nowhere Revisited. When I spoke to the duo several weeks ago, there were rumors that a Swedish singer was also thinking of doing a cover version of the song.
As hard hitting as some of their songs can be, Jesse and Noah have the ability to slow things down to a nice waltz, as evidenced by the beautiful and gentle ballad, "The Best Thing That I've Ever Known," a song that Jesse also counts among his favorites. Noah lays down some of the prettiest guitar chording that you will hear in country music.
The brothers made a concentrated effort to keep their self-produced album Nowhere Revisited from sounding too slick, too studio engineered. "We wanted it to sound like a performance," says Noah
Jesse adds, "We wanted to keep the sound that we have when we play out live."
This was not Jesse and Noah's first foray into the production side of the music business. They had worked closely with Ron Taylor (Gloria Stefan, 2 Live Crew, Frank Sinatra, Jaci Velasquez, Aaron Carter, Jon Secada, Ricky Martin, Julio Iglesias) to co-produce Elston Gunn's critically acclaimed 2001 release Key To The Highway. The connection being that Taylor had for a while played keyboards for The Bellamy Brothers. Jesse and Noah also self-produced their own demos.
Some artists scramble for songs to complete the tracks for their albums. Others, who are not as gifted in songwriting, are continually on the look out for good songs for future CDs. Those are not issues that Jesse and Noah Bellamy have to contend with.
"A lot of our record came about because we had twenty-four hour access to a recording studio. We would work on things, and eventually we had an album, without really even sitting down to make an album. We had all of these songs stockpiled. We are always working on songs and recording. In between doing shows and writing songs, we would record at home, and that is how we came up with the album," says Jesse.
Jesse continues, "I think that we ended up getting what we wanted out of all of these songs. We just do what the individual songs need, and then we keep doing it until we get it right."
Growing up rubbing shoulders with people such as Lynyrd Skynyrd, the Oakridge Boys, Tanya Tucker, David Allan Coe, George Jones, Ray Stevens and Loretta Lynn, likely planted the first seeds, which have now become finely honed music sensibilities.
Jesse and Noah Bellamy are planning to release another single this fall, and there are numerous good tunes to choose from the tracks of Nowhere Revisited.
They now split their time between living on their Father's cattle ranch in Florida, Nashville where they have an apartment and studio, and Fort Worth Texas. Most of their songwriting and recording is done in Nashville, while the musicians who comprise their backup band live in the Fort Worth area. Their record label Smith Entertainment is also located in Fort Worth.
Their song may be titled "Drivin' Nowhere," but this is a country duo that is going somewhere fast. They are booked well into the spring of 2008, and we can only expect to hear more great music from Jesse and Noah Bellamy down the road.