Interview by Joe Montague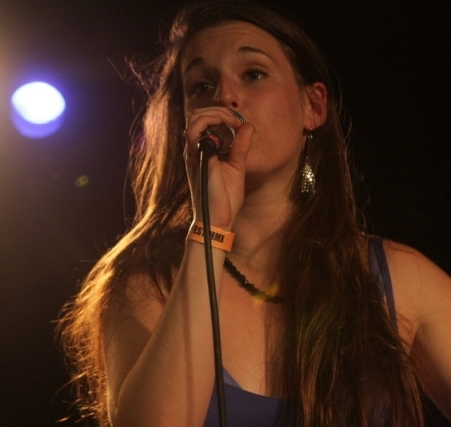 Katelyn Berreth who is the lead singer for the Fortune Dwellers which in the past, has often consisted of her and longtime friend and bass player Martin Celt, as well as whoever else they were collaborating with at the time, has a sound that is reminiscent of China Forbes and Pink Martini, only with an edge. That comparison did not seem to surprise Ms. Berreth during her recent interview with Riveting Riffs Magazine. The Seattle singer – songwriter elaborated on the mood that she strikes with some of her music.
"Something I hear a lot is that I don't write happy songs. In a way, that's true. I've never really liked happy songs. I like songs to have character, mood and interesting content. It's more important to me that songs feel real. I'm especially interested in the world of relationships. I like writing about conflict and all the complexities of thought worlds colliding. Even the songs that are about broader issues take on an empathetic perspective with an emphasis on people and their lives. None of Schizophonic's content is particularly happy. Even the more upbeat songs have lyrical conflict. Some of the songs are even ironic in that way. "Keep It Simple," is about falling in love without any control, just before moving miles and miles away from that person.
Contrary to what some readers might think, Katelyn Berreth's music is never Suzanne Vega like, but rather she comes across more with the same type of attitude (but not the same sound) as Sheryl Crow does with her song "My Favourite Mistake." Therefore when one hears Katelyn Berreth describe her song "Yes!" as being about "a love that is unfulfilled as of yet and it begs the question, 'What is Love?'" she is not describing cynical lyrics, but she is describing love that is hope for and may still blossom.
The R&B feel to the song "Yes!" keeps the song moving and Brennan Carter's and Andrew Miller's trumpets lift the song, keeping it upbeat. Ms. Berreth's phrasing on the lines, "Are you about to be my man?" and "Yes! I really want you to, the way you make me feel," express eager anticipation and excitement.
Continuing with a description of the songs on her album Schizophonic, Katelyn Berreth says, "The song "Halfway," is a realistic portrayal of two people who are drifting apart, (whereas) "Hello Goodbye," is about a touch-and-go relationship where the lovers are left longing. "Not Fair," well, enough said, and "Think About You," has a blatant third party reference, while "Ambition," is an honest, but compassionate break-up song."
The song "Conclusions," features a strong bass foundation and solid drumming and percussion, as Ms. Berreth reflects upon "the inevitable end of a wrong relationship." There are however, references to happier moments in the relationship and one never gets the impression that Ms. Berreth is zoned out on antidepressants, as you do with early Jann Arden songs.
"There are some songs where I am coming from the perspective of friends of mine, but for the most part, it is all about my life. Songwriting has definitely kept me balanced throughout my life (whether it is) a stressful time or even very joyous times. It is definitely cathartic," says Ms. Berreth.
A song which draws its inspiration from outside of Katelyn Berreth's life is "Al's Song," as the singer confronts her lover.
"Al's Song," was written for a friend of mine who was starting a relationship with a guy, but it was hot and cold. They are married now and expecting their second child, so it all worked out. The beginning of their relationship was so rocky and I was in the middle of it, so I ended up writing a song about it. A lot of the time it is about attitudes. People will look at each other and they will put themselves on the line, thinking things are going one way, but mixed signals are so common. The song is a little bit sassy, like don't F (expletive) with me. "Al's Song," embodies the confusion of a new flirtation and the frustration brought on by unfulfilled expectations and miscommunication," she says.
One of the most personal songs on this album is "Halfway," a song about the former relationship between Katelyn Berreth and Evan Anderson who also appears on Schizophonic, as a vocalist, guitarist and playing a ukulele.
"I guess it is exactly where I was (in my relationship) with Evan. We were living on opposite ends of the country and then he went to Europe. We kept getting further and further away from each other. Most of the people that I talk to who are not in long distance relationships and who are in day to day level relationships, say it is pretty well the same (issues), not making time for each other and taking each other for granted. It was at that point in our relationship when we needed to talk about what was going on. Neither of us were doing anything wrong. It was just a time in our lives when he did not know exactly what he wanted. We were both so young and it was just about confronting the issue and understanding it. It was like, I am not trying to keep you in a place that you do not want to be, but if you say you want this then something has to change. I guess that is where the song came from," recalls Ms. Berreth.
Katelyn Berreth got her start in music early in life and some might even suggest when she was only three years old.
"I really never had any question that I wanted to be a musician. When I was three I knew all of the lyrics for the Steve Miller Band's songs. I was really into their music and when I was four years old, my parents and my brothers brought me to their concert. We were staying in the same hotel as the band and we didn't know it. I was pestering my mom and asking her if those boys could have their ears pierced why couldn't I? They asked what we were doing, because they thought I was cute. I got my whole family backstage passes," she laughs.
By the time she was in grade two she branched out from memorizing the songs of the Steve Miller Band, to writing her first song. "It was called "Angels In The City." I count it as a full song, because it was an entire page long. I continued through all of my schooling years to write songs. I didn't play an instrument at the time, so I was writing them using my memory and just using my voice. I would look at the page and I would remember the melody."
As she progressed through elementary, middle school and high school, Katelyn Berreth was involved with musical theater, choirs and bands. She started taking vocal instruction in the sixth grade.
Despite the lock that some other major cities in America think that they have on the music scene, the Pacific Northwest has quietly built a reputation and particularly the cities of Portland, Seattle and the Canadian city Vancouver, for being incubators for those in all of the arts. Among the plethora of singers and bands to come out of the Pacific Northwest are; Brandi Carlile (Ravensdale, WA), Death Cab For Cutie (Bellingham, WA), Alice In Chains (Seattle, WA), Pink Martini (Portland, OR), Michael Buble (Burnaby (near Vancouver), Canada) and the Foo Fighters (Seattle, WA).
"I think the vibe in Seattle is that people value the arts and they value culture and that maybe influenced me. For instance, I never thought that music or the arts should be cut from school programs. When I was growing up I used to say, 'Art is really important. Culture is really important. Music is really important. These are things that we should be focusing on.' That definitely shaped me in some way," she says.
Ms. Berreth took the next big step in her music career in 2003 when she studied with and collaborated on some songs with Kurt Liebert from the Seattle band Bicycle, whom she had met through a friend of one of one of her older brothers. Kurt Liebert and Katelyn Berreth released an EP together.
Ms. Berreth also attended the Berklee College of Music for two years where she was a vocal principal and a songwriting major. She says that she loved the core music at Berklee, but she really did not like the vocal or songwriting departments, so she returned to Seattle. Back home in Washington State, she studied ethnomusicology focusing on popular literature and music from the 1960's and in particular soul music and the music of artists such as Bob Dylan and The Beatles.
The musician credits on Schizophonic include; of course Katelyn Berreth, the aforementioned Evan Anderson and Martin Celt, Ian Sheridan (upright bass), Brennan Carter (trumpet), Andrew Miller (trumpet), Ehssan Karimi (percussion, drums), Scott MacPherson (tenor saxophone), Chris Rude (numerous keys, guitars and percussion instruments), Colin Pulkrabek (trombone), Andrew Joslyn (violin) and Phil Peterson (cello). To replicate that studio sound on stage, would require a band with a lot of musicians, something that presents a challenge when it comes to planning tours.
"We have some venues where we cannot book the full band, because they cannot accommodate that many musicians. Touring with a band of seven people and on our budget, is just not realistic. There are definitely challenges. We have an idea to get a van and to convert it, so that it burns recycled vegetable oil," says Ms. Berreth.
As for the reasoning behind Katelyn Berreth's and the Fortune Dwellers' having so many musicians, she says, "Jazz and Soul and all of that music from long ago, really made its mark on other musicians, so we really appreciate that time period when real instruments were valued. We are in a time in music when a lot of sampling is done and a lot of fake instruments are used. A lot of midi keyboards and controllers are used. What we talk about as a band is how much we do not want to go that route. We love it for certain things. We have got midi sounds and we have samples we use for certain songs, like Mellotron flutes on "Think About You," but it is all for effect. We never want to get too far from the roots of Jazz, real bands and real grooves. The experience of having live horns is just so fun and you don't see it much anymore. I don't know if it is so much an active decision and that we want to rebel against anything, but it is just that we all love music and we love real instruments."
Real is a good word to close this interview on. Katelyn Berreth and the Fortune Dwellers, creating real music, music that is authentic, with lyrics that are poignant, instead of fluffy, yet they retain an edge and at other times the listener finds herself or himself singing along to songs such as "Yes!" and "Hello Goodbye."
Interview by Joe Montague, all rights reserved, protected by copyright ©