Rock - Pop Singer and Songwriter Katie Cole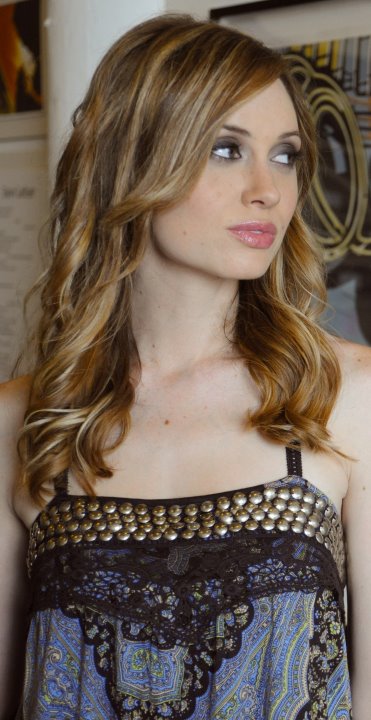 "I know it may sound weird and egocentric to say this is really a good body of work and I am really excited about this record. I think that these songs will sit with people for a long time," says Australian Pop – Rock singer, songwriter and guitarist Katie Cole, while recently talking about her new album, Lay It All Down which will be released early in 2013. Her first single from the album "I Can't Wait," will hit the airwaves in October.
Katie Cole, who now lives most of the time in Los Angeles, says, "I feel this record I am making is a lot more fluid than my previous works. I've had the luxury this time around of recording an album with my producer, in the same country, in one focused effort. When I made my last two EP's, I was back and forth between Australia and Los Angeles, adding more to it, assessing, then adding more to it. When you're working between countries and timelines, it's hard not to create a disjointed piece. So it took a long time for (producer) Howard Willing (Smashing Pumpkins, Counting Crows, Sheryl Crow) and I to smooth it out after the fact and make it all work. The short of it is, with the distance and time spent on my last recordings we ended up blending a bunch of genres into this thing that became Katie Cole. This time around, I feel like I have a vision. I want the listener to see and hear that it is all from the one story and that it is all from the one page. I know that a lot of people connected with previous songs of mine, especially "Lost Inside A Moment." If I think of that song as "the heart" of the Katie Cole genre and if I work around that, with elements of Pop, elements of Rock, more elements of Country, Folk and Americana, then the whole record will make more sense. Take one theme and work around it. Done. I really worked at this so the result would end up being a record that had one true identity. I didn't want to scare people who really liked this one song style and not another. Don't get me wrong, it is not that people aren't open-minded with their music, the opposite is sometimes true, but from personal experience (from my last record), I know there are people who really liked, "Lost Inside A Moment," but they thought "Gravity," was too Rock. There were also people who loved "Always," but thought that "Found You," was too much of a ballad. This all just helped me to plan the new record in terms of which songs I wanted to include. I'd ask myself, 'does this song belong with these songs?' or 'is this too similar to this song?' I just wanted to narrow down the genre and style of songs a fraction for this album, while making sure the whole body of work was really exciting. It took a lot of time and focus, but that was really important to me."
Music legend, Kris Kristofferson put his vocals to Katie Cole's song "Penelope," from her new, yet to be named album.
"My producer Howard Willing was getting cocky and he suggested that I write a song like The Band. I was like okay (hesitation in her voice) and I wrote this song called "Penelope." I just thought it would be wonderful if some day someone like Kris Kristofferson got to sing it one day. I kind of have crushes on certain songs that I write and there is no other way to put it. I know that sounds really hideous, but there are these songs that you just have this love affair for and you hope that people will get to hear them. Since I couldn't find a Kris Kristofferson to record the song, I recorded it and as fate sometimes does it spins around and this time my producer was working with another producer, Don Was who is extremely successful in his own right. They were cutting a record with Kris Kristofferson and the question popped up whether he would be willing to sing on this song. He listened to the song and he really liked it. There are just no words for it. It is absolutely amazing," she says.
Cole describes how the song "Penelope," came to be, "I wrote it do be a funky Folkie Americana traveling song. I literally sat in front of a map of America and this was before I had been to most of the places. When I wrote the song I was just thinking of it as a mid-west adventure, of working here. It was a song about doing all of these things and of not wanting to break the heart of the person that you care about, so you never go back home (she laughs). It is not dark. It is just this adventuresome ballad. It is a style of song that I had never written before, but I just liked everything. I took the bull by the horns, asked what would make a really good story and I just started writing. Fewer songs I start with the lyrics, but this was a song that I started with the lyrics, because I wanted to make sure that I had a good song, before I started with the melody."
Working with Kris Kristofferson was not the first time that Katie Cole has been able to work closely with a music icon as she toured in 2010 as the opening act for Glen Campbell and on his most recent album, Katie Cole's vocals are heard on three songs, "Amazing Grace," "Strong," and "Wish You Were Here."
"I managed to sing on a legend's record and I managed to have a legend sing on mine, so I am extremely lucky in that respect. When I am in Nashville and I say that I opened for Glen Campbell and I sang on some of his songs, you see the change in their expressions, because it is somebody that they grew up with, with songs like "Wichita Lineman," she says.
During the past couple of years three Katie Cole songs have caused quite a stir both in North America and internationally, the more Pop oriented "Lost Inside A Moment," the Rock tune "Gravity," which was showcased in commercials for Movado watches and up-tempo "Sunrise," which contains elements of both Rock and Pop.
"I got some major radio play in the U.K. with "Lost Inside a Moment," and with another song of mine called "Sunrise." They ended up being officially playlisted at BBC Radio 2. "Lost Inside A Moment," was on the playlist for three weeks and "Sunrise," was on the playlist for four weeks, which means they get integrated with various shows on the network over that period of time. Usually, the songs that are on the playlist are set aside for artists on labels or well established artists. So on the playlist, at various times, I was on the list with people like Jessy J or Snow Patrol. There were all of these really big name artists and here is little Katie Cole slipping in there. I am unsigned and in the U.K. I was unknown until that point. I got very lucky. Radio either likes you or they don't and I think the U.K. really got my style of music. One particular radio producer was really championing me as an artist. The producers all talk to one another about the songs they want to add to their list. You now realize there is a completely new audience that is listening to your music and they know who you are. When it came time to release my single over there, my producer Howard always believed that my song "Sunrise," would do well in the U.K. and I always had that same kind of feel about it. We did a new radio mix and the song was slightly shorter. We mastered it again and we pushed it out. It was really well received, which meant it wasn't a fluke and it wasn't just a one off thing or luck. I actually had a real listening audience in the U.K. and this fantasy became real. I knew I could have a career, outside of Australia and outside of the U.S. in a completely new country, the U.K. When my song started getting playlisted, I hopped a plane to the U.K. (she laughs). I have become a little bit fearless, ridiculous and terrifying all at once. I have become fearless in the sense that you have to strike while the iron is hot and I booked flights and I booked meetings with publishers and I booked a few shows over in London. There were fans there who knew my songs and it was one of those surreal sorts of experiences. It was all smaller club shows, but well respected venues. Dublin Castle in Camden is where people like Amy Winehouse (also Coldplay, The Arctic Monkeys, Billy Bragg) cut their teeth. There are a lot of venues in London and it is quite bustling with live music. I was excited and surprised all at once. It was an amazing experience," she recalls.
Listeners are also in for an amazing experience when Katie Cole releases, a yet to be determined single from her new album this spring.
Please visit the website for Katie Cole You can also enjoy the music video for Katie Cole's song "Lost Inside A Moment," by visiting this link.
Photo by Theo Hand, protected by copyright ©, All rights reserved
Interviewed by Joe Montague
This interview is protected by copyright © and may not be reproduced in print or on the internet or through any other means without the written permission of Riveting Riffs Magazine, All Rights Reserved