Boston's Katrin Rocks on Frail To Fearless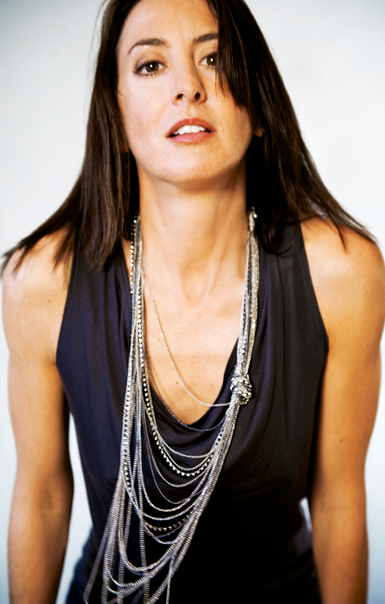 The first few lines of Katrin's soulful vocals roll out on the song "Home," from her new album Frail To Fearless and you know that this is going to be a special collection of songs, recorded at the Dreamland recording studio in West Hurley New York and at Jersville in Woodstock, New York and produced by Jerry Marotta. This marks Katrin's fourth album and her first since Soul Wide Open, which caused the ears of music journalists to perk up and give her high marks for her songwriting ability and gritty and passionate vocals. All but one of the songs ("That's The Way," by Led Zeppelin) was written by the Boston artist who prefers to be known by just her first name.
Marotta who has worked with artists such as Peter Gabriel, Paul McCartney, Sheryl Crow and Hall & Oates and is regarded as one of the music industry's premiere drummers, says "Katrin Roush is one of the most powerful performers I've come across in years. I was so fortunate to have our paths cross. There were many great moments making Frail To Fearless, when she would be playing guitar and singing and I would be at the drum kit playing and we went toe to toe. There was such a deep connection between us. She has a tremendous voice, is a great player and has remarkable presence."
"I have got a little braver about things that I sing about. I sing about life experiences and I bring the vulnerable part of myself into my music. That (being vulnerable before an audience) is something that I feel comes naturally to me. I think that it was a shift in my own mind. I feel the most comfortable actually when I'm performing on stage. I would rather do that than speak. I feel that I am more in my element when I am performing. I feel that it is a part of me that I can extend out. If someone hears a song of mine and they feel that they resonate with it than I feel that I have done my job. It may be something they can relate to in a circumstance in their lives or someone that they know. For me I feel like it is therapeutic for me to sing, but I also hope that I am touching somebody or affecting them or helping them with something they are going through in their lives," she says.
That ability to be vulnerable and authentic comes through in the song "Far Away," based on a past relationship. "(The song) "Far Away," was drawn from a relationship experience that I had. I don't know if he even knows that his name is in the song (she laughs). That was quite a while ago and I think that a lot of people feel stuck someway in their lives. It is a fantasy to be able to pick up, leave a note and to just drive away. The reality is we have more and more responsibilities as we get older and there are more reasons to stay even though things are tough. Sometimes you come to a point where it is just unbearable. You don't want to hurt the other person, but you just can't see yourself staying in a relationship. There is a big internal struggle and I felt it is something that I wanted to write about. I have been there before and when I have performed that song, I have had people come up to me and to say, I have to play this for my sister or this is exactly what I am going through. I felt like you were singing this song to me. It has been women and men. It has been nice to take some of the grit of my life and to turn it into songs and to see how other people interpret it and relate to it. Some people are really positive about it and other people think that it is more of a staged thing. I got a comment once about "Far Away," that I was pandering to soccer moms or something like that, which is totally not my life. I just found it interesting that there are different views on it. Is she being honest or is she placating. What is the substance? I made a music video out of it too. I felt in that video that a lot of my emotions arose and when the camera was in my face I just started crying. I guess the guy who produced it really liked it. I was a little bit embarrassed, because I don't usually get that emotional, but for some reason it struck me. I was listening to the song when I was driving the car and it just brought back all of these emotions for me. That was captured in the music video, so all of that stuff is real and not an act. It is interesting that it came out that way. I was surprised at the results of just letting stuff hang out (she laughs). (We discuss her looking at a rather long butcher knife in the video and we both burst out laughing) You know that was an interesting little thing that they captured. The producer was pushing towards trying to make it edgy. Looking at the knife and washing it off in the sink. There were other things that he shot that had similar type of imagery, which I didn't really like, because I was looking to make a video about human condition. Of course (she laughs) people might fantasize about doing something like that and thank goodness I am sane and so are most people. That wasn't the most comfortable part of the video for me, because I wanted it to be more about a human condition, not about making it look like I was crazy or evil or something like that," says Katrin.
That personal journey, as Katrin referred to it when she talked to Riveting Riffs Magazine in 2010, introduced a more personal element to her songwriting as the songs for her album Soul Wide Open came together. That theme has continued with Frail To Fearless and the songs are a mixture of edgy such as "Far Away," and the uplifting "Breeze," a positive tune that uses the metaphor of a breeze to illustrate the connection between two people. With words like, "Baby I've got your back," and "The wind that keeps on blowing / To be somebody's breeze," is that not what we all hope for?
The current album also has songs such as "Cobblestones," that offer insights into Katrin's early days in music, as a street busker.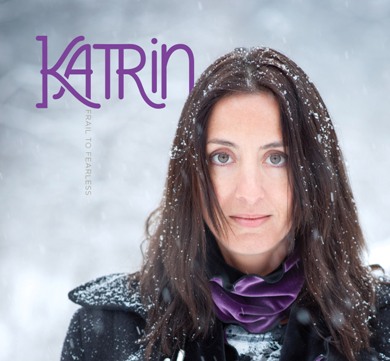 "I started doing street busking probably 15 years ago. I started out in Harvard Square, acoustically with a little portable amplifier and it was my goal to raise money to attend the Fringe Arts Festival in Edinburgh Scotland and do some busking. It was the first time that I had ever ventured to go overseas with my guitar. A friend of mine and I got together and we started singing and playing to try to raise the money so we could get overseas. That was initially the reason that I started busking and then I realized that I actually enjoyed it a lot and I found it to be a fulfilling thing to do in a lot of ways, especially as someone who was up and coming. I didn't have the opportunity to play in front of a lot of people unless I could fill a room and guarantee it. Busking was the perfect thing for me to do at the time. I started working in Faneuil Hall Marketplace in 2005 or 2004. I found it to be really helpful to me, because I was a little bit shy and I wanted to break down the barriers between me and an audience and also in my own mind I wanted to gain confidence. I guess you could say that I thickened my skin a bit. That was the way that I started to make a living for a few years and that was my main source of income. No matter how I was feeling, I looked at it as though it was my job. If I didn't feel like going that day, I kind of forced myself to and I always ended up being in a better mood than when I got there, because I got to make people smile and I got to meet people. The atmosphere was always changing and positive. I would sell CDs to people from all over the world, especially in the avenue of Faneuil Hall Marketplace. That is what I did for a few years and I used it as a source of income to pay for my own recording, which is how I funded Soul Wide Open," she says.
It was out of the experiences gained performing at the Faneuil Hall Marketplace that the song "Cobblestones," was given birth. "Having that as a memory, I wanted to have a song out of it. I do once in a while go back and perform on the street, because I feel it is good to get back to my roots and also to keep it real. It is always good to see from time to time how I am evolving as an artist and as a person when I go out and busk. I keep the playing field on a level basis if you would," says Katrin.
The tempo slows down with the eighth song "Dreams," and Katrin had a special guest appear on the song, John Sebastian from The iconic sixties band The Lovin' Spoonful, as he played both guitar and harmonica.
"I can't even begin to tell you how nervous and how excited I was driving out to Woodstock that day to do that recording session. I knew that he (John Sebastian) was going to be at Jerry's recording studio and so was Tony Levin (John Lennon, Peter Gabriel) and I had never met him before either. I was very excited to say the least. He was such a nice, easygoing, kind, receptive person to work with. It put me at ease pretty quickly and as soon as we started playing and with the direction of Jerry, we got into this groove. These guys are his pretty good friends. It just felt like I was playing in somebody's living room. I think that we captured a really nice performance of that song. That's another song that I took from an earlier CD and kind of evolved the song. It really did take on a whole new life playing with these musicians. I really clicked with Bill Dillon (guitarist) and he is such a great guy. I really enjoyed hanging out with him. He brought a lot to the project and he is ultra-creative and he has a great sense of humor. He works and works and works and he never gets tired. He never sleeps. He just stays up and works things out all night long," she says.
Katrin also takes time to acknowledge what her producer brought to this recording. "It was my first album working with Jerry and I would like to continue working with him and he feels the same way, so we will see what comes next. I was introduced to him through a mutual friend. I was hoping to connect with somebody, a producer, who I might be able to collaborate with. I was on the phone with him once or twice and I decided I would go out to Woodstock. I brought my partner Paul and his son with me and we all drove out there. We met him and saw Dreamland. We all sat around the table and we talked about who I was and how I felt about the music that I had recorded so far and what I was looking for. I played some of my songs and he seemed to really like them a lot. He ended coming up to Boston two or three times and he stayed with us. We just got to know each other. In the early stages we were hashing through some of my material and trying to find songs that he thought would be interesting to re-record. That is how we came up with the "Blame," and "Dreams," additions to the CD. We went out to Dreamland (and I took) some of my Boston musicians, with me,, Scott Tarulli, Alison Keslow and John Harrington. That was last January when we started the recording process. Within a few months we had a number of songs done and then after that I started doing some in studio writing. Jerry and I did "Cobblestones," together. I tend to write fragments of songs and I just record everything. I was able to come up with a few more ideas (such as) the songs "Breeze," and "Far Away."
Further elaborating on "Blame," she says, "I wouldn't look at it as a protest song, as much as it is putting a message of peace out into the world. I don't know if that makes any sense. It is not like war is terrible. It is (more) like we are all human and we are all going through a lot of the same emotions. We all have children and we have all been babies at one point. We are all breathing. There are so many things that we have in common. To me there are so many small reasons why we should be going to war when there are so many much larger reasons that we should be getting along. That is more the message of the song than protesting. I think people are always going to fight, but I think in my idealistic world, I would like to see less of it and people questioning more why."
On March 29th Katrin will be performing at the World Café Live at the Queen, in Wilmington, Delaware. Two nights later, on the 31st she is performing at Martini Beach, in Cape May, New Jersey and keep your eye on Katrin's website for an announcement of an anticipated mid-May album release concert in the Boston area.
You can listen to some of the songs from Katrin's new album Frail To Fearless by visiting this website. You can also visit Katrin's official website
Interviewed by Joe Montague
This interview is protected by copyright © and may not be reproduced in print or on the internet or through any other means without the written permission of Riveting Riffs Magazine, All Rights Reserved