Interview with Joe Montague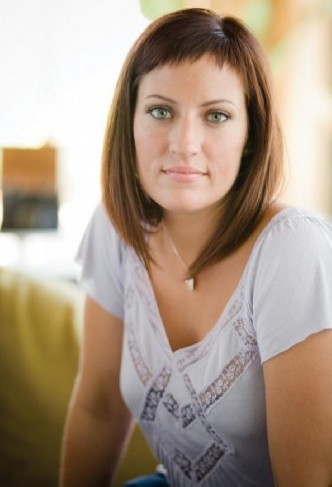 On January 10th, pop rock singer – songwriter and musician Keri Noble will be in Iraq performing for the troops, and just a few days after her last Christmas concert for 2009, the talented artist took time out to discuss her current self-titled album, and to tell Riveting Riffs Magazine why she is looking forward to her trip to Iraq.
"I got a call from my manager about a month ago and she asked if I would be interested in going and playing for the troops in Iraq. We had been approached by a company based out of Minneapolis. They work with the USO organization and she (my manager) asked if I would be interested in going and participating in it. I said absolutely, go back and tell them yes for sure. She said, 'That is what I thought you would say, so I already went ahead and told them to book you.' She knows, she knows, that I would jump at that chance. I'm excited and I think it will be an adventure. It may sound a little stupid, but I do feel pretty honored that I get to go and do that, and hopefully I can feel that I am doing something bigger than me. I feel like it is a great honor. I can't wait," says Noble.
Venturing into a war zone to perform for American troops is not exactly a walk in the park, and one has to wonder if there is some trepidation on the part of Noble, "No, it occurs to me, but at the same time I think, that number one they would not have civilians going, which they do all of the time, if they didn't feel pretty sure that they can protect you. They do have musicians going all of the time, so I feel like there is that. I also feel that it is too big of an opportunity to spend much time thinking about not going, based on my safety. I feel if the men and women can go and sacrifice their lives, this is the least that I can do. I feel pretty safe. I am sure that it will be a little scary, but I am not thinking about it too much."
From the opening track "Watch Me Walk," on the current album you sit up and take notice, as Noble packs the same punch as Sara Bareilles did on her hit "Love Song," and Noble's song co-written with Jeff Arundel, is about liberating oneself from a relationship that went south. Noble is strong on the keys and her aggressive style matches the lyrics "This is the part where I start taking over / Why should I let you decide / Life is too short / You bleed and it's over / So now you're gonna' watch me walk out of your life." The words effuse a mix of anger, hurt, and the singer taking back control of her life. There are thoughts of; you did not treat me well and I am hurting, and they are balanced by the mindset of a woman who is now looking forward to building a new life, a new beginning. Vocally and instrumentally, the song is also balanced, as Noble transitions between edgier, harder hitting vocals and then softer statements that are not quite introspective, but border more on her reflecting upon what this new life will be like.
"The reason that I called the new record Keri Noble, which is something you normally do when you are a new artist or for your debut, is I feel like this record is my debut. I feel that it is a much better picture, of what I am capable of doing, which is a little songwriter, a little gospel, a little R&B, a little pop and there are all of those flavors. It is why it feels different to me (from her last album Fearless), but it is all still coming through the same filter. Both albums sound like me, yet they both sound pretty different," says Noble
"Fearless came out on EMI. I asked to be released from my contract and they let me go. There were three or four years where I didn't have any interest in pursuing music professionally. I was burned out and pretty bitter, but it didn't stop me from writing and so I went into the studio a lot during that time. When I signed with Telarc, which is my label now, I ended up giving them thirty songs that were finished and that we could choose from for the CD. Since the record wasn't going to come out for another year (it was released in 2009), I asked them to let me take six of the songs that we weren't going to use on the full length album and put out an EP that (I could use) when I am touring. Fearless was such a different time in my life and I sounded different. The songs are different and so my concern was that in playing for people that they would then buy a CD (Fearless) that didn't reflect what they saw. That worried me, so I asked if I could put out a little six song teaser. That's what Leave Me In The Dark is. From Fearless to the Keri Noble CD there is a huge difference. I think that I have grown a lot. Fearless was a pretty quiet record. There were a lot of ballads, but I feel even though the tile was called Fearless, that I was pretty timid and I was still trying to find out what my voice was. I was feeling pressured and that they (EMI) wanted me to be, maybe another Norah Jones, a soft spoken piano player. Then I would go on the road and I was opening for many male artists. Their audiences were a lot of guys and I didn't think that I could keep their attention if I was just playing quiet music in the venues that I was at. I started writing songs that reflected who I was and who I was playing to. That is when I think that I discovered that I have a bigger voice. I had more range than I had been using in the past. I think that was part of the reason that I left my label (EMI), because they were not excited about that," says Noble, finishing up with a laugh.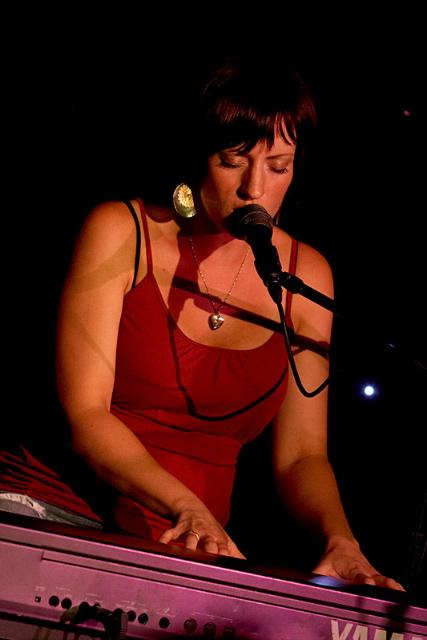 That bigger voice that Keri Noble discovered is showcased on her song "Go Proud," a tune on which she is backed by some scintillating electric guitar work courtesy of Eric "Roscoe" Ambel, a horn section consisting of; Michael Nelson, Steve Strand and Kennie Holmen, and a splendid trio of backup singers consisting of, Kathleen Johnson, Rhonda Johnson and Kevin Washington. Noble slides off the keys to make room for keyboardist Rob Arthur, as drummer Rich Mercusio and bassist Jeff Allen complete the band. If you like funky R&B along the lines of Bonnie Raiit or Nichole Nordeman you are going to love "Go Proud," as Noble approaches a Raiit like performance and one up's Nordeman. "Go Proud," is a movin' groovin' song.
Noble talks about the influences that came to bear on her songwriting and the sound of "Go Proud," "Well, my roots are in the church, my dad is a pastor and growing up in Detroit, there is a lot of gospel (music) around. I think that the song ends up drawing from both of those elements. I can't remember what I was listening to at the time, but I am always listening to R&B, so I'm sure that had something to do with it. I started thinking about different people who have been in my life, who are no longer alive and I started thinking about (she does not finish the thought)… it is a morbid subject, but when it comes time for me to die, I don't want a sad song, but I want something that hopefully reflects the life that I want to live and that reflects the life that I know a lot of people want to live, which is celebrating their lives, instead of focusing on their deaths. I wanted to write a send off. It is really what this is," with tongue firmly planted in cheek the question was posed as to whether or not she is planning an early departure from this life, to which she emphatically replied, "No, no, no."
On road trips when Keri Noble is driving to her gigs, instead of flying, her cat Akiko will often be her co-pilot in the seat beside her, however, when Akiko is unable to act as Noble's feline road manager, Noble has someone to take care of her cat and Akiko now has a sister named Pepper, to keep her company. Noble says, "They miss me, but I have a little deal worked out, so they are never alone for very long."
A recent road trip, took Keri Noble back to Livonia Michigan just on the edges of Detroit, the city in which she grew up, "I think that I was a little confused and I didn't come to music the way that I think a lot of people do. I didn't grow up dreaming of being a musician and I hated taking piano lessons, but finally I got into writing songs, just as a way to express myself. My friends liked them enough (she laughs here) so I thought maybe I can make some money doing it. Before I knew it, I had dropped out of college and I was doing music as much as possible. It wasn't the thing that I had nurtured or cultivated throughout my junior high and high school time. I didn't know many musicians, and it was really important to have some sort of connection to a community of musicians and I didn't have it, which is one of the big reasons why I moved, because I did know quite a few people here in Minneapolis. I felt that I could grow more. When I went to the Trinity House, which is the name of the theater that I played (in Michigan), it brought me back to that feeling of not knowing what was going to happen, not knowing what I was going to do. I did a show there right before I moved to Minneapolis, so it was kind of like bookends for me. Looking back at that girl who was getting ready to make that big move and that huge leap of faith, it made me feel grateful to the people who encouraged me and it made me grateful for whatever intuition.. It could have ended up being a horrible mistake, but it ended up being what I needed to grow as a musician and move towards more opportunities. It could have gone a lot of different ways and bad ways. I had no idea and I was kind of naïve the last time that I played there (at Trinity House). Coming back, I had a different set of skills in terms of music. It just made me feel grateful for all of the steps in the journey so far."