Interviewed by Joe Montague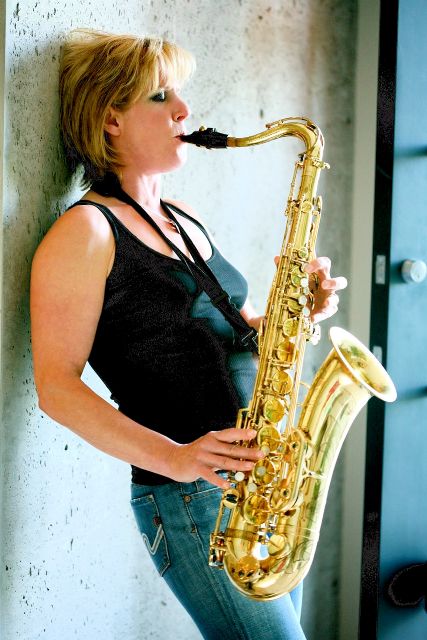 Kirsten Nash is best known as one of North America's premiere saxophonists, singers and songwriters and yet our conversation on this day started with a place in Ms. Nash's career that many people may not be aware of, her gift for creating outstanding musicals. She has two in her hip pocket, both of which have been produced and both of which should be picked up by major theatrical companies looking for something fresh and exciting and which will deeply move their patrons.
"My first rock opera was Alice in Modernland and that was workshopped in 1997 -98 in New York. The premiere of the play was in San Diego in 1999. We did it with Maxwell Enterprises who did Damn Yankees and a whole bunch of other stuff. Alice in Modernland was a take on the old classic and it was about the human journey. It was a sixteen year old's view on life and about leaving home young. It is about a journey of this gal who wanted to make it in the business. It did very well and it is a good play. Eric Nederlander (of the well-known theatrical family) wanted to do it on Broadway in October of 2008 and my manager and I had a meeting with him in New York. Eric said, 'We are going to do it,' that he was going to get married and they were going to fly to Italy and then they would be back. 'Give me a couple of weeks after we get back and we will clear out one of our theaters.' I was ecstatic and I was like yeah! I was getting groceries one day and I was thinking, he must be getting back pretty soon and he was back. On the front of People Magazine was a picture of him and he was about to sue Jerry Seinfeld for alienation of affection, because Eric Nederlander's wife, Jessica Sklar took off with Jerry Seinfeld (and eventually married her).
Laughing, she continues, "I knew that couldn't be good for me. This did not bode well and sure enough Eric Nederlander went into hiding for about two years and he didn't do that kind of business for a while. My husband however, found the Sledgehammer Theater in San Diego and (read) an interview with the Creative Director, Kirsten Brandt. I liked her name and the way that the theater was described. Alice was a tough musical, and one of the songs was called "Suicide Sonata," so it was a very dark piece. It wasn't something that you would throw into Disney. I liked the fact that it was a darker theater and that they did a lot of world premieres of pieces. We had standing ovations each night. It was supposed to go into the Morris Theatre in San Francisco. We were going to do that with Jam Productions and Steven Traxler came out to San Diego to watch Alice In Moderland. We were going to get that thing going at the Moore Theatre in Seattle. Then what happened? I will tell you what happened. 9 / 11 happened. I was supposed to be going in there the month after 9 / 11, but all the theaters went dark. I thought this thing has some weird karma going on and maybe this is just not the time."
"I wrote Bird In The Waterfall in the meantime. What I learned with Alice is that I should have been filming it. Yes I got the press and people in the industry know me, but I didn't have the piece, so I went in with the idea of filming The Bird and the Waterfall at a local theatre, because they just wanted to get people in there. It was a new theatre called the Kay Meek Center. It is a great recording venue and I called in a lot of favors. Kirsten Brandt was about seven months pregnant, but she came up from San Diego to do it and her husband David Lee Cuthbert did the lights. He also did the lights for Alice too and he also did the lights for 700 Sundays with Billy Crystal. He is a very huge dude and he is also a professor at the University of California at Santa Cruz. I was very honored that they cut me a deal and that they did Alice In Moderland. Richard Berg (of Uncle Randy's Productions) was our line producer on that. I knew I needed somebody, because I was a music person in Vancouver and I had done theatre, more in New York and San Diego, but not in Vancouver, so I didn't really know the scene. I needed somebody, because it is such a pain in the butt to take me through that. He was my liaison and he was really professional. We had a good working relationship. He is very good at reading the audience and at what is going to be commercially viable. He is really awesome and he is a great line producer. I would hire him again in a second," says Ms. Nash.
This writer had the opportunity to watch The Bird and the Waterfall on DVD and it is a spectacular and moving production, with fabulous original music written by Kirsten Nash. The stage production that was filmed in Vancouver was world class, with superb actors, actresses and singers.
"The Bird and the Waterfall is based on the Buddhist concept that the bird is your soul. It is your inner voice. It is the truth. It is your truth. It often gets drowned out by life, which is the waterfall, the people that you are raised with, your friends and the people around you, who you listen to and who make noise. Many times we lose touch with our inner bird and I wanted to tell what happens, when you go through life with a basic lie, as a premise and where does it go? I tried to expose the basic lies in all of us, within all relationships and within ourselves. The plot is just a means of doing that for me," she explains.
Kirsten Nash grew up just outside of Nanaimo, British Columbia on Canada's Vancouver Island, the same area that gave us outstanding musicians and singers such as; Diana Krall, Christine Jensen, Ingrid Jensen and Pat Steward of The Odds. She is also unique as she enjoys dual citizenship with the United States and Canada and she is also eligible to hold citizenship in the U.K., because her step-father's mother was British and her birth father was Belgian, so she can apply for citizenship in that country as well. Ms. Nash was born in San Francisco and her mother moved her to Canada when she was six years old.
Ms. Nash credits her two years attending Malaspina College on Vancouver Island and in general her childhood years at Nanaimo, as being instrumental in helping to shape her career in music.
"When we grew up, there wasn't a lot else to do. There was a lot of distance between us, especially in those days, because it wasn't as populated as it is now, so you had a lot of alone time. I was out in Yellow Point and we did a lot of running through the bushes like a wild child and we would ride horses and do things like that. You weren't distracted by a coffee shop or a movie theater. There was nothing like that to do. We had a bunch of teachers, who could have gone anywhere in the world, but for some reason they picked Nanaimo and we had people like Bryan Stovell and Norm Porter who were just so awesome. At Malaspina College there were great teachers, so we were really blessed with a bunch of teachers who got Jazz. They didn't conform to the school is done at 3:30 thing. They took us on weekend field trips to Vancouver to see Count Basie and Stan Kenton. They really went overboard, trying to show us something outside of our (world)," she says.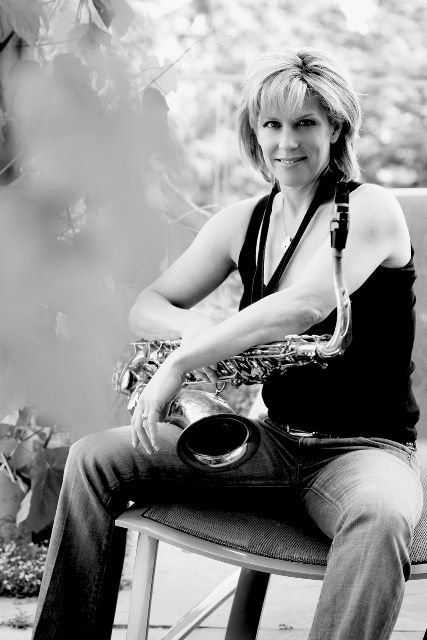 She also remembers friendships that were formed, "Christine and Ingrid Jensen, as well as their sister Janet, went to high school in Nanaimo and Janet and I were very good friends when we were in junior high together. Their mom was a great piano player, who would take all of us teenagers in and she would feed us and she would play the piano. They were a good family."
It was in Nanaimo that Kirsten Nash would form her first band Take 5 and then she reincarnated herself with another band Elektraglyde, before touring for two years with her band DV8.
"Then I went over to Vancouver and I got the nickname "the girl," because I was the only girl who got to play with the boys and I was in these bands and we would play in Fort St. Hell, somewhere and the guys would come on after the strippers. The guys would play the first set to give some space between the stripper and me, but then they (the patrons) would be yelling, 'Bring the girl on. When's the girl coming?' We would come back to Vancouver to the band house, where there were all of us poor musicians and I would be like mom. I would cook for everybody. We had a nice family of people. Pat Steward just played on my album, and I have known him for thirty years now. It is kind of neat that in college you form those bonds and then all of these years later you draw upon those," she says.
"In Vancouver I started playing with a whole bunch of people. I went to the Classical Joint once and they wouldn't let me play, because I was the chick and then the joke was in Vancouver that if you wanted to get a gig as a sax player in Vancouver that you would have to put on a mini skirt and a blonde wig. I went from them finding excuses for me not to play, to a time when I was playing in about sixteen bands. It was a lot of fun. It was really great for me to play with all of these people and to pick up all of these different styles. It was really a fabulous experience," says Ms. Nash.
During her career Kirsten Nash has performed with Spencer Davis, John Waite, Boz Scaggs, Stephen Stills, Jeff Healey and the Mellencamp Band. She has also recorded with artists such as diverse as; Cher, Amos Garrett, The Barenaked Ladies and the Power Blues Band.
After catching the ear of Colin Weinmaster and John Ellis in Vancouver, Kirsten Nash joined the R&B All-Stars in 1985 and performed with them for several years. Ms. Nash will be rejoining the R&B All-Stars for one night only, on July 1st, as they perform at the Anza Club in Vancouver. She also toured with Long John Baldry for a year.
She recalls the Long John Baldry tour, "I got that gig when Kathi McDonald who sang "You've Lost That Lovin' Feeling," (hit # 2 in Australia) with him could not come to Canada and they needed someone to sing that song with him. When I was fifteen years old, I remember singing the song, doing the Tom Cruise thing, screaming in my living room, pretending I was her. I thought that she was just awesome. I can remember playing Ontario Place (Toronto, Canada) looking over at John, while I was singing it and he leaned back, closed his eyes and he said, 'Sing it Kate.' I was, 'Wait a minute man, that is somebody else's name, I don't know whether to take that as a compliment or a slight. It's not Kate, it is me damn it!' Then I was back with the All-Stars, before I went on tour with Alfie Zappacosta."
Then there was the time that she performed with Spencer Davis. "Spencer Davis came in late and I (played) with the opening band. I had put my sax away and Spencer Davis came up and said, 'Somebody told me the sax player in the opening act was really incredible. Does anybody know where he is? Our sax player couldn't get over the border. I said, 'It's actually not a him, it is me.' You could see him do a double take, but his foot was too deep into it. I got to play that set with him. It was an awesome set."
Kirsten Nash has been busy in the studio, as she prepares to release a yet to be named album, which features the funky and gritty song "The Mayor of Party Town," a song that is not for the faint hearted.
"I am not known for my tact. I don't want to be politically correct. I want to tell a story. There is a sense of humor with a couple of the tunes. There are some incredibly intimate moments (on the album). This is a very intimate album. I am so incredibly proud of it. Since I wrote the rock operas, I have taken a couple of writing courses and I have started writing and that has helped. I got some publishing done and I have been writing stories, short stories and super short stories. I was really enjoying it, but I was missing the music and the depth that I got from really getting into words. I felt like I became a better writer and you draw from your own things, but above all, it is a story. I wanted it to be an album of stories, musical stories. Somebody asked me what it is and I said, 'Country, Jazz, Blues,' (she laughs). I get inspired by people like Ray LaMontagne and people like that. You wouldn't say that he is one kind of music. He is definitely him and I am going to just be me. I think you just have to do what you believe. Wyckham Porteous said it very well, 'A song is a song. Next.' You write that song and you get it out. It is just as valid as any epic you might want to write or any rock opera. It is a song and it was given to you for a reason. When it flows, you feel it and it brings tears to your own eyes. You say, 'This is good. I am hooked up. This is now.' Then there will be another moment when I will write another song. Then you learn it, you let it go and then you go play it. I want to move people. I really want people to feel something of them in it. To me, music is the first language. It is what we first learn to do. It heals, it soothes, it excites and there is so much power in music. I just want to try and use it wisely," says Ms. Nash.
"There is one song on the album called, "Hundred Mile House," and it is a euphemism for a relationship. When you have gotten to a certain point and you are not sure if you are going to get past it or go back, but you have already come a hundred miles. I go so deep sometimes when I am singing it that I can't stop crying. I got through it about twenty times and I was feeling the groove and then at the end I couldn't stop crying. I said to Johnny (Ellis) I sure hope that you got something there, because I can't do it anymore. I was a mess. When he mixed it all down he said he was crying again and I said good, you have heard the song one hundred times and if you are still crying that is a good sign," she says.
If the songs on the new album hold the same promise as "The Mayor of Party Town," and "Only The Angels Know," from her CD Bridging the Gap, then the record will draw a lot of attention from music fans.
"The song, "Only The Angels," comes from one of those situations when you are in a relationship and you see someone across the bar and there is an incredible connection, but you aren't going to do anything, because you are in a relationship and it is one of those,; who knows what is going to happen in life? It is such a strong connection, maybe it will come back. It is more about that quick glimpse you catch of somebody, you start dreaming about things and you go off on a fantasy," she says.
Music fans can begin to fantasize about the delicious songs that are likely to be heard on the next Kirsten Nash album and how is that album name coming along?
This interview is protected by copyright © All Rights Reserved by Riveting Riffs Magazine