Interview by Joe Montague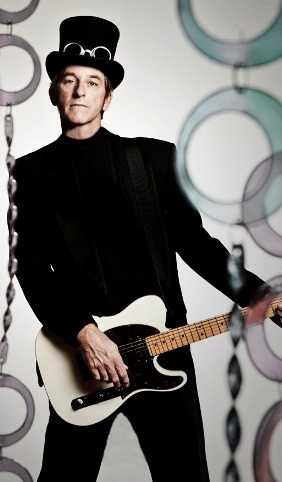 What do you do when you have a bunch of Pengwins who get stuck in Alaska? Well, at least one of these rare Pengwins, spelled with a "g" instead of a "q" wrote a song called, "Turn Up Your Radio," which appeared many years later on his album called Circles, released recently by Power Pop singer-songwriter Lannie Flowers, a native Texan.
"I wrote that song when I was stuck in Alaska. Before we were fired from the club, we were trying to learn some new songs. We were bored during the day and I started playing a little riff that I thought was kind of neat. I had a little recorder at the place where we were staying and I just wrote it right there. I just needed some sort of happy thought or something, because things were pretty bleak. Normally, I wouldn't write a song called "Turn Up Your Radio," because most of the time I wouldn't listen to the radio anyway. It just is about having a good time. It is about a person sitting at home who doesn't want to do anything and it is about getting out and doing something, says Lannie Flowers.
Alaska, was one of just many adventures experienced by the band The Pengwins that Lannie Flowers formed while he was still in high school. The band which did successfully tour throughout America and in the U.K. a few times, had a Japanese tour canceled the night before they were supposed to leave, when the booking agent was put in jail.
As for the Alaska trip, Flowers recalls, "We went to Anchorage, Alaska to play for a month, so we could go to Hawaii to play for three months. We thought that would be a good deal to spend the summer in Hawaii, but somehow when we got up to Alaska, the owner (of the venue) got cross with the booking agent and he said, okay I will just fire them (The Pengwins). They were paying our flights and everything and we were stuck in Alaska with no way home and no way to get our equipment back. It was a mess. It got so bad that we were rolling hotdogs on the hood of the truck to heat them up a little bit. That is how bad it got. When I finally got home, I had nine cents in my pocket. That was in 1984. That pretty well took the air out of that particular version of The Pengwins. I ran into some other guys who were pretty talented and I brought them in. After that, we went to Memphis and we recorded with Jim Dickinson."
Lannie Flowers who grew up in Kennedale, Texas, now finds himself living back there again and his career is experiencing a revival with the 36 songs Same Old Story album released a few years ago and it was so well received by music fans that it made possible a second release, Circles, on the Dallas based Aaron Ave Records label. Many of the songs on both albums are ones with which Lannie Flowers has been working for several years.
"Same Old Story is a younger guy's point of view and trying to figure it out (whereas) Circles is an older person trying to figure it out," he says.
As for his former band The Pengwins, "We made two 45s and a 12 inch EP, because that is all that we could afford. We did a lot of stuff, working with producers (including rocker, Rick Derringer), but back in those days it cost a fortune to put a record out," says Flowers.
In some ways it is ironic that Lannie Flowers finds himself back in Kennedale, as music provided him with a way out from small town America.
"I grew up in Kennedale and I got out of here as fast as I could and then I came back here. It is between Dallas and Fort Worth (near Arlington). It used to be in the middle of nowhere, but now it is just part of the whole thing. I had one sister about four years younger than me and a mother and a father, just like everybody else. When I went to school, all twelve grades were in the same general area. Now it is all spread out. There were thirty-six kids in my graduating class. There really wasn't much to do here. If we wanted to do something, we had to go to Fort Worth. When I was a kid there wasn't even a Dairy Queen. There were a few gas stations and a grocery store. That is one of the reasons that I wanted to get out of here as quickly as I could, because you would go to school and see the same people, go to church and see the same people and you would go to the football game and you would see the same people. I just wanted to see some different people," he says laughing.
While growing up, it was the music of the British Invasion and then later it was artists such as David Bowie and Mott The Hoople, also from the U.K., which caught Lannie Flowers' ear.
"Then when Punk Rock came out, I latched onto that, because I never really liked corporate radio stuff. I also loved that middle period of The Beatles, Rubber Soul and Revolver. I like music that doesn't necessarily follow trends. I liked that middle period of the Kinks, when nobody was buying their records, except for me and that one guy in California (he laughs). I like people who just blazed their own path," he says.
"When I was ten I started to play the guitar. I played baseball, just like every other kid. I was one of the younger kids on this little block that I grew up on. All of the older kids listened to the radio and I got a lot from them, I guess. Growing up in a small town it was hard to find someone else that played an instrument," he recalls.
At this point a life changing event occurred for Lannie Flowers, as a 12 year old boy named David showed him the electric guitar that he got for Christmas.
"All of the girls were oohing and awing, so, I said hey, you and me need to start a band (he laughs). I saw that as though it would be an easy way to meet girls, so we got a little band together and we played at the high school beauty pageant during the intermission. All of a sudden the high school girls were talking to me and I was only twelve years old. I thought this is a pretty good deal. Another kid who lived in the area had a drum set and we played The Beatles' songs and Paul Revere and the Raiders. It just took off from there. When I got into junior high I started hanging out with some older guys and I found some better players. There was only one guy around who had a full drum kit and he was four years older than me, but I talked him into joining the band, like when I was in the seventh grade," says Flowers.
It is appropriate that Lannie Flowers' new album is titled Circles, because life has come full circle for him. He is married to Linda, has a daughter and he lives in Kennedale, which no longer is an isolated little town. His music career is perking along nicely and music fans are enjoying songs such as the title song "Circles," which is about a young man posing the questions; where am I supposed to go and what am I supposed to be doing? The song "Looking For You," has a retro feel to it, which is not surprising since it was written many years ago and it has the theme looking for love.
You can listen to and purchase Lannie Flowers' music through his website or visit him on reverbnation.
Interview by Joe Montague, all rights reserved, protected by copyright ©