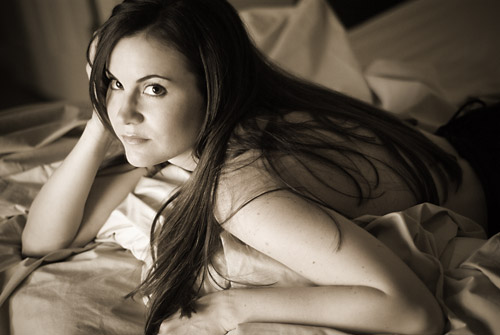 Music fans are in for a real treat in early October when hip-hop / dance music singer and songwriter Larissa Ness unveils her new music video for her song "Thoughts Of You," as it features a lot of dance numbers, twenty or so professional dancers and Ness playing the opening piano riffs in a rather, hmmm, unique style. This is Ness' first professional music video, but by no means is she new to the music scene, as Hello, her more urban flavored and current album is her third release and American, French, German and English radio stations have played her tunes. Ness' songs were featured in commercials for a major music retailer whose ads have appeared on MTV, VH1 and a host of other channels. In addition, Ness' music has appeared in independent films, including Lost In Sunshine, and she was recently commissioned to write a song for the feature film Until I See You Again.
As for the music video, "Thoughts Of You," was chosen as the song, because of the positive feedback she received from television viewers who heard the song used in a promotional piece for the CBS television program Ghost Whisperer, starring Jennifer Love Hewitt. She figured she might as well ride that wave and hooked up with Austin based filmmaker and videographer.
"I contacted him and he called me right back. He was all spunky in the conversation and we clicked right away. We tossed some ideas back and forth and then he said, 'Wait a minute," she recalls.
She was not however, prepared for what came next. "He had seen a picture of me sitting on top of my piano with my toes near the piano keys. He said, 'What if for the beginning part of that song it opens up with a piano riff and you play the piano with your toes?"
At that point, Ness called her director's bluff thinking this was a joke until he told her that he was serious. She indicated that she thought it would be awesome to try and that she thought it was a cool idea, so she would give it a whirl. She sat down facing the keyboard and put up her toes. However, her producer had one more request and that was that she sits on top of the piano, with her toes on the keys.
"I said that's playing the piano backwards and I don't know if I can even do that with my fingers. (she laughs again)," says Ness.
So for the opening scene of the music video for "Thoughts Of You," "I am going to play the piano backwards, with my toes. The dancers are so fabulous and they just blow me away. There are all kinds of dances in the video; tango, ballroom kind of stuff and salsa. In the middle of the video the dancers are going to do a contemporary break style and I have to do a little dance on top of the piano," explains Ness.
On the album Hello, Larissa Ness has created tunes that blend modern R&B, hip-hop and dance music and it is just one more step in her development as a versatile recording artist. She studied classical piano and voice at Texas State University, toured Europe with a jazz ensemble and played gigs at Austin venues such at the now defunct Reed's. In the in between years she fronted an Austin based rock band Burn. While she was creating her album Hello, she was also busy producing an EP, I've Found You, which features Latin grooves.
On the I've Found You project, she worked with trombonist Mark "Speedy" Gonzales, trumpeter Gilbert Elorreaga and saxophonist Josh Levy, from the celebrated Latin funk band Grupo Fantasma, an ensemble that garnered a Grammy Award nomination in 2008. Gonzales arranged the parts for the horn section on all the songs. Listeners can look forward to hearing salsa, samba and bossa nova grooves on Ness' Latin project.
To create I've Found You, Ness worked with producer Allan Wing and Michael Williams played guitar. The title track is performed half in English and half in French. Ness also previously recorded "Je T'aime," in French and it was featured in the film Until I See You Again. Her love of the French language and culture began when her family took a trip to Paris, France, while she was still in high school and that was followed by Ness studying French for six years, including while she was completing her music studies at university.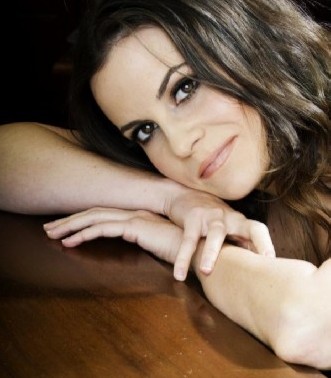 "I love French and love the culture. I love to listen to it and to me, even when it is not sung, it is music. I feel the same about Portuguese and I love listening to Portuguese music with the bossa Latin beats, but I don't speak Portuguese. I went to school to be a vocal major, so I was singing in all of those languages (including), Italian and German and you have to have an amazing accent. When I studied French we were supposed to submit projects and I started submitting songs. I felt that French lent itself to the jazz chords, so I would write a song and I would submit the lyrics to my French teacher, to make sure that she would correct the grammar," says Ness.
Working with producer Ernesto Ponce, Ness created the heartbreaking song "Cut Me," the last track on Hello and her vocal phrasing is excellent in communicating the pain of a woman who was betrayed by someone whom she loved and trusted. The song was dissed by one critic who said the lyrics were too farfetched to be believable.
Larrisa Ness had a message for that critic, "That is exactly what happened to one of my best friends. She dated this guy for two years, and all of a sudden she found out that he totally faked his job, where he was going every day, he faked his acceptance letters, his diploma, his graduation, his family and she didn't know about it. It was just insane. He was a con artist. That (song) was a real thing that happened," Ness says in reference to the song "Cut Me."
"I write a lot from what I see or from conversations. A lot of times when I have conversations with people, I will come up with this profound thing that I feel is something I want to write about. Sometimes a heartbreak song may not have happened to me, but it may have happened to my best friend," says Ness.
Other ear candy on Hello includes the up-tempo "Don't Think I Won't," an in your face missive that says in essence treat me well or I will call you and I will not stand for it. The song features an urban vocal styling, accompanied by keys and backed by strings and heavy beats. It makes for an interesting listen. If you peel back all the instrumentals, you are left with a singer with a ton of talent and a good voice. "Break It Down," has good potential for club appeal as well as urban airplay.
While artists and music labels alike continue to cry foul and well they should as songs are ripped off illegally, and their livelihoods are stripped away, it is still refreshing to hear the candor and optimism expressed by Ness when she says, "It's all about promotion and how creative you can be, because people aren't buying albums anymore. There are people who say, 'Oh, they are ripping songs off the internet." Well it is going to happen and you have to find other ways to get around it. That opens up other possibilities. When you make an album, you have to promote it. You have to get it out there. It's about promoting your music. I don't feel there is a specific way that I have to do something. I am having so much fun making these music videos and it's about promotion, promotion, promotion. I am looking forward to getting it out there and maybe David Letterman will get me on his show and I will play the piano with my toes or something (she laughs)."
Letterman, Conan, and you other late night show hosts are you paying attention? As for the rest of you, dial into Larissa Ness's website the other two links which appear at the end of this interview, to listen to the music of Larissa Ness.