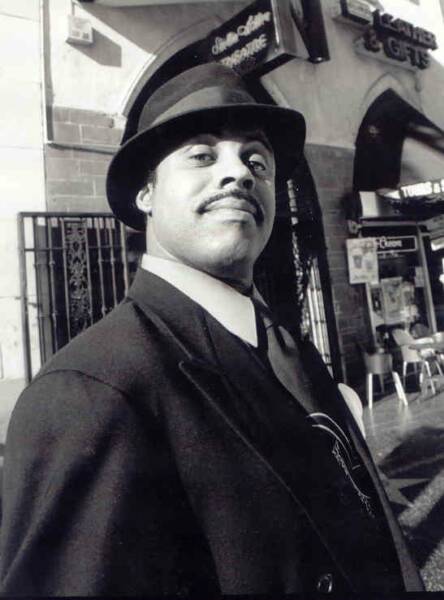 While governments on both sides of the American – Canadian border have seen fit in recent years to reducing the amount of money that flows into the arts at all levels, including our schools, Theatre Perception Consortium, a group of Los Angeles based playwrights, directors and actors, is preserving an important part of our musical heritage through their musicals. It was this journalist's delight to be in Hollywood California last spring for the production of Howlin' Blues and Dirty Dogs, which told the story of a great blues songwriter and singer Willie Mae "Big Mama" Thornton who recorded the song "Hound Dog," three years before Elvis, a tune that stayed at # 1 on the Billboard R&B charts for seven weeks and sold two million copies for "Big Mama" Thornton. She also wrote and recorded "Ball 'n' Chain," which in later years became a monster hit for Janis Joplin. This time around, Theatre Perception Consortium are restaging North On South Central Avenue which chronicles the jazz music scene in Los Angeles during the 1940's and 1950's and in particular, focuses on one of the most celebrated clubs of the era, Club Alabam. This is the tenth anniversary of the musical and there will only be one performance on Sunday October 4th at and it will be presented at the historic Wilshire Ebell Theatre in Los Angeles. The Wilshire Ebell Theatre first opened its doors in 1927, two years before Club Alabam did.
The telling of the stories behind the Club Alabam and the entertainment industry from this period of Los Angeles' history holds special meaning for playwright and actor Larry Robinson, "My dad moved here from rural Mississippi and he worked at the 5 – 4 Ballroom which was also a big venue that people attended. He was the night watchman there or the security guard, so he used to interact with a lot of the celebrities who came through there and they would frequently go to the Club Alabam. I lived on and ran up and down Central Avenue when I was young. All of the clubs were there and they ran from one end of the avenue to the other, but I didn't know much about them. When I became an adult I began to ask questions and of course, my father told me a few stories. From there I took the story of Club Alabam and the history of Central Avenue. Central Avenue had a lot to do with the entertainment that was going on in the city. Everybody came there, Mae West, Howard Hughes and everybody who was anybody from their twenties on up were hanging out on Central Avenue. Then of course the question came, What happened to Central Avenue? There were a lot of things that happened to Central Avenue," says Robinson as he talks about how many people moved further west, some sections attracted what he refers to as riff raff and other influences such as the university crowd became more prevalent.
"So then I asked the question and I did some research and that is how the story came about. My dad is in the story only (we have) him working at the Club Alabam instead of the 5 -4 Ballroom, but all the events that happened are pretty much on point. Billie Holiday came there, Johnny Otis of course was the bandleader there, Dorothy Dandridge (the first African American actress to be nominated for an Academy Award for best actress) and Bill "Bojangles" Robinson used to hang out there. It was the place to be. It has a very rich history in the pre-war years and the post – war years too. It was a very attractive place to be. People dressed up and they looked sharp. The Dunbar Hotel also had a venue that people would frequent. They would come out of the Club Alabam and they would stay at the Dunbar Hotel. It was just busy, busy and a lot of commerce was going on there.
Robinson however, was not alone in developing North On South Central Avenue, as it is the result of a collaboration with actress and theatre veteran Carla Dupree Clark who in 2004 won a NAACP Award in the Best Director category for her work on North On South Central Avenue and Tu'Nook an accomplished actress, director and playwright. Both women have received proclamations from the City of Los Angles for their work in theatre relative to the preservation of Los Angeles history. By age seventeen, Robinson had starred in three movies and appeared on more than two hundred television shows. He appeared in the sitcom Good Times, which starred Esther Rolli, Janet Jackson and Jimmie Walker and the television series What's Happening!, both of which aired during the 1970's. In more recent years he appeared in the series Judging Amy, which concluded in 2005, after a six year run.
Carla Dupree Clark talks about her involvement with the production, "Not being a native Angelino, I was fascinated when Larry introduced the story to me, as I dearly love jazz music. And the period of the 40's was an era when fashion was simply delightful. So coming strictly from a directing point of view, I was mostly turned on to the combination of what great music and magnificent costuming the piece would inspire. After becoming engrossed in the story, the history of jazz relative to the city of Los Angeles began to unfold, and with that the music of the era is what inevitably transcended the cultural barriers that existed back then. Everyone wanted to be a part of the musical genius that pulsated up and down Central Avenue, therefore the door was opened for people of all colors and backgrounds to mix and mingle. They headed to the Club Alabam on Central Avenue to partake of that great creative scene. How exciting it has been for me to be one of the re-creators of such a great musical era."
Robinson says that during the course of the musical, we will meet, "Dinah Washington, Ella Fitzgerald and Tom Bradley (who served five terms as the mayor of Los Angeles) will make a brief cameo. We also have Billie Holiday, Cab Calloway, and the Club Alabam band. We replicate the Club Alabam. It is about the rise and fall of Central Avenue as we tell the story. Nat King Cole also comes through the Club Alabam He was doing a show at the Lincoln Beatty which was up the street from the Club Alabam. It was where Duke Ellington gets his "Jump For Joy," and "Chocolate Dandies," and all of those great musicals."
As for the music, Robinson says, "There are a couple of blues songs and a love ballad called "My Baby's Going Away," and Billie Holiday's signature song "Ain't Nobody's Business If I Do," and a blues song "Last Night," on which I will be playing the harmonica. We have a tribute to Captain Dunham which will (feature) drums and African beats, with dancers on stage who are dressed in traditional outfits. The Club Alabam dancers will be doing another dance. You will hear a lot of traditional music from that period."
North On South Central Avenue received nine NAACP Theatre Awards nominations and won in five categories. It is amazing that until this point in time, despite the fact that accolades continue to flow in concerning North On South Central Avenue, and it is a critically acclaimed production, that nobody has approached TPC about acquiring the film rights to produce a feature film.
Other Theatre Production Consortium projects to keep an eye open for, include, Queen Of Sass, a tribute to Loretta Mary Aikens, better known as Jackie Moms Mabley, the first African American Female stand-up comedian during the time of Vaudeville, and the Roaring 20's and the Civil Rights eras.