Leslie Carney's Star Shines Brightly In Mame!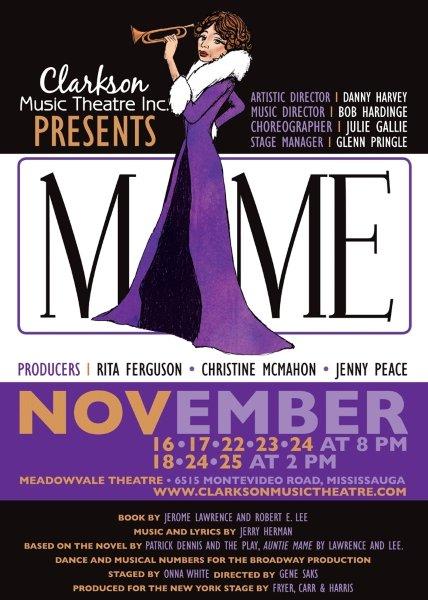 The musical Mame based on the 1955 novel Auntie Mame: An Irreverent Escapade written by Patrick Dennis, interesting enough the same name, as one of the main characters in the musical, and adapted for the stage by Robert Edwin Lee and Jerome Lawrence and set to Jerry Herman's music and lyrics, is being presented by Clarkson Music Theatre and staged at the Meadowvale Theatre in Mississauga, Canada from November 16th thru November 25th. For those who are not familiar with either the theatre company or the venue and who live in the Greater Toronto Area or who are visiting, you are strongly encouraged to attend this terrific production. The theatre, which seats 395 and has excellent sight lines no matter where you are sitting, has long been the home to one of this writer's favorite theatre companies for the high standard that they set.
There were many stars on opening night, but the ones that shone the brightest belong to Leslie Carney in the role of Mame Dennis, the central figure in this musical, Christine McMahon as Vera Charles, the incredibly dashing Derek Faulconer as Beauregard Pickett Burnside, who even had male patrons talking about his good looks after the cast took its final bows and Katie Westrope who as Agnes Gooch had the audience absolutely rolling in the aisles with laughter. Honorable mentions go to the two cast members who portrayed Patrick Dennis, Mackenzie Faulkner (as Young Patrick) and Chris Waldron as the Older Patrick. To choreographer Julie Gallie and all of the dancers, a great big thank you! This writer sat at the edge of his seat mesmerized by dance numbers that deserve even a bigger venue.
For those who are not familiar with the story of Mame, simply stated it is this, a ten year old Patrick Dennis and his nanny Agnes travel from Des Moines, Iowa to New York City following Patrick's father's death and arrive on December 1st, 1928 at the home of his aunt Mame, who takes him in as her own child. Running interference with what should be a new and enjoyable start in life for young Patrick is the dastardly and condescending Dwight Babcock, of the Knickerbocker Bank, who continually tries to exert his control over the boy's life and thespian Vera Charles who seems to spend more time tipsy than she does as a star of the stage. Babcock offers Patrick a formal education in a boy's school, while Mame offers him an education in life, some of which might be questionable for a young boy, even by today's standards.
The musical Mame teaches us what true love is about and it teaches us that the values that we hold are far more important than the things that we own. In the stock market crash of 1929 Mame loses everything and she is left penniless and she struggles to provide for her young charge, herself, Agnes and her servant Ito. It is Leslie Carney's convincing portrayal of love for Patrick, of romantic love with Beauregard Pickett Burnside, of heartbreak when she loves everything and the heartbreak of a parent watching their now adult child about to make a mistake that will change his life forever that makes this presentation of Mame work so well. Leslie Carney also possesses the vocals and the phrasing to bring the audience to the edge of their seats. Ms. Carney, simply stated, put in a spectacular performance and received a much deserved standing ovation when she came out to take her final bow.
Before the curtain rose on opening night, almost 2,200 tickets had been sold for the eight performances. During its sixty-seven year history, the Clarkson Music Theatre company, a not for profit organization, has become legendary in the Greater Toronto Area for putting on spectacular performances by dedicated cast members and those like Music Director Bob Hardinge who always rises to the occasion.
Please visit the Clarkson Music Theatre website and you can also order your tickets online here.
Reviewed by Joe Montague
This review is protected by copyright © and may not be reproduced in print or on the internet or through any other means without the written permission of Riveting Riffs Magazine, All Rights Reserved