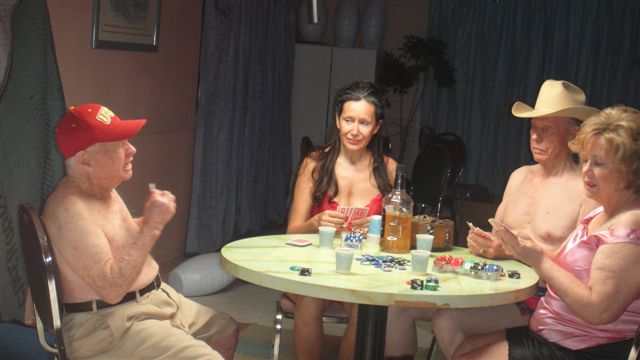 Mara New is an award winning stage actress from Los Angeles and she also has the distinction of being a member of the Beltrami family, which enjoys a rich heritage in the Italian fashion design community. At a time when the economy is still playing havoc with the entertainment industry Mara New has emerged as one of the busier actresses in film, with a role in the Agnes-Nicole Winter production of The Gold & the Beautiful, in which New portrays a dog psychologist. That movie will be released direct to DVD in the fall. New also just finished shooting Night Club in which she appears in a prominent role, with actors Ernest Borgnine, Mickey Rooney, Rance Howard, Sally Kellerman and Paul Sorvino.
Recently, Mara New took time to chat about her role in Night Club, a film directed and produced by Sam Borowski. "There are three friends who decide to start their own nightclub, after they take jobs working the night shift at a retirement home, as they put themselves through university. They get a lot of help from one of the home's residents, Albert, played by Ernest Borgnine, who claims that he used to run one of the hottest nightclubs in Los Angeles. (The three university students are) Justin (Zachary Abel), Chris (Bryan Williams) and Nikki (Ahney Her), who have parties at the senior citizens home, while Justin tries to win the affections of his college mate April (Madison Liddy). The senior citizens home houses famous comedians and actors and it is very upscale. The retired people are not quiet, they do not eat their meals at the right times and they do not take their medication at the right times. In fact, they are extremely wild. "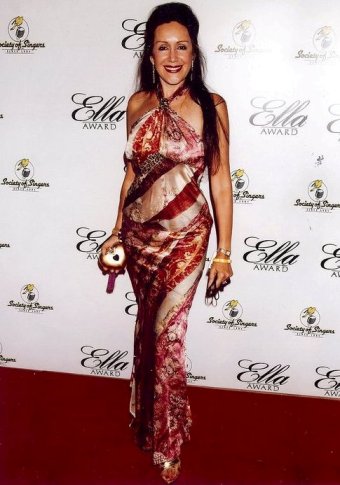 As for Mara New's role in Night Club, "I play a resident who develops a love interest for Chuck, played by Rance Howard. In the home we are very active and you have to understand that Ernest Borgnine is 93 years old, Mickey Rooney is 88, Rance Howard is 82 and they all look so much younger. It is unbelievable. In the movie they had to age me a little bit. We want activities, we don't want to be just passive and we have a toga party in our nightclub. The funny thing is at the toga party they needed an extra, so my husband Ron who took me to the set was cast as an extra.
In one of the scenes we are playing strip poker and there is me, Rance Howard (Chuck), Mickey Rooney and Mickey Rooney's wife Jan and the four of us are sitting at a table playing poker. We take our clothes off. In the beginning, Mickey did not want to take his shirt off. I was there in my bra and panties and Rance was in his shorts and he didn't want to take his shorts off. All he wanted to do was to wear his hat and to keep his shirt on. We had to talk him into it saying, "Come on Mickey you can do it," and finally he did, so we played strip poker, but you will have to watch the movie for the rest of it. It is hysterical.
It is a good story. I was lucky to be cast in this film with two Oscar winners, Ernest Borgnine and Mickey Rooney. Then we have the wonderful Natasha Lyonne and we have Ahney Her, who was in Gran Torino with Clint Eastwood. We also have a great director Sam Borowski, who won many awards with his short movie, the Mandala Maker. He is up and coming and wonderful."
New says, "The release date is January 2011 and before that, Night Club is going to play at festivals. Right now they are editing the movie and it is wrapped and finished. Larry Delrose one of the executive producers, wrote the script and he based Ernest Borgnine's character Albert after a real person in Palm Springs, who owns the well known bar and restaurant called Melvyn's."
During the month of June, Mara New will act as the main producer for Three Days, starring Juliet Mills, Maxwell Caufield, Stefanie Powers, Richard Chamberlain and Alex Hyde White. The film combines first person interviews and story-telling with modern day digital effects as the film is based upon preparing for and the performance of Shakespeare's Hamlet. New is collaborating with Alex Hyde Whyte on Three Days and she describes the production as radio on film. Alex Hyde Whyte's website elaborates further, "Stories ensue as the pressures to pull the show together mount, personalities blossom and crack and, eventually rally (or do they) over the compressed time period of…Three Days." The filming for Three Days is scheduled for June 24 – 27th in West Hollywood.
In July Mara New will be shuttling back and forth across the Atlantic Ocean, as she appears in the short film Obstruction written by Paul Marius, who also penned the screenplay for River Made to Drown In, starring Richard Chamberlain. Danish actor Ulrich Thomsen will also be appearing in Obstruction, a film that New will co-produce. New will then fly to Reiti, Italy where she will appear in the film The Witch of Rieti. All of the actors are from Italy except Mara New, although she too was born in Italy. The film will be shot in Italian with English subtitles. In August, she will make an appearance in Swedish Hollywood Wives as actress and producer Agnes-Nicole Winter's real life girlfriend and in October Mara New will appear as a regular on the reality show Italian Hollywood Wives. If those projects are not enough, consider that New already has three other projects in the works, Bayou Justice in which she will portray the character Lina, Neighborhood in which she is cast as a tarot card reader, and she will appear in Precious Metal, an action film being produced by Gold Star Films and which should begin filming in 2011.
One never ceases to be impressed by Mara New's sense of humility and how well liked she is, by so many. When asked why she thinks she is so busy at a time when the economy has been in disarray and it is has been difficult to secure financing for film projects, Mara New replies "I think that a lot of it is good PR and socializing. There are so many of us, over 930,000 actors in the union. The second movie that I got, I got from working on the movie Night Club, because the producer is making another movie in Italy. It is a connection that becomes a connection and it is who you know and the person that you know, knows someone else and you audition for it. If they like you, you get the job. It is about timing and luck has a lot to do with it, I believe. There is a lot of talent out there."
There is a lot of talent in Mara New.