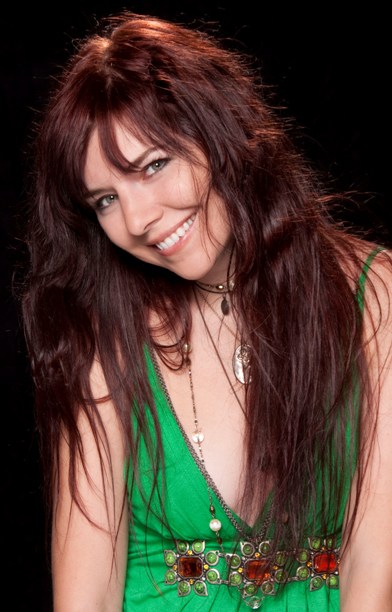 Growing up in very difficult times in Russia, it is hard to be a dreamer," says Marina V who now makes her home in Los Angeles, talking about her childhood years prior to the collapse of and following the collapse of the former Soviet Union. "When you see so many struggles and all that you think about is just making it through the month and to have enough money to eat. Even though my family was not poor, the whole country was poor. Everybody who lived through those times can certainly relate. In Russia, it was just a really crazy and chaotic time in the '90s. I never even thought that I could do music (someday as a career). People didn't dare to dream, they were just hoping to survive and to get by."
Listening to Marina V (whose surname is Verenikina) sing "You Make Me Beautiful," from her album My Star, you are awestruck by the beauty of her vocals, her phrasing and having that innate sensibility to let a note and a word linger to add emphasis. "Killing My Dream," from the same album is poignant and the heartbreak in her vocals captures that moment when a relationship is slipping away and you break. For a singer, to make it possible for the listener to feel the pain of a relationship ending or to feel the joy of someone who makes you feel special is a gift. Bruce Kulick of Kiss makes a guest appearance playing guitar on "Killing My Dream." It is with little wonder that the LA Times referred to Marina V as having a "hauntingly beautiful" voice. Marina V is a critically acclaimed international star in the making, having performed at the Kodak Theater in Hollywood, to some of the best venues throughout America, Australia and Europe. As we are writing this she is performing yet again in Moscow the city she grew up in. "Stand," from her brand new album Inner Superhero is both powerful and beautiful.
About her song "Stand," Marina V says, "It's about believing in yourself and finding your strength in spite of any obstacles you may face. I started writing this song when I was going through a very difficult time in my life, and this song helped me see the light at the end of a tunnel." The song was written with her co-writer and husband Nick Baker.
Marina V's is attracting the attention of some significant players in the entertainment world as Guy Erez (Gipsy Kings, Ziggy Marley, Alan Parsons) both produced and played on the My Star album. Brian Yaskulka, whose credits include film, top television shows such as Grey's Anatomy and One Tree Hill, as well as working with Pop singers-songwriters Ingrid Michaelson and Jen Foster, engineered four of the songs from My Star. Her song "You Make Me Beautiful," was on the Delta Airline playlist during the months of May and June and her songs have appeared in film and on prominent television shows. In 2011, she was flown to London, England as one of four finalists in the YouBloom Music Awards, performed at the Cobden Club and she was presented with an award by Sir Bob Geldof, for her song "You Make Me Beautiful."
Talking about her childhood in Russia, Marina V says, "I have been writing music for as long as I can remember. I always had music in my head and I never really knew anyone else who did that. I thought it was just me. I was just a kid, what did I know. Eventually, I started playing these songs on the piano and my mom said why don't we take them to your piano teacher. At that point I was about ten years old and I was going to the school of music every night after regular school. My mom took me to my piano teacher and she said hey, you have known Marina for four years, but you never knew that she wrote songs and she said, 'Marina play something for your teacher.' I played a song, but I was really nervous, because it was the first time I played it for anyone other than my mom. Later the piano teacher took my mom aside and she told her my music didn't seem to make much sense (Marina laughs). How crazy is that? I was about ten and the thing is my mom didn't tell me what the teacher said, until after we got home. I said what did she say? The teacher didn't seem to be overly thrilled. I sang and I played and I don't know how something cannot make sense. If I was out of pitch, maybe that, if my words were stupid, maybe then, but I don't think that either was the case, so I don't really know. My mom was still puzzled as to what my teacher meant, but she (the teacher) didn't elaborate and it put a shock through my whole system and I stopped writing for a while."
When she was a little girl she fell in love with the music of a band she had never heard of before. "I did not know that they were The Beatles that everybody loved and that they were world famous. I just discovered a band that I fell in love with. Not that I alone knew of them, but I did not realize the scope of their popularity (she laughs). First of all, in my family we didn't have record players, CD players or any kind of a player, so my family didn't have any music at all. The only music that I ever heard, was from friends and not much foreign (music). Non-Russian music was not around at that point and I am talking about 1990, so that was right before the Soviet Union fell apart. I was just nine or ten years old and I did not know there was other stuff out there. All I heard on the radio was Russian Pop. A friend gave me a cassette of The Beatles and the rest was history. You couldn't go to the store and buy stuff, because a lot of stuff just wasn't around."
A dramatic change occurred in Marina V's life when she was fifteen years old, when she received a scholarship. "The scholarship was called, Future Leaders Exchange Program. It is based on the Freedom Support Act, legislation that was put forth by Senator Bill Bradley. That particular program allowed students from the former Soviet Union to come to America and study for a year and to be around American teenagers in small towns. It was amazing, everything was provided for in the scholarship. All the expenses were paid and we were even given a stipend on top of it, so it was an amazing opportunity, especially when you are fifteen. I later learned that over 100,000 kids competed for that and only a handful won. I was one of them. It was amazing. I was attending extracurricular English classes (in Russia) and there was a boy that I really, really liked. I was fourteen and the reason that I applied for the scholarship was, because he said, 'hey, I am going to apply for this thing,' and he didn't even tell me that I should apply too, but I thought if he is applying, maybe I will apply too and we both can go to America, at fourteen (she laughs). I came home and I said there was this thing and I was (encouraged) to try. I had taken English (in Russia) for four years and I could read it quite well and I studied it every day and I read books. I had penpals and I was one of the first people in my country to learn how to use email, because of my mom's work. I had American penpals through email, so my English was good, but I couldn't understand when people were speaking very quickly. It was really frustrating at first, plus we had learned British spoken English and not American. The way the pronunciation is and the structure and the grammar is slightly different, so when I came here it was a bit hard."
After her one year scholarship in America ended Marina V returned to Moscow. "In my country in the mid-nineties, they were such difficult years for all of the Russians and for me, because not only did my parents go through a divorce, but I left for a whole year when I was fifteen. I am not complaining though."
When Marina V returned to Moscow, she started to plan her permanent move to America. This time there would be no scholarship or financial aid. "It was quite difficult. My parents had to give me paperwork, saying that they were allowing me to travel by myself, because before I travelled with the program and this time I was on my own entirely. They had to (sign) a release of a minor. I had to really convince my dad, he did not want to let me go. It was hard. I wanted to come to America and hopefully find a scholarship at a university and go, because it was the only way for me to stay. I was so lucky that I had help. Friends of my mom happened to live in Illinois and they hired an immigration attorney to help me get my student visa (for university), because I came as a visitor and I couldn't get it done on my own. It is so complicated, the immigration paperwork and I wasn't even immigrating, I was just trying to get a student visa, but they still call it immigration.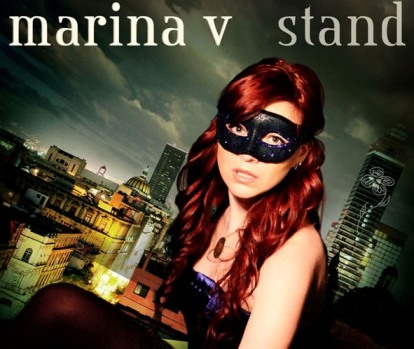 I went to a liberal arts college called Illinois College. They have been around for 180 years. I did not (study music). I went for eight years in Russia, every day from training in piano to theory to choir conducting. I did so much of that, I did not want to do music that I had to do. I really wanted to do it on my own terms. I had a double major with a minor, International Politics and Business were my two majors and I have a minor is Spanish. I loved learning so much, especially Political Science, International Politics was so fascinating."
On their website Illinois College notes that a graduate of the Class of 1881 was William Jennings Bryan, a three-time candidate for president of the United States, secretary of state and congressman. The school counts among its graduates, senators, congressmen, state governors and federal judges. During the early years of the school guest lecturers included, Abraham Lincoln, Ralph Waldo Emerson, Mark Twain, Horace Greeley and Wendell Philips. Perhaps someday, they will invite Marina Verenikina to be a guest lecturer.
When asked if she is considered to be a hometown hero in Moscow, particularly when she returns to perform in Russia as she is doing this July, she responds, "I wouldn't say that I am a hometown hero, but the people who do know me and who come to my concerts, are very proud that a Russian, a Moscow girl is making it in America. They are very proud and they tell me that. It is very cool."
As for meeting her musical partner and her partner in life, hubby Nick, she says, "We met when I was a freshman at college and we met in a jacuzzi (she laughs). We were both at a fitness club, sitting in a jacuzzi and we started talking. At that point I wasn't doing music, but I was writing and singing, but it was in my bedroom. I did not take it outside. It was for me. He said he wrote songs too and he was in a band at that point. He said he wanted to hear my stuff. It is funny, our first date was the first time that I shared my music with somebody. He said "Oh my God, what are you doing, not doing anything with your music. You should totally be out there.' (She recalls her hesitation) 'I have never tried it, I don't know. I never even thought that I could or I should, because I just enjoyed it for my own.'
So I played my songs for Nick and he was, wow you are amazing. I thought that he was just doing what a guy does, to charm me and to make me like him. In time we started writing together and he encouraged me to go out there and to do it. After I did it for the first time before people, I knew that's what I wanted to do forever. Nick is amazing. He is the wind beneath my wings."
"I hope that my music has evolved in a good way and in a way that I am improving as a songwriter, as a performer, as an artist, as a singer. In all of this time that I have been writing more and more, I feel that I can express myself more clearly, both musically and lyrically. Maybe now my songs are more accessible to more people than before. Before I was writing for myself and I wasn't thinking how would people see this song. Now after I am done writing, I am like, I am curious. I think now I give that a little more thought, but I don't really know how it translates. That is how it feels inside.
The Beatles had their own style. They wrote songs from the softest ballads to something really heavy and everything in between, yet it's them. I think, because I am so influenced by them and I love them so much, I feel like I can do whatever I want to do. Whatever feels right, I do it. If I want to record a Jazzy song (even though) I am not a Jazz artist, what the hell, I do it. Why not? I have been criticized for that and people say, well you should just find one sound and stick to it. I disagree. I have fun doing this and I love it. (Sticking to one sound) limits you. You are stuck with that one thing. For me it just feels right to do what I want to do. I just recorded a song that we are going to release in a few weeks and it is like an island (song) happy, summery song. It is totally different than anything that I did before, but it feels right. I wanted to do a song like that. It just wrote itself. I am not going to not record it and not release it, (just) because it is different. I am sure some people will say whoa, that's not a Marina V song. I don't know. It's so fun. I am having a great time and that's what it boils down to for me."
Marina V's style is her own. Her signature is vocals that leave you both in awe and breathless. Her songs are well written. She has Russian roots, yet with the exception of her accent, which is slight, she sounds like any other girl who grew up in America. You better get on this train, before it leaves the station, because this is one heck of an artist and those in the know in the music world are now paying attention. You don't want to be left behind.
Please visit the Marina V website
Interviewed by Joe Montague
Top Photo by Maria Ramirez protected by copyright © , All Rights Reserved
This interview is protected by copyright © and may not be reproduced in print or on the internet or through any other means without the written permission of Riveting Riffs Magazine, All Rights Reserved