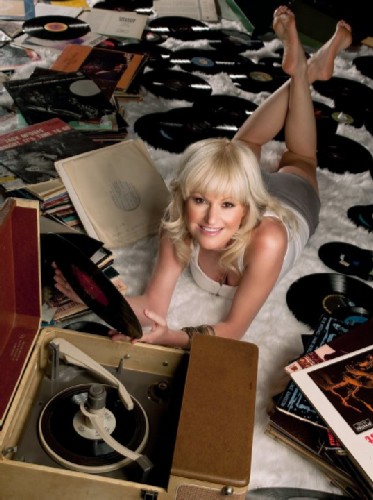 It had been about eighteen months or so, since I last had an opportunity to catch up with the talented saxophonist, songwriter and producer Mindi Abair, when she was performing at Seattle, Washington's Jazz Alley and the release of her new album In Hi-Fi Stereo, afforded the perfect opportunity to congratulate her, on her election to the board of governors for the National Academy of Recording Arts and Sciences (the Grammy Foundation). Our converstation also took place just prior to the PBS broadcast (June) of a special tribute concert to Grammy Award winner and Academy Award nominated songwriter Diane Warren, in which Mindi Abair took part. An announcement had just been released that she would also be appearing in an Adam Sandler movie. On the eve of celebrating her fifth wedding anniversary with hubby Jason Steele, Mindi Abair took time to sit down and talk to me about her recent album.
"I love to make music with my friends and I always thought if you choose something that you like to do in life you will like to get up in the morning and do it and I think that goes hand in hand with; do something that you love and do it with people that you love. In my life the people who I have come up the ranks with playing music, I've held onto them and I feel like it is a really special thing to have musical friendships. For me, musical life and personal life are very much the same for me. Even when writing music, I will call up all of my friends, Ty Stevens who has written on all of my CDs or Matthew Hager. I will just say, 'Hey what are you doing for lunch? Do you want to grab some food and write a song?' They are usually up for it. We have our little spots that we go to and we talk about life. We (are able) to write and to play together, because of that. We are not trying to impress each other and we are not trying to one-up each other. We know each other and that friendship really comes through the music. It is the same with Wayne Rodrigues. We have known each other for so many years that it is nice, because we can bring different things to the music, because of that. I am always open for new relationships, as it is always fun to open new doors. If you can make music and go to work, and I use the term work, loosely, and go to work everyday with your friends, I very much respect that and I love that we can be a part of each other's careers. We can carry each other on to bigger and better things, which is the best," says Abair.
Four years ago, the always innovative, pretty and petite blond redefined Jazz once again, with the release of her album Life Less Ordinary which sported two scintillating songs, "The Joint," and "Bloom," which she dubbed Stadium Jazz. With her new album In Hi-Fi Stereo, in a similar fashion to how English guitarist / singer / songwriter James Hunter reached back to the fifties and sixties and then put his own twist on rock 'n' roll music that was heavily influenced by Doo Wop and groups like The Five Satins, Mindi Abair's inspiration for her original songs on In Hi-Fi Stereo was also inspired by artists from another era, yet her music still evidences the creative and unique vibes that music fans have come to expect from Abair.
"On this new record I really reached for the sounds of the sixties and seventies in Jazz, that old, funky music that you can dance to. I wanted to capture that. I didn't want a thoughtful, meaningful record per se (she laughs lightly). I just wanted a record where people thought they were in the studio with us, and they just wanted to smile and they wanted to dance. That's what I wanted to do. I figured I should make the record that I wanted to make," she says.
With the opening track "Any Way You Wanna," Mindi Abair sets the mood early on In Hi-Fi Stereo, with fat saxophone notes and deep grooves that invite the listener to move their feet and shake their booty. Keyboardist Rex Rideout, guitarist Randy Jacobs (Was Not Was, Bonnie Raitt) and bassist Reggie McBride (Aretha Franklin, Keb' Mo') are stellar.
Abair says that even in her choosing of song titles such as "Get Right," and "Girl's Night Out," she wanted to capture the fun and the essence of this record. "It is definitely a throwback to those vintage records that I loved, old Ramsey Lewis and (his record) The In Crowd or Archie Bell and the Drells or Junior Walker. I felt like the best way to describe that and to title the record was to really put a nod to that vintage sound. So many of those records that I love, they had that stamp on them In Hi-Fi Stereo. In listening back now from our ears that are used to digital cleanness and this pristine quality, they had that record noise and you kind of felt like you were in the room with the band and because they only had a few mics up you felt like you were right there. That is what we strove for on this record. I wanted someone to feel like they were in the club with us, because that is the way that I grew up playing. I played six nights a week from until . Just playing all night is where you become yourself and that's where you become one with your instrument and you define your identity. For me, I have always wanted to make this record and to have people feel that joy of being in the club and just partying and playing some fun stuff. In Hi-Fi Stereo was a good moniker for me to try and convey that." Read more