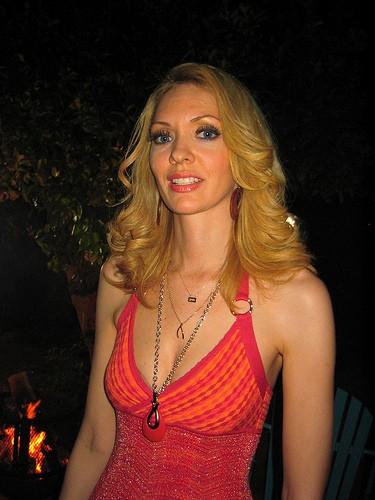 These are pretty heady days for Los Angeles based, urban / R&B singer / songwriter Nikkole, as she just learned, that she has been accepted in eight different categories for Grammy Award nomination consideration (the nominations occur in two stages) and she also learned that she has been selected as one of ten semi-finalists for Cosmopolitan Magazine's StarLaunch, which is being cosponsored by Nikon, CoverGirl, Pantene and bebe. The three finalists will be announced on November 10th and then flown to New York City, where on December 5th they will compete in a gala event at Terminal 5, as they open for Natasha Bedingfield and special guest Solange Knowles. If those accomplishments are not enough to make you swoon, then consider that in late July her companion video for the heat seeking missive, "EXOTIC," occupied the top spot on Blastro, an online video site that allows music fans to see their stars in action. Nikkole out dueled the likes of Rihanna, dance queen Samantha James and the Black Eyed Peas, to capture the top spot.
Last year, was the first time that Nikkole received consideration in the Grammy Award nomination process, as she was acknowledged in three categories, and she found that process to be validating. "To be a contender as an independent artist, I was just overwhelmed, and I couldn't believe that I was on the same list as your mainstream artists like Jill Scott, Alicia Keyes, Mary J. Blige, and whomever. I was floored, shocked and happy. I felt that I was getting some recognition from my peers, for my craft, my art and what I am doing. It means more people in the industry are finding out about me. When I didn't make the final nomination list, I was still so happy and so wow, (considering that) I am an independent artist, and it was for my second album, A Girl Like Me. People will now take another look at me and say, 'Wait a minute, are we missing something here?' When people found out (about her receiving consideration for three Grammy nominations), they took a second or third listen to what I had to offer," says Nikkole.
Becoming one of the ten semi-finalists in Cosmopolitan's StarLaunch is also a major accomplishment. "When we started this search, we knew we would discover some amazing talent, but as submissions poured in, we were blown away by the high caliber of undiscovered female musicians out there who were just searching for an entrée into the music industry," said Donna Kalajian Lagani, Senior Vice President and Publishing Director, Cosmopolitan.
The ten semi-finalists were selected by music industry hit makers, while the three finalists are being selected through online voting which concludes on November 2nd. The winner will be selected through the combined voting of a panel of music industry executives including, Sylvia Rhone (President / EVP, Universal Motown), David Novik (SVP of A&R, Decca / Universal) and Mike Mangini (Grammy Award winning producer and musician), as well as the in-house audience and online voting.
Two songs in particular caught our ear from Nikkole's current album Creolepatra, the soulful, "I Really Need You," and the passionate, "Love Was Made In Heaven," which redefines both the art of seduction and romance. Both are being considered for Grammy Award nominations.
"With, "Love Was Made In Heaven," I wanted to do something that was heartfelt and that I could relate to. I felt that when people heard the song, it would evoke emotion, or it would take them to a moment in time when they met that special someone, a time when they felt that they were getting closer to someone, or they were reminiscing," says Nikkole.
Still talking about, "Love Was Made In Heaven," Nikkole says, "I wrote from my own personal experiences, concerning the things that are most important to me, about the person with whom you share your life and your time, and the person with whom you want to be. That is how, "Love Is Made In Heaven," came together. I poured my whole body, soul and mindset into it."
Another powerful vibe from Creolepatra comes in the form of, "As If You Were Mine," a song which explores the taboo side of romance, Nikkole explains, "As If You Were Mine," is very different than, "Love Was Made In Heaven," in the sense that it is not based on personal experience. I hear people or friends talking, or perhaps you watch a movie and you say hey, I think that people can relate to this kind of a song. (It is about) finding someone that you like, and you are in the moment, even though they are involved in a relationship, and you are involved in a relationship, but you still have that kindred spirit. You are drawn to that person, as if they were a magnet. It feels like it is right, even though it isn't. You are in it, you shouldn't be, but you can't help yourself.
The title of Creolepatra, was chosen, because Nikkole feels, "the title suggests being who you are, and being proud of whom you are. It represents strength. This is who I am. I am this strong, determined, independent young woman. I want it to represent the strength of an independent artist, in addition to being a woman who is self-sufficient. I think that this particular offering with this set, is more of me, than any record that I have done to date. I really took my time in penning the songs and getting into the moment of each song."
Nikkole was very happy with the recording process, "It was almost like a live performance where we sang straight down, and did takes, as opposed to a lot of people punching in while they were singing; when they are doing line by line, or as some people do, word by word. I am very pleased with what we got. I am very happy. This is everything that I wanted it to be."
Nikkole's CD Creolepatra, has been riding the success of her single, "EXOTIC," which has been breaking new ground for her on the airwaves. While Nikkole has always received strong support from radio stations in the deep south and southeastern states, "EXOTIC," has been receiving spins on radio stations in California and Hawaii.
Nikkole has already done exceedingly well, while remaining an independent artist, her fan base is strong and has been built through grassroots marketing campaigns. Her corporate sponsors are committed, her music is now turning the heads of substantial commercial radio stations, and yet she takes even the Grammy Award considerations in stride, "This is what I do. It takes a little longer sometimes, for an Indie artist to get to a certain point. I think that once you do, if you are strong, you don't get arrogant, and you are someone that people can relate to, then you can hold tight (to your dreams) and do your own thing in this industry. People go to school to become doctors and attorneys and those aren't easy (accomplishments) either, but you have to hold steady, be diligent, and do the best that you can. Eventually, you will get your just desserts, and you will be recognized for what you do."