Nena Anderson Southern California's Beach Girl Singing Americana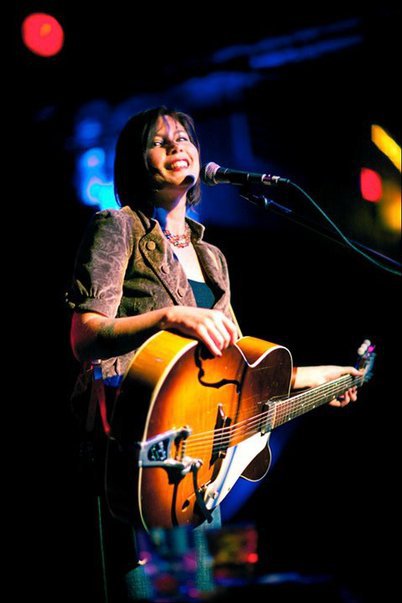 Original songs such as, "I Fall In Love Too Fast," "Daggers," and "Beyond The Lights," suggest an intimate link between the singer and the lyricist, which in this case is one and the same person, Nena Anderson, who grew up in and still lives in the California beach city of Encinitas. The eclectic singer – songwriter who is equally adept at performing Americana music as she is singing Jazz or the Blues, grew up the daughter of a surfboard shaper whose musical tastes ran the gamut from Bluegrass and Country Music, as well as The Beach Boys and The Ventures.
"I didn't like that stuff growing up, but as you get older it comes around and you say, I love it so much, how come I hated it so much as a kid. It definitely was an influence on me," she says of her father's musical tastes.
Nena Anderson's mother was the rocker of the family soaking up the vibes at concerts by The Beatles, the Rolling Stones and Janis Joplin. Ms. Anderson's mother also listened to artists such as, Bob Dylan and Joni Mitchell. It should therefore not come as a surprise that various elements from the styles of music that her parents listened to inform the songwriting and vocals of Nena Anderson who has in the past been nominated for numerous San Diego Music Awards.
While listening to Nena Anderson's song "I Fall In Love Too Fast," the listener is struck by the beauty of her vocals as they are light and velvety like a chocolate ganache, lingering only long enough to make you want more. For a southern California girl who grew up by the beach, she does a good job of infusing her vocals with a twang, but then she did tour with the Johnny Cash tribute band Cash'd Out portraying June Carter.
"I Fall In Love Too Fast, is a hook that I had so many years ago and it was just this one line and the melody in that line that I had for literally a year. I would sing it over and over again in my head, but it never came together and then one night I sat down and it just poured out. The original version of that song is about twice as long as the version that ended up on the album. I cut it way back (she laughs). It always bothered me that I wrote a song that was way too long and when I say way too long it was four minutes or four and one-half minutes. I like to keep my songs shorter. "I Fell In Love Too Fast," just happened that way and then one night I had some musician friends over at my house for band practice. It really wasn't a band practice. It was a reason to hang out together and to drink beer. I was working on the song and I played it for them. They said it is a cool song and they helped me to flesh it out instrumentally. I had just started playing the guitar about the time that I wrote that song and a lot of the songs started out with a very simple guitar, because it was all that I could do and it was all that I knew," explains Ms. Anderson.
The song "I Fall In Love Too Fast," is about ignoring the warning signs and plunging headlong into the next relationship, even when the telltale signs of a heartbreaker are there to see, evidenced in the words, "My heart shattered just like glass / I fall in love too fast." The song does end on a hopeful note, "I would like to think I've got another chance."
Confessing that she writes a lot of songs about relationships, Nena Anderson says, "Yes. I write sad songs (she laughs). There is something about the Blues and the sad songs in minor keys and that feeling that Blues music gives you that it is the happiest sad music in the world. You can listen to a sad, slowed down Blues song and yet it makes you feel better. It makes you feel good and it makes you feel alone. It makes you feel like there is commonality among us in some way."
In talking about her current album Beyond The Lights, she says, "Over the years I had several producers that wanted to help me to make albums and I never found the right fit. I think that I wasn't really ready. I wanted to come out with my first album and to have it be my own style and I didn't really know what that was yet. My style is Americana as far as a description goes and my style is very influenced by Blues and Jazz and Country, but at the same time I am Rock 'n' Roll. I am also influenced by California bands, California Roots bands from the seventies and eighties. My own style is a development of all of those things together (she laughs). Everything that I have done on this album is a concentrated effort to not sound like somebody else. (My music) is influenced by a lot of old Jazz. It should be familiar and that is the kind of stuff that I love and that I gravitate to over and over again. Even the songs that I cover are familiar. It is unique and yet comforting in that way. I never want to make music that people don't connect to. It is not about shock value or about 'here I am. I am different than everybody else.' It is more about what comes from my heart."
Gone is the twang, as it is replaced by soulful vocals, backed by guitars and organ, as Nena Anderson serves up a heartfelt expression of her experience as a performer, with the title song "Beyond The Lights."
"It ("Beyond The Lights,") is essentially a Blues tune and it is very personal. It came from this idea of being an artist and how being on the stage and being a musician is your solace. It is also a very lonely place to be. When I wrote that song, I had just come out of a divorce. He was a musician and I was a musician and there are a lot of aspects to being an artist. For me the song is about how performing in any capacity keeps me sane. "Beyond The Lights," is about how comforting it can be when you are on stage that you don't want to see beyond those stage lights. The anonymity is nice,
she says.
Continuing Ms. Anderson recalls, "Coming out of the divorce, I learned how to play the guitar, because I had always written songs that were never interpreted properly by my musicians. Everybody would always make them into what they thought the (songs) should be. I wanted to be able to play it and to say, this is what it should be. After the divorce, I needed something to do to occupy my head and my heart, so I picked up the guitar and I started to teach myself to play it. I began to write more songs and started sketching things out. A couple of years after that I decided to quit my job and to become a full-time musician. I figured I wasn't getting any younger, so what did I have to lose. Right about that same time, I met Mike Butler, who really made this whole CD happen. He is a producer and a recording engineer. He had moved to San Diego from LA. He kept bugging me and coming to my shows week after week, saying I want to play guitar for you. I would always laugh at him and I said to him, do you know how many dudes want to play guitar for me. It was like, ya' thanks, but no thanks. One day I needed a guitar player and (in the meantime) he had given me a CD and said he was legit. He said that he liked my music and that if I ever needed a guitar player to play for me. It turned out he is a very successful engineer and producer and he has worked with everyone from the Rolling Stones, Death Cab for Cutie and across all genres and he toured as Billy Bob Thornton's guitarist for a couple of years in a band called the Boxmasters. We shared a very similar idea in our love for Country and Blues and that old R&B and old Texas style of Blues. It was a really good match. The album came together pretty quickly at that point, with him bugging me and saying let's make you a record. That is how I got my record instead of just playing shows around town forever and ever.
My bigger influences in music nowadays are bands like, The Blasters, The Iguanas, The Texas Tornados and bands that were Roots Rock influenced by a lot of that Texas Country and Blues. There is that songwriting feel to a lot of those bands."
The song "Daggers," reminds one of Idaho native singer – songwriter Eilen Jewell who has been lighting up the east coast of America the past few years. Brian Cantrell's establishes the tempo with his drums and Mike Butler's banjo lends a somewhat syncopated feel to the song. There is also a solid guitar solo by Mike Butler. Nena Anderson delivers a gritty vocal performance.
"I think a lot of the songs that I right come from an (emotional place) whether I see or feel in someone else the experience of something. I think one thing in common with all of my music and especially when I perform. I try to bring that emotion to the song. Even if I fabricated part or most of the song, I sell it. I want you to believe it. When I am singing it I believe every word of the song, whether I wrote it or someone else did. That is what you are seeing in "Daggers." Part of it comes from singing Jazz too. You have to believe what you are singing to make it honest. It is all about honesty and when I write songs I write them as simply and honestly as I can, even if it is something that I have created and not necessarily felt. That is what is attractive in music that I love," says Nena Anderson.
You can listen to Nena Anderson's music from her current album on her website
Interviewed by Joe Montague
This interview is protected by copyright © and may not be reproduced in print or on the internet or through any other means without the written permission of Riveting Riffs Magazine, All Rights Reserved