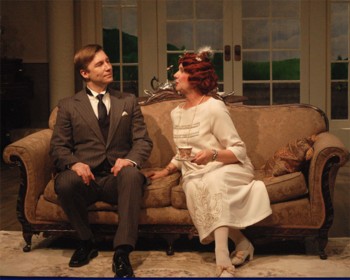 In consideration of the fact that Johansen holds his black belt in Tae Kwon Do, qualified for the American Olympic team in the same marital art and was the Canadian National Champion, it is not surprising to hear him say that he would relish the opportunity to be cast in the role of an action adventure character. He is also an accomplished equestrian rider, scuba diver and participates in a number of sports, which would seemingly make him even more attractive to the film industry.
"I see James Bond and I see Jason Bourne in the Bourne Supremacy, and other parts that I absolutely could play. My level of martial arts is at least equal to that and sometimes even a little fancier," says Johansen.
For a fleeting moment, Johansen thought his wish to be cast in an action film had come true, but, "I did a film in Italy in 2003 and one of the producers ran off with the footage from the film (he laughs). It became the most incredible debacle that even when I am describing it to people, it loses its credibility. It just went from bad to worse. It was an action movie, and I thought, 'Wow is that a sign of (what is in store for) my action movie career?' I certainly hope not. I would love to do action movies and I like people (such as) Jason Bourne and James Bond, because they are not just jug heads who can kick people, there is some subtlety, some intelligence, and there is multi-level tasking going on. I feel that it matches my persona."
In addition to the roles already mentioned, other period pieces in which Johansen has been cast include playing Valentine in You Never Can Tell, Dunois in St Joan, and Orlando in Shakespeare's As You Like it. He also he appeared in a Calgary, Alberta production of Amadeus.
Johansen credits his formal drama training, which includes being a graduate of the Drama Studio in London, a Bachelor of Arts degree from the University of Pennsylvania, and attending La Sorbonne at the University of Paris, as well as his workshops (Chekhov Workshop with Bruce Katzman in Los Angeles, a film / television workshop with David Rotenberg in Vancouver and a Shakespeare Lab at the New York Pubic Theater) with fine tuning his acting skills and instincts, as well as teaching him to do the right kind of research to prepare for a role.
"I try to bring as much to the table as I can when I come into a rehearsal, because I find that the more choices that I have made, the more encouraged in those directions the director will be. That allows me to retain a larger percentage of my creativity towards the character, as opposed to just coming in, hoping that the director will take me where I need to go, without me doing any homework, in which case the creation is not as much in my hands," says Johansen.
He is quick to add, that he has had the opportunity to work with directors upon whom he has leaned heavily and who, "have encouraged or supported my choices, expanded upon them, and taken me beyond where I thought that I could go. I think that is a sign of any great director."
Noel Johansen's abilities as an actor have been enhanced by his numerous cultural experiences. "I think that I am part of that new generation, because I have lived in so many different places, so many different countries and I find my home in the friendships that I have, and the people that I meet, much more so than in the places that I live. I say that, because I don't feel that I can be in one place and completely feel that it defines me, simply because I have lived in so many places. I like the way that the French eat and how they value culture, Canada has an ability to listen and to be culturally sensitive, I love the way that America drives to get what it wants. All of these national traits, I picked up and adopted for myself. I'm a hodgepodge. If there is, one place that I feel definitely matches all of me the most it would be New York, because it has the energy of the world. It has parts of Canada, it has parts of France and in a strange way, it has parts of England. It embodies what I like about America," he says.